Star Wars is reportedly done with Gina Carano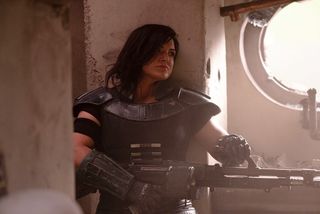 (Image credit: Disney)
After a whole lot of unfortunate comments on social media Gina Carano is reportedly no longer employed by LucasFilm. The actress' statements have included hate towards the transgender community, anti-Semitic commentary, COVID denial, and passionate support for Donald Trump and his more fascist tendencies (up to and including supports of the Capitol riots). Carano had previously fled Twitter to more "supportive" platforms like Parler, likening the response to her hate to the plight of the Jews during the holocaust as recently as today.
iO9 obtained the below statement from Lucasfilm earlier:
"Gina Carano is not currently employed by Lucasfilm and there are no plans for her to be in the future. Nevertheless, her social media posts denigrating people based on their cultural and religious identities are abhorrent and unacceptable."
While that's pretty straight forward, this story is still developing. All the same, there's no mincing of words here. Seeing a major brand use the terms "abhorrent" and "unacceptable" against someone they formerly employed when said person screws up mightily is pretty refreshing. Here's to a new era when brands don't feel like they can simply sweep things under the rug any more. It would have been nice if the statement came a smidge sooner, but we're definitely calling this move progress!
Carano previously starred in Disney+'s The Mandalorian and was heavily rumored to play a starring role in their upcoming New Republic series that was announced at the most recent Disney Investor Day. While it's likely that this upcoming season of The Mandalorian will be heavily focused on Boba Fett, it's nice to see something definitive from the powers that be confirming that Carano's hate will no longer be associated with the brand.
Update from February 16th: Today, reports surfaced that Carano was initially meant to join Kathleen Kennedy on stage during the Disney Investor Day to confirm that Cara Dune would star in the upcoming Rangers of the New Republic series. However, her commentary resulted in her being pulled from the presentation. This is meaningful for a few reasons, but none so much that Carano had started seeing consequences sooner than we'd initially thought — good on ya, Lucasfilm.
The piece from The Hollywood Reporter also notes that insiders expect to see Cara Dune recast rather than killed off within the broader Star Wars universe. So expect to see more news on that in the future.
Amelia is an entertainment Streaming Editor at IGN, which means she spends a lot of time analyzing and editing stories on things like Loki, Peacemaker, and The Witcher. In addition to her features and editorial work, she's also a member of both the Television Critics Association and Critics Choice. A deep love of film and television has kept her happily in the entertainment industry for 7 years.
Get the latest updates, reviews and unmissable series to watch and more!
Thank you for signing up to Whattowatch. You will receive a verification email shortly.
There was a problem. Please refresh the page and try again.