Strictly Come Dancing: 'I feared for Bruce's life after fall,' says wife Wilnelia Forsyth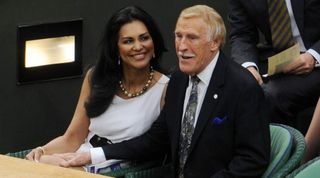 Sir Bruce Forsyth's wife has revealed she feared for his life after he had surgery following a fall, but said he was "getting better".
The veteran television presenter underwent keyhole surgery on an abdominal aortic aneurysm in mid-November and is still in recovery, forcing him to pull out of hosting the Strictly Come Dancing Christmas special.
The aneurysm was only discovered in October after a fall, which left him in hospital with a minor concussion and abrasions on his face.
Sir Bruce underwent keyhole surgery last month (Daniel Leal-Olivas/PA)
The 87-year-old entertainer has been recovering at home and wife Wilnelia Forsyth said it had been an "emotional" time.
"I'm not ready to lose him yet," she told the Daily Mail. "This has scared me to death, particularly waiting in that hospital when he was having his operation.
"That felt like an eternity. Because of Bruce's age there are so many risks involved."
With is wife Wilnelia at Ascot Racecourse in Berkshire earlier this year (Dominic Lipinski/PA)
"You think, 'My God, will he come out all right?'. But you have to trust the doctors. The alternative – not having surgery – was worse. It's like you're in a corner. You're damned if you do and damned if you don't, because this is such a fatal thing."
The 58-year-old said the surgery and recovery had been "very, very hard" for her husband, who was a "proud man".
But she said: "We've been told with this kind of operation it will take one or two months for him to fully recover. Seeing my husband getting better is like having an early Christmas present."
At Buckingham Palace in London after being knighted by the Queen (John Stillwell/PA)
The BBC said it was "too early" for Sir Bruce to take part in recording the Strictly special but that he would still be in the show.
A spokesman said: "Due to the long studio hours, he is unable to host the show but will still play a part in the production.
"Sir Bruce will record a special video message for this year's celebrity line-up and the viewers at home, which will play out when the Strictly Christmas Special airs on BBC One on Christmas Day at 6.15pm."
Get the latest updates, reviews and unmissable series to watch and more!
Thank you for signing up to Whattowatch. You will receive a verification email shortly.
There was a problem. Please refresh the page and try again.