Strictly stars Kellie, Jay and Anita: 'We're going to get chips and have an evening walk the night before Blackpool'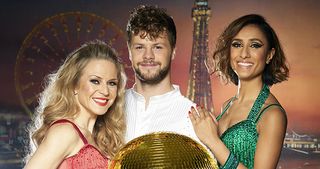 (Image credit: Dan Goldsmith)
Strictly (opens in new tab) stars Kellie Bright (opens in new tab), Jay McGuiness (opens in new tab) and Anita Rani (opens in new tab) tell TV Times they'll love to be beside the seaside for this weekend's star-spangled special.
We caught up with Kellie Bright, 39, Jay McGuiness, 25 and Anita Rani, 38, over candy floss and sticks of rock at our exclusive photo shoot. Here they share their excitement and fears about shimmying beside the seaside…
It's time for the Blackpool special! The Strictly corridors must be buzzing with excitement…
Jay: "On the very first day of Strictly I was told that Blackpool is the episode everyone waits for because the show is Strictly x 10 and it's a wonderful knees up afterwards. I'm looking forward to seeing if that's right!"
Anita: "Knowing Blackpool as well as I do I'm sure it's going to be epic, but more terrifying than ever. It's going to make me feel sick!"
What are your own memories of Blackpool?
Anita: "Blackpool is a huge deal for me. It was such an important part of my childhood, we used to go to see the lights and for day trips in the summer. Every time we had visitors from India, Blackpool was the place we'd take them. In fact my mum and dad's honeymoon was a day trip to Blackpool with all my dad's brothers, sisters and cousins!"
Kellie: "I have been once before, years and years ago. My friend, Clare Buckfield was in a production of Summer Holiday with Darren Day and I went to stay with her for a long weekend. I'm looking forward to going back."
Jay: "My band The Wanted went there a few times on tour so I know it's a great place for a party! I love Blackpool, it's cute and it has that old seaside feel."
Are you looking forward to spinning around the huge, sprung dance floor?
Jay: "My dance partner Aliona told me that I'll love the floor because it's so much bigger. The Strictly studio is really deceptive. It looks massive on TV, but you do about 10 steps and then you're at the edge. You want to keep dancing, but your mum or auntie is sat there so you can't go any further! I'm looking forward to flexing my wings."
Kellie: "It will be majorly exciting. I found out today that you have backing dancers in your routine too!"
Anita: "Who? Can I have you?"
Kellie: "No, proper dancers!"
Anita: "I don't want proper dancers, I want Jeremy Vine!"
Aside from dancing, what are you most looking forward to about your trip to the seaside?
Kellie: "Take That are performing and I'm a big fan, so that's exciting! I do love the British coastline, especially in winter when it's a bit grey, the sea's fierce and you're wrapped up against the bracing wind and sea spray. I have this image of us all getting some chips and having a nice walk the evening before the show."
Anita: "We will definitely do that. I went on pretty much every rollercoaster on the Pleasure Beach when I was a kid, but now it's definitely about strolling down the beach with chips!"
Jay: "I love rollercoasters, the bigger the better. Aliona doesn't like them, but she said she'll go on all of them, just to prove she can do anything I can do. She's probably going to hate every second!"
As the weeks go on, training only becomes tougher and more exhausting. How are you staying motivated?
Anita: "Gleb shouts at me! Sometimes he can be like an annoying little brother, but we have so much fun. Weirdly when we want to chill out we will play hip hop music and just dance. It's such light relief for me because I love dancing, but it's so hard to learn the routines every week."
Kellie: "Kevin sang to me the other day, because I'd had a tricky training session. As we were dancing he was singing, 'Kellie's so awesome at the waltz', and I had to laugh. With my filming schedule I honestly don't know what I'd do if it wasn't for Kevin, he literally holds me up sometimes."
Jay: "In the first couple of weeks I felt I had no time to do anything outside of Strictly, all I did was go over my steps in my bedroom. Now I force myself to do some normal stuff, so me and my brother go to the pub to talk about his work and things that aren't hip movements! When I'm worried about the world of glitter and Craig Revel Horwood, I think, 'Right now you're going to breathe, buy some crisps and talk about Crystal Palace!'"
Christmas is just around the corner. Is everyone getting gift vouchers this year?
Kellie: "No, I'd never write off Christmas, I love it! I started buying presents early because I have a three-year old and you can't disappoint children when it comes to Santa."
Anita: "Christmas is amazing, but I usually go away, so I'm already thinking about that epic Christmas holiday!"
Jay: "I'd never shopped online before, but now that my schedule is so intense I've realised the benefits. I haven't seen most of my family for so long that when Christmas arrives I really just want to hang out with them until they're sick of me."
Get the latest updates, reviews and unmissable series to watch and more!
Thank you for signing up to Whattowatch. You will receive a verification email shortly.
There was a problem. Please refresh the page and try again.