Tamsin Greig says comedy Friday Night Dinner is 'like time travel - everyone turns into a child'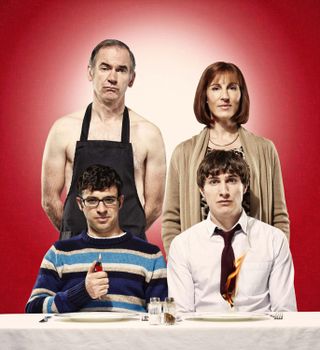 Tamsin Greig invites viewers back for more helpings of the Channel 4 sitcom Friday Night Dinner (opens in new tab)…
The comedy, which begins its third series on June 20, has gained a large and loyal following. It centres on the Goodmans, a close yet chaotic family whose two adult sons return each Friday night to have dinner at their parents' house in north London - and that sets the scene for the jokes.
The show's four main characters - mother Jackie (Tamsin (opens in new tab)), father Martin (Paul Ritter (opens in new tab)), and sons Adam (Simon Bird (opens in new tab)) and Jonny (Tom Rosenthal (opens in new tab)) - call each other by nicknames which are too rude to publish. But, insists Tamsin: "I have a friend whose family all call each other these nicknames.
"They are meant very tenderly. It just goes to show how much Friday Night Dinner has caught on."
Tamsin laughs that many of the practical jokes are drawn directly from the show's creator Robert Popper's real-life experiences with his own brother.
"Robert told us that one day he was going home on the tube after meeting his brother," Tamsin told the Express. "He put his hand in his coat pocket and fished out a handful of spaghetti bolognese, which his brother had put there!"
Tamsin, 47, who can also be seen in BBC2's Episodes (opens in new tab) with Matt LeBlanc and Stephen Mangan, observes that viewers also connect with the Goodmans because their experiences are so universal.
"Families are families. We've all got them, more or less, and we all know what it's like to be bullied by another generation. Jackie is pushed around by her children because she has an overwhelming need to be wanted by her two sons.
"But they need her just as much. Adam and Jonny come home every Friday night and eat her food. So both parties need each other."
Friday Night Dinner also strikes a chord in the way it portrays how Adam and Jonny are immediately infantilised the second they return home.
"You step over the threshold of your parents' home and you're instantly transported back to your childhood," says Tamsin.
"It's like time travel. You revert at once to a place of arrested development. The Goodmans' constant fighting is also very childish. Everyone turns into a child when they don't get their way. We're all just idiot children pretending to be grown-ups."
Tamsin is hopeful they will be allowed to build on the success of Friday Night Dinner with another series.
"Families always stay the same, but they always provide more stories. It would be particularly interesting to see whether the boys could ever get girlfriends!"
Away from the small screen, Tamsin has been busy shooting the movie The Best Exotic Marigold Hotel 2. This is a sequel to the hugely successful 2012 film about a group of British pensioners, led by Judi Dench, Maggie Smith and Bill Nighy, who decide to emigrate to a hotel in India.
"There are two new characters in the sequel, played by myself and Richard Gere," she says of the film she didn't hesitate to be part of.
Beyond that, the self-effacing actress merely smiles about the unpredictability of the acting game.
"I try not to look any further ahead than the next cup of tea. You never know if that cuppa will come or not, do you?"
Friday Night Dinner, Channel 4, 10.00pm, Friday, June 20
Get the latest updates, reviews and unmissable series to watch and more!
Thank you for signing up to Whattowatch. You will receive a verification email shortly.
There was a problem. Please refresh the page and try again.