The Ealing Studios Rarities Collection | The only place to find long-forgotten classic British gems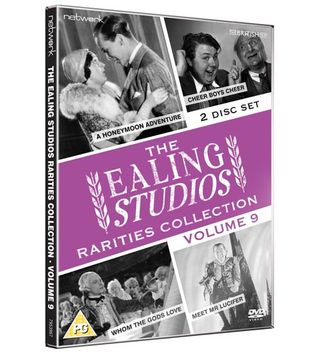 Because we champion classic British films, we here at Movie Talk are big fans of Network Distributing's Ealing Studio Rarities Collections, in which long-forgotten gems from the vaults of the iconic UK film company get dusted off and given new transfers for a new generation of audiences to enjoy.
The ninth volume contains Meet Mr Lucifer (opens in new tab) (1953), where an actor assists the Devil in proving that television makes people's lives miserable; Cheer Boys Cheer (opens in new tab) (1939), in which a brewer goes to war with his rival, only for his son to fall in love with the rival's daughter; Whom the Gods Love (opens in new tab) (1936), where the story of Mozart and his wife Constance is played out against a background of court intrigue and set to music by Sir Thomas Beecham; and A Honeymoon Adventure (opens in new tab) (1931), a lively tale of international crooks, stolen plans and a kidnapped inventor.
But the one that really caught our attention in this latest volume is Meet Mr Lucifer, an adaptation of the post-war play, Beggar My Neighbour, by Arnold Ridley (opens in new tab) (he was Private Charles Godfrey in Dad's Army), in which Stanley Holloway (opens in new tab) plays both the Devil and the past-his-prime pantomime performer enlisted to use a 'cursed' television set to make people miserable.
The victims include the kindly Mr Pedelty (Joseph Tomelty), who receives the set as retirement gift, only for crowds of neighbours to descend nightly on his rooming house; young pharmacist Jim (Jack Watling), who gives the set to his wife (Peggy Cummins) only for his plans to study for an important exam to come a cropper, and Jim's work rival Hector (Gordon Jackson), a shy bachelor who becomes besotted by TV Lonely Hearts singer, played by Kay Kendall.
While more fumbling than funny, what makes this comedy shine are the many famous faces popping up in cameos, including Ernest Thesiger (he of The Bride of Frankenstein fame) as Jim's god-fearing pharmacist boss, Irene Handle as an inebriated cockney, Joan Sims as a fairy queen in panto, Ian Carmichael as a blacked-up Man Friday, and 1950s TV personalities Gilbert Harding (opens in new tab) and McDonald Hobley (opens in new tab). The story (about how TV is ruining the cinema experience) might be a tad dated now, but Meet Mr Lucifer is a rare treat for anyone who loves classic British film.
The Ealing Studios Rarities Collection: Volume 9 (opens in new tab) is out on DVD from Network Distributing
For more classic British Film fare from Network, check out their website (click here (opens in new tab) http://youtube.com/v/SUrcLu9UFI4
Get the latest updates, reviews and unmissable series to watch and more!
Thank you for signing up to Whattowatch. You will receive a verification email shortly.
There was a problem. Please refresh the page and try again.