'They closed The Great Wall of China for us!' says Gap Year star Tim Key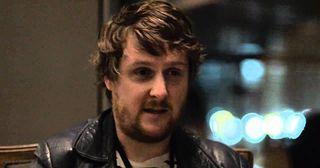 The cast of E4's new comedy, Gap Year, about backpacking through Asia managed to persuade the Chinese authorities to shut part of the world famous landmark for a few days...
Alan Partridge star Tim Key has revealed that authorities closed a part of The Great Wall of China for three days so they could film for new E4 comedy Gap Year.
In the eight-part series, Tim plays Greg, a middle-aged loner who tags along with four young backpackers as they embark upon the trip of a lifetime. In the first episode the group attend a music festival at the world famous landmark.
"It was very difficult to get permission to film at The Great Wall of China," said Tim. "It was a nightmare to organise, but you don't want to go to the other side of the world and just film in a cafe! Amazingly, they closed a bit of wall for us. Maybe 200 metres was all ours for three or four days, which was quite special. To be fair there's quite a lot of it, so there was plenty left open!"
The series centres around two British pals Dylan and Sean, who fall out after Sean realises his friend has dragged him to the other side of the world to keep him company while he stalks his ex-girlfriend.
After Dylan is rejected by his old flame once and for all, they befriend American girls, Ashley and May, and the ladies' annoying but persistent hanger-on Greg (Tim).
As the series progresses, the five companions travel around Asia, taking in the Malaysian jungle, Viet Nam and Thailand, even stopping in at the famous Full Moon Party on the Thai island of Ko Pha Ngan...
"The Full Moon Party isn't an ideal place to do filming," explained Tim. "Anyone who has been there will know it's basically a rave on a beach, with 40,000 people having the time of their lives. We did it in the smallest way we could, but it was the most exhilarating night of filming, it was hilarious.
https://youtu.be/Fr299XWAUuA
"Me and Jay – who directed that episode – have been friends for a long time and there were definitely moments when we'd finish a take and he'd pop the camera down and we'd look at one another as if to say: 'Yes, this is very spicy. This is an excellent chapter in our working relationship.' A day on set neither of us will forget. Mixing business and pleasure!!
"Jay is pretty unflappable and there were lots of reasons to flap on that day, but he kept his nerves and kept rolling and got some amazing stuff. Nothing will hold any nerves for me an ymore, because if you can film there, you can film anywhere!"
Gap Year begins on Thursday, February 23 on E4
Get the latest updates, reviews and unmissable series to watch and more!
Thank you for signing up to Whattowatch. You will receive a verification email shortly.
There was a problem. Please refresh the page and try again.