Titanic - Prepare to be soaked at this year's most immersive 3D cinema experience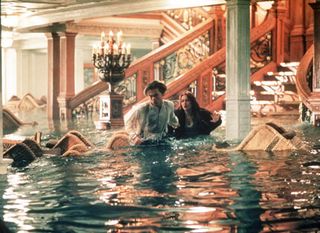 I've just heard some veeery exciting news from a reliable source (my friend who works in the press office of a leading cinema chain, and who may never speak to me again after I reveal this - press release is only going out Monday...).
Said chain is apparently putting on special one-off screenings of Titanic 3D in key cities all over the country. Why one-off? Well, don't expect this to be the usual lame-o glasses job, oh, and forget about the popcorn. They are going to give the expression 'immersive experience' a whole new meaning by actually f l o o d i n g the auditorium half-way through the movie as The Titanic starts to sink! Insane!
I haven't a clue about the logistics but I guess if James Cameron (opens in new tab) could do it then so can they. I just feel bad for the ushers doing the clean-up afterwards as I don't think the usual walkabout with a bin liner will quite do the job!
Top tips: check your life vest really is under your seat and get a seat at the top and back - that would be the equivalent to first class and soggy feet at the most. Alternatively, if you're feeling daring, get your wetsuit on, pop some sea sickness tabs and hit the front row. Whatever you do, we want to hear about it here!
Tickets will go on general sale sometime tomorrow (expect there to be an age limit on these as well as the need for a medical disclaimer). Come back first thing tomorrow morning when we'll be able to fill you in on the deets post-press release.
Could this be the ultimate first date movie experience?! We cannot wait to hear your stories.
Get the latest updates, reviews and unmissable series to watch and more!
Thank you for signing up to Whattowatch. You will receive a verification email shortly.
There was a problem. Please refresh the page and try again.