Top Dog host Gaby Roslin: 'I had to choose my husband or my dog – it was a close call!'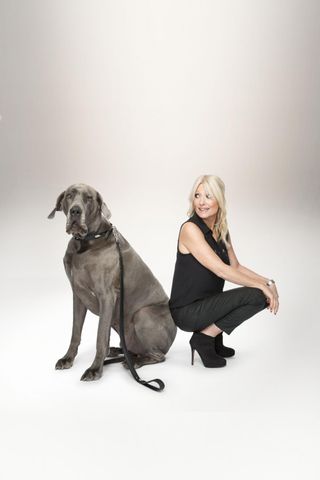 Gaby Roslin will be watching on as a host of celebrities and their dogs battle to become Top Dog over the next three weeks for Sport Relief (BBC2, March 3-7).
We caught up with her to ask which celebrities look like their pets and how she nearly chose a dog over her husband!
Tell us about Top Dog...
"It's not your average dog show! There are two teams of three - a celebrity and their dog, a member of the public and their dog and a working dog and their handler. We had all sorts of dogs on the show; dogs for the disabled, guide dogs, search and rescue dogs. Watching them at work is so amazing, they follow instructions far better than my kids!"
Have you always been a dog-lover?
"I grew up with dogs everywhere! My mum bred dogs and I had my own dogs. But unfortunately my husband is allergic to them so I had to choose between my husband and my dog - it was a close call!"
Were the dogs well behaved on set?
"For the most part. There were a few dogs who did run off, but we filmed it because that's what you expect and those are the moments you love. It was such a fun show to film. Everybody was smiling all day long, especially the dogs!"
Can dogs smile?
"Of course they can! I went so soppy over some of them - some had dreamy eyes. Another just wanted to cuddle you every time you went near it. I went very soppy at moments."
Which celebrity had the naughtiest dog?
"Some dogs are very like their owners and Ainsley Harriot's dog certainly is! That's all I'm saying. I was amazed by Chris Hollin's miniature dachshund. You wouldn't believe what it was capable of! It's such a small dog and it made us giggle. One of my oldest friends Danny Baker was on the show as well and he had the oldest dog. Bingo is 12 and a half!"
You have former Olympic stars Sally Gunnell and Sharon Davies on the show as well - were they really competitive?
"No, but some of the pet dog owners were very competitive! There were some really funny moments when people wanted their dogs to do something, but they didn't. But people didn't get angry with their dogs at all, you just saw the love between the owner and the dog. They were all so proud of their dogs."
To donate to Sport Relief visit www.sportrelief.com
Get the latest updates, reviews and unmissable series to watch and more!
Thank you for signing up to Whattowatch. You will receive a verification email shortly.
There was a problem. Please refresh the page and try again.