Victoria star Flemming: 'I love Jenna Coleman like my daughter!' (VIDEO)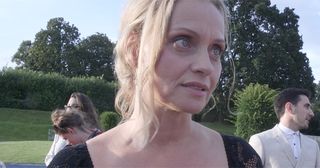 As period drama Victoria continues on Sunday, actress Catherine Flemming reveals how she played 'mum' both on-screen - and off!
On screen in ITV's lavish new costume drama, Victoria, the young Queen and her mother have been at war. But off screen Catherine Flemming, who plays Victoria's mum, The Duchess of Kent, reveals that she struck up a great relationship with Jenna Coleman, who stars as the teenage monarch.
Talking to What's on TV at the show's grand launch outside Kensington Palace, the 49-year-old German actress told us: "For the Queen mother everything is about love. The background is love and her protecting her daughter. I love Jenna like my daughter!"
So far on the show, Victoria has been doing her best to ignore her mother as much as possible. But Catherine says that her character continues to fight to be heard in the series, the first episode of which attracted over six million viewers. "When you are children, you don't want to listen to your parents," admitted Catherine.
However, the relationship between mother and daughter looks like it might improve when Victoria starts her sizeable family – she ended up having nine children with her future husband, Prince Albert (Tom Hughes)! "Later when Victoria becomes pregnant, she is screaming for her mother," said Catherine.
Meanwhile, Catherine praised the show's recreation of Buckingham Palace, which was built in a disused aircraft hangar. "Unbelievable what they built there," she smiled. "It was full of hundreds of candles – it was wonderful!"
Victoria continues on ITV this Sunday.
Get the latest updates, reviews and unmissable series to watch and more!
Thank you for signing up to Whattowatch. You will receive a verification email shortly.
There was a problem. Please refresh the page and try again.