Michelle and Preston discovered! 'The walls are falling down around her!' says EastEnders' Jenna Russell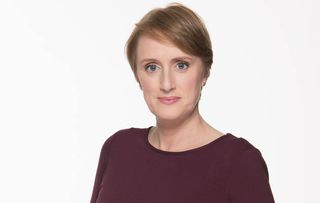 (Image credit: BBC/Kieron McCarron)
Michelle's worst nightmare finally comes true tonight in EastEnders (8pm, BBC1) when Bex confronts her about her relationship with Preston. So it seems Michelle's affair with her American toyboy is about to explode in her face, as actress Jenna Russell reveals...
EastEnders star Jenna Russell has revealed what is about to happen when Michelle's affair with Preston is discovered by her family tonight, and everything is about to unravel in her life over the next few episodes...
Things are about to come to a head this week for Michelle. How do you think she's been coping with so far with the Preston/Bex situation? "Terribly. She's coping terribly. She's like one of those people in a circus balancing plates on poles, she's trying to keep one going, and that's fine, and then trying to keep another going. She's just running around trying to put out little fires and not actually managing well at all. Probably things would be very different if she had Sharon with her because she would have someone to talk to and someone to help her manage the situation.
"Michelle really would like Preston to go, but she doesn't know how to do it, because she hasn't got the money to pay for his flight back. The situation with Bex is awful, but in order to keep Bex away from Preston she'd have to tell her the truth, and she can't do that. She's trying very hard to manage the situation, but obviously she's not managing the situation at all."
In tonight's episode, Preston tells Michelle he and Bex are officially a couple now. How does she take the news? "Michelle knows he's enjoying the fact that he's playing her. I don't think she's jealous of their relationship. That might play a little part of it somewhere in the back of her head, but it's much more to do with the fact he's brought an innocent into their messed up relationship and Michelle wants to protect her.
"She tries to tell Martin and she tries to tell Bex to stay away from Preston as much as she can without telling the truth. Preston pushed to work for Martin on the stall, another way to wind Michelle up, and she tries to say he can't, she tries to send him home, but she can't. She's trying to do as much as she can without standing in the middle of the square shouting 'I've slept with him', because she wants to save her reputation. All she had to do was be honest to the people who matter to her, but it's something she felt she couldn't be honest about."
Michelle's worst nightmare finally comes true tonight when Bex confronts her about her and Preston? "For Michelle it's the worst-case scenario. The walls are falling down around her, the ground is shifting underneath her. Her brother, who she loves so dearly, is looking at her in a different way. She's a very proud woman and looking at her past, she's really proud of what she's done with her life and feels like she's really made something of herself. In her brother's eyes he felt the same.
"For me, when I read the script I thought at least everyone knows now, it's out there, the truth is out. Come what may, whatever is written in terms of the script, Michelle isn't going to be lying any more (about Preston). I feel it's a good thing, because Michelle has to face up to what she's done and face the consequences. She'll have to mend those bridges and build a better foundation."
Does Michelle feel bad that's she's been offering Bex – her niece – advice about Preston? "We filmed a scene where Michelle tries to steer Bex away from Preston in the kindest way she can, and it's interesting, on paper the way it was written it could have gone one of two ways – either she's jealous and wants Bex to stay away for her purposes because she feels 'Preston's my boyfriend', or, because she genuinely wants to protect Bex from Preston (we played it the latter way). Bex is family, and as she said all along, Martin and Bex are really all she's got.
"Of course none of it works because she sadly isn't completely straight with her, and she has her own reasons for that. The fact that Preston, to get at Michelle, slept with Bex, horrifies her. It's the last thing she would have wanted. She knows Bex is a vulnerable young girl who's going through a really important time in her life, in her exams and everything, and she wants to protect Bex."
What's Michelle's mechanism for coping with everything? "At the moment she's trying to numb everything out. That's her problem, she's not facing the truth of the fact that her marriage is over, her son isn't talking to her, her daughter isn't talking to her, she's back in Walford and that's difficult and strange, and she's having to lie to people about why she's home. Then Preston turns up and that's a mirror, reflecting all that has gone wrong back in America.
Ultimately, underneath it all she's a very caring woman, she's her mother's daughter but also her father's. She keeps saying to Preston 'you've got your life ahead of you, just forget about me, this doesn't have to colour the rest of your life'. It has for Michelle.
"It's very overwhelming. Michelle is seeking solace in the bottle and sleeping pills – she's numbing herself, but it's a temporary fix. She's just trying to switch her brain off at the end of the night. She's lonely and she hasn't got her best friend there to put her straight and make her see sense. She's trying hard to cope, but it's not working out for her at the moment."
Michelle is also being blackmailed by Dennis and last week we saw her slap the lad. Why hasn't she called his bluff? Why has she let him get to her so much? "I think Michelle doesn't say anything to Dennis because she thinks she can handle it. She tries to say 'I'm the grown up here, you're not going to do that', and then he'll threaten to tell people her secret and she acquiesces to his bribes. She keeps trying to address the situation, but then she backs off because she doesn't have the courage of her convictions.
"Also, ultimately ,she knows she's done something wrong. That's why she can't follow any of these things through. Her relationship with Preston was a mistake and in her eyes if people knew about it they would think differently of her. Her reputation is very important to her. She's worked very hard in her life, she's just made some very bad choices and she hasn't learnt that she has to own up to them honestly and move on.
"It's been good fun for me and Bleu (Landau, who plays Dennis) though. We've had a giggle doing it, we get on really well. He's a terrific little actor."
How has it been filming with Martin Anzor, who plays Preston? "He is a lovely guy. We got on well and he's doing a great job. Watching it back I think he's coming across really well. It helped me that the character was slightly Machiavellian. Preston knows his power and he knows what he's doing, so that gave an interesting slant to it all, rather than him just being a puppy dog. He plays Michelle and he plays Bex. I'm sure if we met Preston 10 years down the line he'd admit he didn't handle it very well."
Michelle has been on screen a few months now –how have you been finding it? "It's been going really well. I've been looked after by the cast and crew which is brilliant because it's a full-on schedule when you're here. Everyone's been really supportive. I feel like I've been here for years already (laughs). It's been interesting exploring Michelle when she's in a time of crisis, but it's been great, and I've really enjoyed it."
What has the response been from EastEnders fans? "It's been really positive. People have been great on the street, but I don't really go out much and I'm not on any social media, so if people are horrid I don't know about it! What I've experienced in the flesh is really nice."
TV Content Director on TV Times, What's On TV and TV & Satellite Week
I'm a huge fan of television so I really have found the perfect job, as I've been writing about TV shows, films and interviewing major television, film and sports stars for over 25 years. I'm currently TV Content Director on What's On TV, TV Times, TV and Satellite Week magazines plus Whattowatch.com. I previously worked on Woman and Woman's Own in the 1990s. Outside of work I swim every morning, support Charlton Athletic football club and get nostalgic about TV shows Cagney & Lacey, I Claudius, Dallas and Tenko. I'm totally on top of everything good coming up too.
Thank you for signing up to Whattowatch. You will receive a verification email shortly.
There was a problem. Please refresh the page and try again.