Star Wars legend Warwick Davis: 'Bear Grylls is a nightmare!'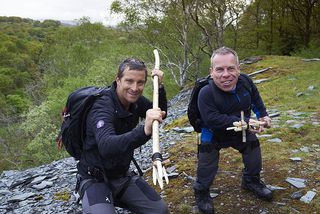 (Image credit: Betty TV)
Star Wars actor Warwick Davis gets the Bear Grylls treatment in a new ITV show next Tuesday – and survives!
He played a member of primitive hunter-gatherer tribe the Ewoks in Star Wars, but that doesn't mean Warwick Davis is necessarily close to nature.
Indeed, the 48-year-old says that, being shorter than most, everyday life is already challenging enough without roughing it in the wild, which is what he's seen doing in the company of survival expert Bear Grylls on ITV next week.
We caught up with Warwick Davis to find out how coped on his outward bound adventure with Bear Grylls in the beautiful Lake District…
Warwick, you're doing some serious rock-climbing with Bear. How did you get on?
Warwick Davis: "We all have dwarfism in our family, so we're not built for climbing up things! The only climbing I do is clambering around in the kitchen to reach things I can't get to in the top cupboards!"
Overall, was it an enjoyable experience?
WD: "It was one of the most amazing experiences of my career – and I've been in Star Wars! Although not having access to a proper toilet always stresses me out when I travel, so if I could have carried a gleaming white toilet with me, I would have!"
What were the highlights?
WD: "Being outdoors and away from my mobile phone and email. I loved going out and exploring parts of the Lake District I'd never been to before. Usually I only explore from the comfort of our campervan, but this was a chance to see areas not accessible by road."
What did you make of Bear?
WD: "The thing I've learnt about Bear Grylls is to keep him at a safe distance behind your television screen, because in real life, he's a nightmare! Seriously though, Bear has this wonderful way of getting people to reconnect with nature and life, which is something I've tried to retain since coming back from my time with him. Also I found out he doesn't drink his own wee as often as you might think!"
We hear you are a fussy eater. How did you cope with the foraged food Bear served up?
WD: "I had to eat a fish eye. It didn't really taste bad, but it was the texture that wasn't easy to swallow. Also, the fact that it was an eyeball plays with your mind and, to eat it, I tried to imagine it was a Haribo sweet!"
Had you been to the Lake District before?
WD: "The Lake District is my favourite place on the planet. I went there first on a geography field trip when I was about 10. Since then, my family and I have had many happy holidays in the Lakes, camping in our caravan."
http://www.youtube.com/watch?v=qFmCBNjCAj4
Had you watched any of Bear's shows on TV?
WD: "I've been a fan of Bear for years, and my kids are fans too, so much so that when they were younger, we made our own version of Born Survivor in The Lake District, with Annabelle and Harrison playing Bear and doing brilliant impressions of him!"
Why did you sign up for the show, and what was your biggest fear going into it?
WD: "I couldn't turn down the chance to spend time with a legend in my favourite place on Earth. My biggest fear was being chased by a sheep or having to wrestle a badger!"
What other projects are you working on at the moment?
WD: "Apart from appearing in the film Solo: A Star Wars Story, I'm recording a new series of my ITV quiz show Tenable. I am also producing a 1980s-inspired musical called Eugenius!, which starts its second run at The Other Palace in London on 1 September."
Bear's Mission with Warwick Davis is on ITV on Tuesday, 26th June, at 9pm.
Get the latest updates, reviews and unmissable series to watch and more!
Thank you for signing up to Whattowatch. You will receive a verification email shortly.
There was a problem. Please refresh the page and try again.