What will Mr Bean be doing for Comic Relief?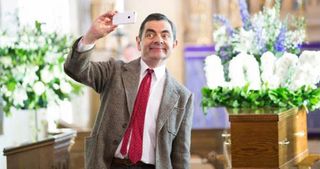 Mr Bean is back for Comic Relief, and this time he'll be bringing his inappropriate behaviour to a funeral.
Fans of the Rowan Atkinson character will know that the socially awkward Bean is one of the worst people to have attend such a sombre occasion, and the comedian's co-stars in the sketch have promised it will be every bit as excruciating and hilarious as expected.
Ben Miller and Rebecca Front appear alongside Rowan in the short sketch for Comic Relief's BBC broadcast on March 13.
Rowan Atkinson as Mr Bean in his Comic Relief sketch (BBC)
Ben explained: "Mr Bean attends a funeral in this sketch so I don't think we should expect to see any kind of decorum, reverence or appropriate behaviour.
"I play a mourner in the congregation in this sketch who draws the short straw and has to sit next to Mr Bean. I think viewers will enjoy this sketch as this is just about the worst thing you could ever possibly imagine happening at a funeral."
He added: "The best thing about filming this sketch was the fact we were all doing it for Comic Relief. It was such great fun and everyone was there because they truly wanted to be there. Everyone loves Mr Bean and we were all delighted to watch the master at work whilst hopefully encouraging more people to join in and donate on Red Nose Day."
Rowan is joined by Rebecca Front and Ben Miller for the sketch (BBC)
Rebecca agreed: "The true beauty of Mr Bean is that you know something's going to go wrong, but it's never quite what you think it's going to be.
"This sketch takes place at a funeral, so I'm sure viewers will expect a very serious, sombre occasion. But with Mr Bean involved, you never know what's going to happen… What could possibly go wrong?"
She added of working with Rowan and director Richard Curtis: "I thoroughly enjoyed filming and it was incredible having the opportunity to work with Rowan Atkinson, as I'm a huge fan of his and it was a pleasure getting to work with him. Meeting and working with Richard Curtis was also a real treat for me."
Get the latest updates, reviews and unmissable series to watch and more!
Thank you for signing up to Whattowatch. You will receive a verification email shortly.
There was a problem. Please refresh the page and try again.