Zardoz (1974) | Sean Connery's post-Bond sci-fi gets a 4k restoration release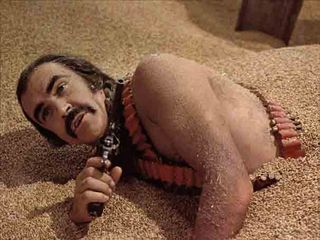 Zardoz, director John Boorman's eerily dystopian sci-fi tale, gets a Blu-ray release in the UK from Arrow presented in a brand new 4k transfer. Released in 1974, not long after Deliverance, Zardoz saw director Boorman team up with Sean Connery, three years after his final official appearance as James Bond.
SYNOPSIS
The year is 2293. Society as we know it has broken down centuries ago with the Earth's population split into three classes: the Brutals, who work the land and are forbidden from reproducing; their overseers, the Executioners; and the highly-civilised Eternals, who are protected from the outside world by a force-field. But when an Executioner, Zed (Sean Connery, light years from James Bond), smuggles himself into their isolated paradise, he risks unbalancing the system and threatening the status quo…
Zardoz is out on Blu-ray from Arrow in the UK, and features a wealth of bonus including interviews with the cast and crew and an audio commentary by writer-producer-director John Boorman. Zardoz mega-fan Ben Wheatley (Kill List, A Field in England) also provides an on-camera appreciation recorded especially for Arrow Video.
Get the What to Watch Newsletter
The latest updates, reviews and unmissable series to watch and more!