EastEnders spoilers: Lola Pearce has terrible news about Lexi!
Airs at 7:30 pm on Tuesday 14 March 2023 on BBC One.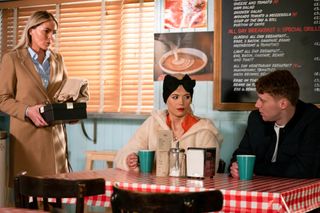 (Image credit: BBC)
Lola Pearce is stunned by a revelation about daughter Lexi Pearce in Tuesday's episode of EastEnders (7:30 pm. see our TV Guide for full listings).
Lola Pearce Brown is convinced to see sense by husband Jay Brown over her daughter Lexi Pearce's mental wellbeing.
The enormity of dealing with the reality of Lola's deadly brain tumour is a lot for the young girl to deal with, and Jay has been encouraging her to let Lexi go to a counsellor.
After initially rejecting Jay's suggestion, Lola gives in, leaving Jay relieved. But they're both surprised when they get an unexpected visit from Lola's mum Emma Harding...
Lola is stunned when Emma reveals that Lexi called her to tell her she's worried about her mum. Confused about the call, she's horrified to find out that Emma secretly gave Lexi her phone number and told her to keep it quiet from her mum!
Despite Emma's subterfuge, Lola soon forgives her. Jay is frustrated when Lola shares with Emma that she's sending Lexi to a counsellor and Emma expresses her concern.
She manages to talk Lola out of the counselling idea saying it's best dealt with by the family.
Lola cancels the appointment but where will that leave Lexi?
Ravi Gulati was frustrated in his attempts to find out what copper Jack Branning had on him when Jack's wife Denise Fox refused to bow to blackmail and do the digging for him.
Knowing he NEEDS to get into Jack's laptop and see what evidence he has, he prepares to break into the house.
He's interupted in his mission when Denise's daughter Chelsea Fox turns up. Making up an excuse on the spot, it seems he's successfully convinced Chelsea that nothing untoward is going on.
After the pair share a flirty exchange, Chelsea heads out but will Ravi get the information he needs?
Denise and Jack later return home with Keanu Taylor in tow, as Denise is hoping to set Chelsea up with him.
Desperate to keep Chelsea well away from Ravi, she's paranoid that if Ravi gets his claws into her, it won't be long before she finds out about Denise's betrayal with Ravi and her marriage will implode.
Chelsea's concerned that Keanu is not that into her but he convinces her to give him another chance.
Will it stop Ravi from making a move on her?
Stacey Slater is terrified that she's going to be banged up in prison for stealing from an office petty cash tin, after finding it open during a cleaning job.
Unfortunately her attempt to do the right thing and secretly return the money didn't go to plan, and she was confronted by police officer Callum Highway wanting to talk to her down the station!
With her daughter Lily Slater's prizegiving later that day, Stacey is desperate not to let down her family and she visits security guard Alan and threatens him over his accusations.
When Callum interviews her, Stacey denies stealing the money but will he believe her?
Stacey returns to the Square and walks into the Vic to find Kat Slater holding court with the rest of the Slaters.
After Kat reveals that she's using Mitchell cash to sort out the Slater's cashflow problems, Stacey is incensed!
Offended that Kat is trying to swoop in to 'save' the Slaters with fiance Phil Mitchell's money, Stacey furiously has a go at Kat and they end up in a massive row!
Also, Freddie's unconventional money making scheme leaves Alfie Moon shocked!
EastEnders continues on BBC One on Wednesday at 7:30 pm.
Get the What to Watch Newsletter
The latest updates, reviews and unmissable series to watch and more!