Blue Lights: release date, cast, plot, trailer, interviews, first looks and all about the police drama set in Belfast
Blue Lights on BBC1 follows three rookie cops trying to fight crime and navigate the tricky politics of Belfast.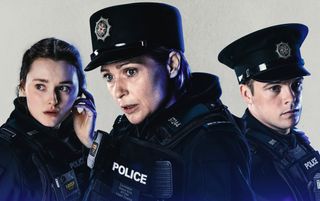 (Image credit: BBC)
Blue Lights on BBC1 is written by the team behind The Salisbury Poisonings and stars Siân Brooke, Katherine Devlin, and Nathan Braniff as new recruits to the police force. All three are in the probation period with the PSNI, the Police Service of Northern Ireland, and must deal with immense pressure in order to make it. Added to that, they must navigate the complexities of being police officers in Belfast, which means they sometimes have to hide their true selves from those closest to them.
The trio must work out whom they can trust and who wants them dead simply because of the uniform they are wearing. "I am so thrilled to be playing Grace in Blue Lights," says Siân Brooke. "There is something incredibly special about the scripts and I was hooked from the very first page. Belfast is the beating heart of this piece and it's a city I've been wanting to work in for a long time."
So here's everything you need to know about Blue Lights on BBC1...
Blue Lights release date
Blue Lights is a six-parter launching on BBC1 from Monday March 27 at 9pm, and is available as a box set on BBCiPlayer. We will update with a US or worldwide air date later in 2023.
Is there a Blue Lights trailer?
Yes the BBC has now released its trailer for Blue Lights so take a look at the Belfast recruits in action below...
Blue Lights plot
Blue Lights follows Grace Ellis, played by Siân Brooke, who is mum to a teenage boy. In her 40s, she's decided to leave her stable job as a social worker to join the police force.
It's the biggest gamble of her life, especially as she finds herself making countless mistakes in her first few weeks on the job. Joining her are fellow rookies Annie (Katherine Devlin), who must leave behind everything she's ever known to follow her dream, and Tommy Foster (Nathan Braniff) who is desperate to prove himself despite being seriously inept when it comes to frontline policing. The odds are at least one of them will fail the probation period and, to make matters worse, just being a cop in Belfast is a dangerous business.
How can they determine who really needs their help and who will turn on them purely because of their job?
In the first episode Grace and her partner are called to a disturbance involving Angela Mackel (Valene Kane), who's concerned her teenage son, Gordy, is being exploited.
Blue Lights cast — Siân Brooke on playing Grace Ellis
Siân Brooke plays new cop Grace Ellis, who is struggling to straddle the fine line between the personal and the professional. Before filming, Sian sought the advice of her father, who was a police officer for many years.
"My dad never had a gun, like the police in Northern Ireland do, and the job has a very different effect on their home lives," she explains. "Some officers in the PSNI are unable to tell their family what their job is and have to check under their car before they go to work every morning. I didn't experience that with my dad!"
"Grace is courageous, determined and resolute. She's a former social worker in her 40s, a single mum to a teenage son, and she's leaving everything she's ever known behind to change her career, which takes real guts."
* Sian played Eurus Holmes in Sherlock, with Benedict Cumberbatch and Martin Freeman. She was then in The Moorside, about the search for missing schoolgirl Shannon Matthews, and the hit series Doctor Foster. She's also had roles in Good Omens, Guilt and Trying as well as playing former head of the MET police Cressida Dick in Stephen. This year she's starred in ITV's No Return.
Katherine Devlin on playing Annie
Katherine Devlin is playing another rookie cop Annie. She says: "It embodies truth. People from Northern Ireland tend to shroud serious situations with humour and we really get a feel for that in the script. There's also a real honesty in the script to the realities of Northern Ireland in the present day, as we're still battling issues that have come from The Troubles. I was so drawn to the character of Annie and knew instantly what type of person she was because I know women like her. I grew up with them and I still know them. They're class and like no-other. Also showcasing other parts of the North that aren't just Belfast is so important. Every place comes with its own spirit and it's a big part of who Annie is as a person."
* Katherine Devlin previously played Siobhan in the 2018 movie The Dig about a man released from prison after serving 15 years for murder. She also played Natasha in the TV series Vikings.
Nathan Braniff on playing Tommy Foster
Blue Lights star Nathan Braniff is also new to the business and playing rookie police officer Tommy Foster is his debut role.
Nathan says: "I've lived in Belfast for most of my life and that was the main draw for me. First of all that a show like this was being made in Belfast. There have been other police dramas set in Northern Ireland but they haven't focussed on what makes policing in Northern Ireland so different. It was also nice to see all these little cultural details in the script that Adam and Declan went in to. A lot of times you see things set in Northern Ireland and a lot of the stuff isn't really real, it's not what the place is really like. It's more like an outsider's perspective. You could tell the first time reading his script that they're from Belfast and really knew what they were talking about.
"This was my first in-person audition since the outbreak of Covid and before that I had been self-taping. It was just great to get in the room with the director and casting director. The first audition was really amazing and I got a sense that we had really hit it off. But that's never a given. I came back for a second audition and then got the good news a few weeks after that."
Richard Dormer as Gerry
Rookie Tommy Foster is shown the ropes by cop partner Gerry, played by Game of Thrones star Richard Dormer, an experienced officer who's been policing the streets of Belfast for several decades.
"Policing is all about compromise," explains Dormer. "But something happened in Gerry's past where he just couldn't compromise, so he's never been promoted. He doesn't have any kids and starts to really care for Tommy during the series, while also seeing his work from a different perspective.
"Gerry is a veteran of the job. He's been around a long time and watched all of these guys arrive and watched a lot of people go as well. He's seen it all, he's been there and he's done it. At first, you may think he's jaded and a bit maverick because he does things a little differently. He's a realist who knows how to survive. Gerry is the joker in the pack and provides the humour that threads through the station. He doesn't always play by the rules but he does play by his own moral compass and for him that moral compass is the most important."
John Lynch plays James McIntyre
The Fall star John Lynch is playing James McIntyre. John says: "Blue Lights is focused around the story of three rookie cops and it follows these three new recruits while they enter a relatively recent established system of policing in Northern Ireland. It also encounters the monolith from the past; the history that's still there underneath the surface, like grudges, drugs, violence and the Troubles but it has this wonderful, clever script that tackles modern policing in Northern Ireland in a different way. You really feel for these young cops as they go into what turns out to be very dangerous situations and in particular a situation that involves my character and how he lives, functions and how he controls West Belfast. To the police, McIntyre seems to have an invisible force field around him and the police can't touch him - that's the story that underpins the series. Why is he seemingly untouchable? Why can't they bring him in?
"James McIntyre is a bit of a conundrum and you spend the first few episodes thinking he's one thing and the rest of it knowing he's another and he's got a huge secret that is hidden from everyone except his wife Tina, played by Abigail McGibbon. What's also really interesting about this series is the choice of French-born Gilles Bannier, to direct which was inspired because he brought a unique sensibility and fresh perspective from someone who doesn't come from Northern Ireland. There could have been a way of telling McIntrye's story that was clichéd – the typical bad guy – but we wanted to give him and his family some validity and wanted to find as many human frailties in him as possible behind the bravado. We concentrated on the family and moved out from there."
Who else is starring in Blue Lights?
Also in Blue Lights, look out for Marcella actor Martin McCann as Stevie Nell, Jonathan Harden (Unforgotten and Time) is playing David 'Jonty' Johnson. Matthew Carver is Cal Ellis, Andi Osho is Sandra Cliff and Hannah McClean is Jen Robinson. Valene Kane from Gangs Of London and The Fall also stars as Angela Mackel.
Behind the scenes and more on Blue Lights
The show has been created and written by Declan Lawn and Adam Patterson, writers of The Salisbury Poisonings. In their statement announcing the show they said, "Every writer wants to explore their own place, and their own society as authentically and as honestly as they can. We feel enormously grateful to BBC drama for letting us do that with Blue Lights. And to do it with a cast boasting so much new and established talent makes it even more exciting."
Blue Lights is directed by Giles Bannier, of Trigger Point and Tin Star fame, and was inspired by extensive research and interviews.
Get the What to Watch Newsletter
The latest updates, reviews and unmissable series to watch and more!
TV Content Director on TV Times, What's On TV and TV & Satellite Week
I'm a huge fan of television so I really have found the perfect job, as I've been writing about TV shows, films and interviewing major television, film and sports stars for over 25 years. I'm currently TV Content Director on What's On TV, TV Times, TV and Satellite Week magazines plus Whattowatch.com. I previously worked on Woman and Woman's Own in the 1990s. Outside of work I swim every morning, support Charlton Athletic football club and get nostalgic about TV shows Cagney & Lacey, I Claudius, Dallas and Tenko. I'm totally on top of everything good coming up too.
With contributions from
Sean MarlandFeature writer for TV Times, What's On TV, TV & Satellite Week and whattowatch.com