'Cooking With The Stars' — presenters, celebrities, professional chefs, and everything you need to know
Recipe for success? ITV's juicy new series Cooking With The Stars promises to deliver!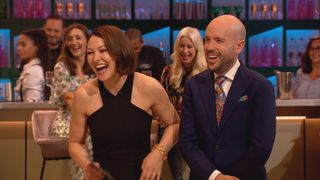 (Image credit: ITV)
Series one of Cooking With The Stars debuted on ITV at 9pm on Tuesday, 13 July 2021. New episodes air on Tuesdays at 9pm on ITV - see our TV Guide for listings.
Emma Willis and Tom Allen, two of telly-land's top presenters, make for an inspired co-hosting pairing for the new celebrity series.
Emma, 45, is known for shows such as Big Brother, The Circle, Delivering Babies and while Tom, 37, is currently hosting Bake Off: The Professionals but is also known for The Apprentice: You're Fired, There's Something About Movies, Quizness. They oversee eight celebrities, as they're appointed to professional chefs, who aim to mentor them from amateur cooks to restaurant level chefs.
The stars taking part are Griff Rhys-Jones, Shirley Ballas, Naughty Boy, Denise Van Outen, Catherine Tyldesley, Harry Judd, Johnny Vegas, and AJ Odudu.
The professional chefs are Rosemary Shrager, Nisha Katona, Joseph Denison Carey, Ronnie Murray, Jack Stein, Judy Joo, Tristan Welch, and Francesco Mazzeri.
Tom Allen reveals: 'It's fascinating seeing people from different backgrounds embracing cooking.
'Shirley Ballas was nervous, vulnerable and keen to do well. It's amazing seeing somebody used to competitions and being the best at what she does going back to square one and seeing how she approached the learning process.
'Denise Van Outen also took it very seriously. She's used to working in the West End and doing it again and again and again. She took that approach with the food she was making.'
Here's everything you need to know about the new series, the celebrity contestants, and their gourmet guides…
Cooking With The Stars start date
Cooking With The Stars airs as part of ITV's Summer 2021 schedule. Episode one can be watched on ITV Tuesday 13 July 2021 at 9pm. It will also be available on the ITV Hub. There are currently no plans to air Cooking With The Stars in the US.
How does Cooking With The Stars work?
Each celebrity is trained by their mentor chef to prepare dishes which are then judged by the remaining professionals.
The celebrities that find themselves in the bottom two must then battle it out for their place to remain in the competition. In order to do this they must create a dish of their own - without help from their mentor.
Each dish is then judged in a blind taste test by all the professional chefs!
Emma explains: 'We've got eight celebrities paired with eight chefs competing against each other. Each week there's a different themed cuisine. They've an hour to cook restaurant-standard meals, and sometimes it isn't just one plate, it's four or five dishes.
At the end of the show two losers from each pair go into a cook-off against each other and one person leaves. The cook-off is judged blind by the chefs. So the mentors might unknowingly vote for their celeb to go home!'
Series 1 Cooking With The Stars Celebrity/Chef Pairings:
Johnny Vegas and Rosemary Shrager
Benidorm and Murder, They Hope star Johnny, 50, joins forces with chef and TV presenter Rosemary, 70, best known for her appearances on Ladette to Lady and The Real Marigold Hotel.
Johnny says: 'I've always wanted my son to see me cook as I saw my dad cook, but I only have a handful of staples. Rosemary is perfect, she knows when to push me!'
Tom Allen adds: 'We've got some unlikely pairings. Johnny Vegas and Rosemary Shrager for example. Rosemary's very strict and used to being listened to whereas Johnny doesn't listen to anybody. Yet they really get on!'
Griff Rhys-Jones and Ronnie Murray
Comedian, actor and seasoned traveller Griff, 67, is paired with chef Ronnie, 42, who took part in The Great British Menu in 2016 and Million Pound Menu in 2018.
Griff says: 'I am a lapsed culinarian. Mrs Jones cooks so well that I have got lazy. This is good to get me back in the kitchen. I will rattle those pots and pans! I mustn't get into a tizzy. I must not improvise!'
Shirley Ballas and Joseph Denison Carey
Strictly Come Dancing judge Shirley, 60, gives cooking a whirl with the help of Joseph, a regular chef on This Morning.
Shirley says: 'My mother and son don't have much faith in my cooking ability. I once blew an egg up in the microwave! I've got to learn everything there is to do in a kitchen. The thing is not to panic!'
Denise Van-Outen and Francesco Mazzei
Knife-phobic presenter, actor, and West End star Denise, 47, sharpens her culinary skills under the watchful eye of prestigious Italian chef Francesco, 47.
Denise says: 'I think my nerves and the ticking clock will get to me. I'm not good at making things from scratch. The cook-off is probably the scariest thing!'
Catherine Tyldesley and Tristan Welch
Coronation Street and Scarborough star Catherine, 37, is matched with accomplished chef Tristan, 42, a contestant on The Great British Menu in 2009.
Catherine says: 'I've never had so many cuts and blue plasters. You think you can cook until you're paired with a chef that has two Michelin stars. It turns out I'm clumsy with a knife!'
Naughty Boy and Judy Joo

DJ Shahid Khan, 36, best known by his stage name Naughty Boy, has collaborated with Ed Sheeran. Will he work in harmony with Judy, 46, a Korean cuisine expert?
Naughty Boy says: 'I'm worried about timing and if I can get it on the plate in time, as I'm quite chilled-out. Judy is kicking me into shape. She says chef cuts are battle wounds!'
Harry Judd and Nisha Katona
McFly drummer Harry, 35, is hoping the founder of Mowgli Street Food Nisha, 49, can teach him the fine art of being a restaurant-standard chef.
Harry says: 'My signature dish is scrambled eggs. My cooking experience is limited. Literally microwave, toaster and a bit of oven action. My wife's hoping that I become cooking obsessed!'
AJ Odudu and Jack Stein

Big Brother spin-off presenter AJ, 33, is matched with Steph's Packed Lunch chef Jack, 36 - and yes he is the son of world-famous chef Rick Stein!
AJ says: 'My mum's an amazing cook. As a result I've never had to learn. 'She was creasing with laughter when I signed up! Hopefully I'll do her proud.'
Emma Willis and Tom Allen share behind-the-scenes secrets from filming Series 1 of Cooking With The Stars:
How critical are the chefs?

Tom says: 'The chefs were expecting a professional standard. They didn't pull any punches! Whilst they understand that these were new dishes, they were pretty strict. It was all about the flavour.'
Emma says: 'After mentoring and teaching their celebs for weeks how to cook these meals, when it comes to it, the chefs are sat at the bar on the side watching. They're not allowed to get involved or tell them what they're doing wrong - unless one of the celebs gongs The Golden Frying Pan. Then the chef can come in for two minutes to give advice. Jack Stein actually sat on his hands at one point, going "oh my god!"'
Did anything unexpected happen during filming?
Tom says: 'We did have a few accidents along the way. Harry Judd couldn't use a knife properly - it was like a blood bath the way he kept cutting himself! But he ended up really surprising us all. There was also some dropping of things on the floor, turns out the three second rule isn't real!'
Emma says: 'It's the one thing none of us had really thought about. We knew there'd be competitiveness, giggles, and probably really good and terrible food. But we didn't anticipate the blood! There was a running joke that the medic had more airtime than Tom and I.
'Harry Judd had his knife pointing the wrong way when he picked a herb and his hand went straight down on the blade. He was literally having one hand bandaged while mixing with the other one!'
Is it true Denise Van Outen has a fear of knives?
Emma says: 'Yes, whereas Harry went rogue with his knives, Denise was the polar opposite and couldn't use a sharp knife. She had a little baby blunt knife, and used that to cut everything. Bless her! She was fantastic actually. She wanted to learn for [daughter] Betsy, so that they could cook together when she got home. Johnny Vegas wanted to learn to cook so that he could pass recipes on to his son. Everybody wanted to be there for really nice reasons.'
The celebrities in Cooking With The Stars and where you know them from:
Griff Rhys-Jones
Comedian and actor Griff Rhys-Jones, 67, is best known as half of comedy duo Smith & Jones with Mel Smith. Career highlights include Not the Nine O'Clock News, The World According to Smith & Jones, Demob, Mine All Mine, Griff's Great Britain, and It'll Be Alright on the Night.
Shirley Ballas
Shirley Ballas, 60, is best known for being the head judge on Strictly Come Dancing. She also makes regular appearances on Loose Women, The One Show, The Graham Norton Show, Lorraine, Sunday Brunch and Morning Live.
Naughty Boy
DJ and songwriter Shahid Khan, 36, is best known by his stage name Naughty Boy and has collaborated with some of the biggest stars in the music industry, including Emeli Sandé and Ed Sheeran. His TV appearances include Celebrity Juice, Sunday Brunch, The X Factor, and All Round to Mrs Brown's.
Denise Van Outen
Presenter, actor and West End star Denise Van Outen, 47, is best known as a host on The Big Breakfast, a judge on Any Dream Will Do, and as the iconic narrator of The Only Way is Essex. Her acting credits include Babes in the Wood, Where the Heart Is, EastEnders, and Neighbours. She was runner up in Strictly Come Dancing in 2012.
Catherine Tyldesley
Actor Catherine Tyldesley, 37, became a household name after her role as life-loving barmaid Eva Price on Coronation Street. She's also starred in Holby City, Emmerdale, Trollied, Scarborough, and Viewpoint. She took part in Strictly Come Dancing in 2019.
Harry Judd
McFly drummer Harry Judd was a familiar face on Top of the Pops, CD:UK, and chat shows including Today with Des and Mel, Richard and Judy, and The New Paul O'Grady Show in the band's heyday. More recently he has made guest appearances on Sunday Brunch, Ant & Dec's Saturday Night Takeaway, and This Morning. He won Strictly Come Dancing in 2011.
Johnny Vegas
Comedy actor Johnny Vegas, 50, is a regular on the TV circuit, and a welcome guest on everything from past favourites Shooting Stars and Never Mind the Buzzcocks to current shows Sunday Brunch, Celebrity Gogglebox, and Taskmaster. Other credits include Moone Boy, Benidorm, Murder, They Hope, and Johnny Vegas: Carry on Glamping.
AJ Odudu
Presenter AJ Odudu, 33, is best known for co-presenting Big Brother spin offs with Emma Willis and Rylan Clark. She's also taken part in Celebrity SAS: Who Dares Wins and House of Games. Other appearances include Lorraine, Don't Rock the Boat, and Ant & Dec's Saturday Night Takeaway.
The professional chefs in Cooking With The Stars and where you know them from:
Rosemary Shrager
Chef and TV presenter Rosemary Shrager, 70, is best known for her appearances on Ladette to Lady, The Real Marigold Hotel, The Real Marigold on Tour, and Best Leftovers Ever! She also starred in I'm a Celebrity... Get Me Out Of Here! in 2012.
Nisha Katona
The founder of Mowgli Street Food Nisha Katona, 49, is best known for Top of the Shop with Tom Kerridge, Recipes That Made Me, The One Show, and Secrets of Your Supermarket Food.
Joseph Denison Carey
A co-founder of The Bread and Butter Supper Club, twentysomething Joseph Denison Carey is a regular chef on This Morning, and has guest cooked for Ainsley Harriott on Ainsley's Food We Love.
Ronnie Murray
Celebrated chef and business owner Ronnie Murray, 42, has experience as a competitor himself as he took part in both The Great British Menu in 2016 and Million Pound Menu in 2018. He's also appeared on Sunday Brunch.
Jack Stein
A regular on Steph's Packed Lunch Jack Stein 36 is also known for his appearances on Saturday Kitchen, Sunday Brunch, and as co-presenter of Wine, Dine & Stein with his brother Charlie.
Judy Joo

Judy Joo, 46 is an internationally renowned chef specialising in Korean cuisine. She's best known for her appearances in Iron Chef UK, Iron Chef America, and Korean Food Made Simple.
Tristan Welch
Tristan Welch, 42, was a contestant on The Great British Menu in 2009. He's since appeared in Chopped, Saturday Kitchen, and Snackmasters.
Francesco Mazzeri
Prestigious Italian chef Francesco Mazzeri, 47, has appeared on Celebrity MasterChef, Saturday Kitchen, Saturday Morning with James Martin, and Snackmasters.
Cooking With The Stars - Series 1 Episode Guide:
Cooking With The Stars - Series 1 Episode 1

ITV's hot new cooking competition pairs random celebrities with professional chefs, who train them and then pit them against each other for our amusement. The opening episode's first batch of celebs are keen as mustard to show us what they've learned.
Comedian Johnny Vegas takes on McFly drummer Harry Judd, while Strictly's Shirley Ballas squares up to DJ Naughty Boy. The theme is British cuisine.
They've 60 minutes to impress mentors Rosemary Shrager, Nisha Katona, Joseph Denison Carey and Judy Joo, with the bottom two forced (Not really. Contractually obliged, possibly?) to battle it out in a cook-off.
Who went home in Cooking With The Stars S1 Ep1?

After blood, blue bandages and meal-making mishaps, Harry Judd and Naughty Boy found themselves in the cook-off whipping up baked Alaskas. In the blind taste test Harry's mentor Nisha and Naughty Boy's mentor Judy voted for their celeb to go home! When all the chefs' votes were tallied, Naughty Boy was kicked out from the competition.

So, for the rest of the competition, Naughty Boy and Rosemary will be watching from the sidelines!
Cooking With The Stars - Series 1 Episode 2
In this episode seasoned traveller Griff Rhys-Jones competes against former Corrie hotpot server Catherine Tyldesley, while self-confessed amateurs Denise Van-Outen and AJ Odudu try to out cook each other and make their families proud.
The theme is Italian cuisine and everyone has 60 minutes to produce something that will pasta (!) muster with the judges.
After last week's shock exit, no one wants to be in the bottom two, forced into the intense elimination cook-off, judged in a blind taste test, ultimately given the boot and potentially gently mocked by the cheeky pairing of Emma Willis and Tom Allen.
Cooking With The Stars - Series 1 Episode 3
In the third episode the remaining celebrities take on the food of India as they battle to stay in the competition. It's the semi-finals so there's everything to cook for...
Cooking With The Stars - Series 1 Episode 4
The final five celebrities are on tenterhooks, having made it over half-way through ITV's fierce cooking contest. Let's just hope their food isn't as tough as tonight's challenge - French cuisine.
We're sworn to secrecy regarding the identity of the remaining contestants, but can reveal what's on the menu - Duck a l'Orange, Coq au Vin, Sole Meunieure and Bourride.
They only have one hour to cook and dish up these classics, and the heat is on, as everyone wants to baguette a place in the next round. But, sadly for one star c'est fini. Hopefully without regrets…
Is there a trailer for Cooking With The Stars?
Yes there is a trailer for Cooking With The Stars! The series is a partnership between Marks & Spencer, ITV and South Shore. M&S released the below taster.
Writer for TV Times, What's On TV, TV & Satellite Week and What To Watch
With twenty years of experience as an entertainment journalist, Elaine writes for What's on TV, TV Times, TV & Satellite Week and (opens in new tab)www.whattowatch.com (opens in new tab) covering a variety of programs from gardening and wildlife to documentaries and drama.
As well as active involvement in the WTW family's social media accounts, she has been known to get chatty on the red carpet and wander into the odd podcast.
After a day of previewing TV, writing about TV and interviewing TV stars, Elaine likes nothing than to relax… by watching TV.
Get the latest updates, reviews and unmissable series to watch and more!
Thank you for signing up to Whattowatch. You will receive a verification email shortly.
There was a problem. Please refresh the page and try again.