Gogglebox: 10 Year Anniversary Special: release date and all we know
Gogglebox: 10 Year Anniversary Special celebrates a decade Gogglebox with all the best bits from the hit C4 show.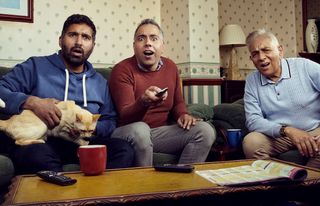 (Image credit: C4)
Can you believe it has been 10 years since the armchair critics of Gogglebox began entertaining us with their observations on the latest TV?
When it first hit our screens in 2013, the idea of watching people watching TV seemed like a strange concept, but the show featuring households from around the UK has become one of Channel 4's most successful shows and a staple of Friday-night telly.
It's also won a hoard of gongs, including two BAFTAs and six National TV Awards, spawned a celebrity spin-off, the kids' version Gogglesprogs and has been picked up overseas with series in the US and Australia.
To mark a decade since the award-winning C4 series aired its first episode on March 7, 2013, this 90-minute special gives viewers the chance to look back at the TV we have watched in the past decade with some of the best moments from Goggleboxers old and new.
Gogglebox: 10 Year Anniversary Special — release date
Gogglebox: 10 Year Anniversary Special is on Saturday, March 11 at 9 pm on Channel 4.
Gogglebox: 10 Year Anniversary Special — what's the show about?
Celebrating 10 years of Gogglebox, this 90-minute special features some of the best moments from the armchair critics who have appeared on the show from old faces such as boozy Kent couple Steph and Dom, and late Liverpool pensioners June and Leon, and London pals Sandra and Sandi, to current favourites including Blackpool siblings Pete and Sophie, Wiltshire's Mary and Giles, Brighton hairdressers Stephen and Daniel and the Siddiqui family from Derby.
The one-off also serves as a reminder of all the TV we have watched in the decade which has seen us survive lockdowns, quite a few Prime Ministers and Ed Balls dancing Gangnam Style on Strictly Come Dancing! Like the series which continues on C4 (Friday, 9 pm), this nostalgic collection of best bits is just as entertaining.
Gogglebox: 10 Year Anniversary Special — some of our favourite armchair critics
Steph and Dom Parker
Steph and Dom Parker appeared in seven series of the show from its beginning in 2013 to 2016.
The couple, who were running a hotel in Sandwich, Kent, at the time, are best remembered for their boozy appearances on the show. More often than not they were seen quaffing an alcoholic beverage while giving their take on the week's TV!
Since leaving the show, they have appeared in C4's Hunted, The Great Hotel Escape and Steph and Dom's One Star to Five Star, which saw the pair drawn on their experience as hoteliers to help others in the business.
Dom also took part in C4's celebrity winter sports competition The Jump and Celebrity Masterchef on BBC One.
They now reside in Gran Canaria in the Canary Islands.
June and Leon Bernicoff
Liverpool couple June and Leon Bernicoff were much-loved favourites who appeared in 10 series of Gogglebox from 2013 to 2017.
After Leon passed away in 2017, June wrote the book Leon And June: Our Story, which chronicled their 60-year relationship.
June did not appear on the show after Leon's death and passed away in May 2020.
In one poignant scene from Gogglebox saw the pair were watching the film, Gladiator. As Russell Crowe's character envisions joining his dead family in heaven, Leon turned to his wife and said "I'd like to think that's true… I'd join you always June."
Giles Wood and Mary Killen
Artist Giles Wood and journalist Mary Killen joined the show in its fifth series in 2015.
In Gogglebox, they are seen watching TV in their ramshackle thatched cottage they call 'The Grottage'.
The couple are known for calling each other 'nutty' while Mary has a zero-tolerance policy on swearing but that doesn't stop Giles from dropping the swear word or two!
In 2019, the couple were lampooned by comedy duo Dawn French and Jennifer Saunders in their sketch show 300 Years of French & Saunders.
Pete and Sophie Sandiford
Pete Sandiford and his sister Sophie have had viewers in stitches with the living-room antics and hilarious reactions to TV programmes since the tenth series in 2017.
The siblings from Blackpool are seen settling down in front of the telly in the home they share, along with Pete's wife Paige and son Jimmy.
The house was originally owned by Pete, but now Sophie is the owner…
"Pete bought the house and did it up. I sneakily just pitched up with my stuff one day and said, 'I'm not going home'. That's how I moved in," says Sophie. "Then I bought the house off Pete. So now we still live together but instead of me living with Pete, Pete lives with me!"
The Sandifords also have a famous relative because Paul Chuckle of Chucklevision fame is their great uncle!
Mary Cook and Marina Wingrove
Best friends Mary Cook and Marina Wingrove both lived in a retirement village in Bristol, and landed a spot on the show after being discovered by producers while shopping at their local supermarket!
They appeared in 10 series of Gogglebox from 2017 to 2021.
They were loved by fans for their cheeky comments and for enjoying the occasional tipple.
Sadly, Mary died in 2021, aged 92.
Gogglebox: 10 Year Anniversary Special — Q&A with the Siddiqui family
We chat to dad Sid and his sons Umar, Raza and Baasit about how they got involved in the show, why a furry friend may have helped them in their audition and celebrity fans…
How did you get involved in Gogglebox?
Baasit: "I got a Facebook message from someone I worked with years earlier who was helping to put the show together. She thought we might be suitable and asked if we were interested. The next thing we know there were people coming around with cameras to record us as a family to capture the chemistry. I think Dad's cat Rocky probably helped us to get on the show after he leapt out of the serving hatch in the middle of the audition! It's a bit of blur now but at the same time it also seems like yesterday."
What did you think when the idea of Gogglebox was first put to you?
Sid: "We thought it was an interesting concept, but also a bit strange to have people watching us watching TV. Our initial thoughts were that it would die a death."
Umar: "I wondered why it hadn't been done before. There's nothing more natural than sitting there watching TV with your family, so I was quite enthusiastic about it. It just seemed like a natural thing to do. For people who aren't performers or actors, it was like we had found a niche for our unusual quirkiness and people seemed to like us for it."
What sort of comments do you get from fans of the show?
Raza: "I get some nice compliments from people on social media, but for a lot of people, Dad's the favorite. They always say 'I love your dad.' It's never 'I love Umar' or 'I love Baasit.' It's always Dad."
Baasit: "Dad's a heart-throb! I have had the odd message asking me if Dad's single. I think it's his smile. Although he does look a bit like a Bond villain when he's got the cat on his lap!"
Have your viewing habits changed since appearing on Gogglebox?
Baasit: "I think they have become broader. We seem to know more about politics and the news and crazy goings-on in the world now. Also, the rise of streaming platforms has added to my viewing habits as well. Basically, we watch a lot of TV!"
Sid: "I used to watch the soaps, but I stopped because they took up quite a lot of my time so now I'm more selective and use my time wisely to watch what I should really watch."
How does it feel to be famous now?
Raza: "We get recognized, but I wouldn't say I feel famous. We're not actors or entertainers or presenters, we're just four guys who watch TV, which is the most normal thing you can do."
Baasit: "We did a book signing once and we had five security guards. That was very surreal and I felt quite famous then. The funny thing is we weren't expecting a massive rowdy crowd and ended up just having a couple of old ladies getting their books signed!"
What was it like to see yourself on TV for the first time?
Raza: "At the beginning, I was critical of myself and thought, 'I'm really slouched' or 'I fidget too much' or 'do I really talk like that?' But that spoils the enjoyment of watching TV because that's your time to switch off and chill out. So after the first series, I thought 'I don't care. I'm just going to sit back and enjoy it."
Have you ever met someone you have criticised on Gogglebox?
Umar: "When we went to the National TV Awards (NTAs), Jamie Oliver presented the award that we won and I was very conscious of the fact we had watched one of his shows. We hadn't said anything hurtful but we were very Siddiqui-ish about it and took the mick somewhat but he was alright. In fact, I think he and Dad had a nice picture together."
Do you have any celebrity fans?
Baasit: "At the NTAs, we met Jon Snow and he seemed to think highly of Dad. He tried to pay him a massive compliment, but Dad got distracted by a firework that went off at the same time."
Can you remember when you realised that the show was a big hit?
Baasit: "The first few series were on at different times, but when it got that 9 pm slot on Friday night that's when I realized it was a big deal. When I was growing up that was when Friends was on, so the fact that we're in a show in the same slot blows my mind!"
Get the What to Watch Newsletter
The latest updates, reviews and unmissable series to watch and more!
Writer/Editor on Chat, Woman, Woman's Own plus TV & Satellite Week, TV Times and What's On TV
Michael writes about TV for Woman, Woman's Own, Chat, What's On TV, TV Times, TV & Satellite Week and regularly contributes to whattowatch.com (opens in new tab).
After graduating from the University of Winchester with a degree in English and American Studies, he chose a career that combined his great passions in life – magazines and television – and he has primarily worked as a TV journalist for more than 25 years.
He loves classic sitcoms such as The Good Life, Hi-de-Hi! and Man About the House, as well as shows such as Downton Abbey, Call the Midwife, The Great Pottery Throwdown and The Real Housewives of Beverly Hills.
Some of his favourite people who he has interviewed over the years include Gillian Taylforth, Linda Robson, Sara Davies, Alex Polizzi and Bradley Walsh!