Knock at the Cabin: release date, reviews, cast, trailer for the M. Night Shyamalan movie
A family, a cabin and four strangers in the woods. What could possibly go wrong?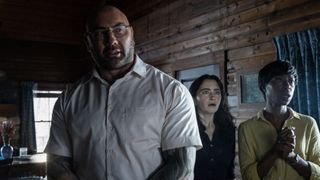 (Image credit: Universal Pictures)
M. Night Shyamalan has a knack for making audiences jump in their seats, and Knock at the Cabin joins the ranks of some of his most jump-worthy movies. Fans have been jumping in theaters with the success of M3GAN, and with a cast that includes Jonathan Groff, Dave Bautista and Rupert Grint, this thriller promises to make you squirm…and make you think.
There's nothing like a peaceful family vacation to a cabin in the woods. That is until the cabin becomes the target of a group of people who may or may not be trying to kill you. Bautista plays Leonard, a burly man who shows up to the cabin with a dire warning: the family must make a sacrifice or be responsible for thousands of deaths.
It's an impossible situation, but when your family is on the line you do whatever it takes.
Here's everything we know about Knock at the Cabin.
Knock at the Cabin release date
Knock at the Cabin releases in US and UK theaters on February 3, 2023. It shares a fairly quiet release weekend with the comedy 80 for Brady.
The movie will debut exclusively in theaters, and it won't be available to stream until at least 30 to 45 days after its release. As a Universal Pictures movie, it's expected to land on the Peacock streaming platform.
Knock at the Cabin reviews
Knock at the Cabin cast
Knock at the Cabin features an all-star cast led by Jonathan Groff and Dave Bautista.
Groff (Mindhunter) and Ben Aldridge (Fleabag) are fathers to Wen (Kristen Cui, in her feature film debut).
Bautista (Glass Onion) plays Leonard, a burly and potentially menacing man who shows up with Rupert Grint (Servant), Nikki Amuka-Bird (Avenue 5) and Abby Quinn (Mad About You) bearing news that will rattle this family to the core.
Jonathan Groff as Andrew
Ben Aldrige as Eric
Kristen Cui as Wen
Dave Bautista as Leonard
Rupert Grint as Redmond
Nikki Amuka-Bird as Adriene
Abby Quinn as Sabrina
Knock at the Cabin plot
Here's the description of the movie from Universal Pictures: "While vacationing, a girl and her parents are taken hostage by armed strangers who demand that the family make a choice to avert the apocalypse."
Knock at the Cabin trailer
There are two trailers for Knock at the Cabin. The first trailer released features an ominous look at four strangers who show up unannounced and uninvited to the cabin where a family is vacationing.
The second trailer reveals more details about Leonard's sinister mission, with "evidence" that what he's saying is real. Or real enough. Take a look:
Knock at the Cabin director
M. Night Shyamalan is a prolific director, writer and producer whose film and television credits include The Sixth Sense, Servant, Unbreakable and Signs. Some of the hallmarks of his style include the use of sound to enhance every scene, and we can't forget the trademark twists that keep you guessing until the very end.
Keep your eyes peeled for a cameo appearance from Shyamalan; like Alfred Hitchcock, Shyamalan has always enjoyed popping up in his movies, often in a pivotal way.
Get the latest updates, reviews and unmissable series to watch and more!
Editorial Content Producer
Sarabeth joined the Watch to Watch team in May 2022. An avid TV and movie fan, her perennial favorites are The Walking Dead, American Horror Story, true crime documentaries on Netflix and anything from Passionflix. You've Got Mail, Ocean's Eleven and Signs are movies that she can watch all day long.
When she's not working, Sarabeth hosts a podcast dedicated to books and interviews with authors and actors. She's also very close to realizing her lifelong dream of publishing a novel.
Thank you for signing up to Whattowatch. You will receive a verification email shortly.
There was a problem. Please refresh the page and try again.