'Landscapers' — release date, cast, plot, trailer and all you need to know
Olivia Colman stars in 'Landscapers', a new true-crime drama from HBO and Sky.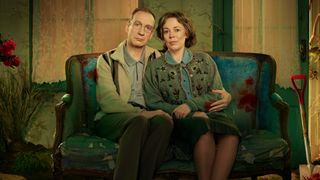 (Image credit: Sky/ HBO/Sister)
Landscapers is a new drama that's just premiered in the US and UK.
It is a true-crime drama starring The Crown's Olivia Colman. The four-part series is inspired by real events and documents the unique transformation of a mild-mannered English couple into killers.
Talking about why the case intrigued her, Olivia said: "You think, 'How the hell did they get away with it for that long? Why were those people not missed?' They had covered their tracks pretty well, but I imagine they can never have felt genuinely happy or relaxed in those 15 years. It's a horrible way to live your life."
Landscapers is a co-production between HBO and Sky and is the latest project from SISTER, the company behind the multi-Emmy and BAFTA award-winning limited series, Chernobyl.
Here's everything you need to know about Landscapers...
'Landscapers' release date
Landscapers premiered on HBO on Monday, Dec. 6 in the US. New episodes will be released on a weekly basis; the first two are now available to stream on HBO Max.
In the UK, Landscapers began airing on Tuesday, Dec. 7 on Sky Atlantic. All four episodes are available to watch now on Sky Box Sets and on NOW TV.
'Landscapers' cast
Landscapers stars Olivia Colman (The Crown, The Favourite) as Susan Edwards. David Thewlis (Fargo, Big Mouth) stars opposite Colman as her husband, Christopher.
Colman, who is also an executive producer on the series, said: "the truth is it's quite rare to be desperate to play a part on the first reading of a script, but that was the case here. The writing is brave, but subtle and tender too — a joy for any actor."
Colman and Thewlis are joined by Kate O'Flynn (Bridget Jones's Baby) as DC Emma Lancing, Dipo Ola (We Hunt Together) as Douglas Hylton, Susan's solicitor, Samuel Anderson (The History Boys) as DC Paul Wilkie, David Hayman (The Boy in the Striped Pyjamas), Felicity Montagu (I'm Alan Partridge) as Patricia Wycherley, Susan's mother and Daniel Rigby (Eric and Ernie, Flowers) as DCI Geoff Collier.
What's the plot of 'Landscapers'?
Directed by Will Sharpe (Flowers), Landscapers is based on the seemingly ordinary lives of Christopher and Susan Edwards, who became the focus of an extraordinary investigation.
Based on extensive research, hours of interviews, and direct access to the accused couple, the mini-series follows the couple as they are suddenly thrust into the spotlight when Susan's parents are discovered buried in their back garden in Mansfield.
We've now got a full series synopsis from Sky:
"Mild-mannered husband and wife Susan (Colman) and Christopher Edwards (Thewlis) have been on the run from reality for over 15 years. When Christopher makes a startling call home to his step-mother, their role in a terrible crime that remained undiscovered for over a decade begins to emerge into the light. As their relationship is subjected to the glare of a full police investigation, the devoted couple are separated for the first time in their marriage.
"As the investigation moves forward, inspired by Susan's obsession with old Westerns and classic cinema, the fantasists cast themselves as Hollywood heroes in narratives of their own invention.  Powered by Susan's extraordinary imagination, Susan and Chris's fantasy world provides a much-needed sanctuary from real-world horrors and their own clawing guilt but also threatens to undo them completely. "
You can find plot summaries of every episode later in this article.
Thewlis previously said: "This is without doubt the very finest project I have worked on for many years. Everything about Landscapers is magical, there is nothing like it and I'm impatient to get to work so that its brilliance can be shared with the rest of the world."
Is there a 'Landscapers' trailer?
Yes! Sky has dropped a first look trailer at this fascinating new comedy-drama.
This gripping trailer gives us our first glimpse at tense police interrogations, Susan and Christopher's close relationship, and the visually stunning fantasy land that Susan has conjured up in her head. It's dramatic stuff!
You can watch the trailer below:
What happened in episode one?
In the first episode of Landscapers, we saw Susan speaking to her legal representative, before heading back in time and meeting her and her partner Christopher and Susan in France, where they had moved following the murders of Patricia and William Wycherley. They're struggling to make ends meet as Christopher is unable to secure a job and Susan is spending their money on movie memorabilia.
Out of desperation, Christopher goes against Susan's wishes and contacts his step-mother, Tabitha to ask her for financial support. On the call, he reveals their involvement in the Wycherleys' death; although he begged Tabitha not to tell the police, she reports what Christopher has told her.
Back in Britain, Nottinghamshire police officers visit the Wycherleys' former address; after interviewing the current resident and his neighbor, they dug up the garden and discover two bodies, later recovering bullets from them both.
As they reside overseas, arresting the couple is more complicated, and the police require a lot more evidence that Susan and Christopher were the ones responsible in order to charge them. The DCI contacts Christopher by email, inviting him back to England for a personal interview regarding the case; politely, Christopher replies but explains that their return to England will be difficult.
Susan doesn't take news of the investigation kindly, but Christopher eventually convinces her the best thing to do is to return and cooperate with the investigation. The police arrange the couple's transport home, and ready a squad to bring them into the station at London St Pancras International railway station.
What happened in episode two?
With the Edwardses now in police custody, episode two primarily focuses on their interviews. Susan starts out following her solicitor Douglas' advice to the letter, answering almost exclusively with "no comment".
The only real info she gives over is in a police statement which dictates to Douglas; according to this statement, Susan visited Mansfield by coach the day before her parents were shot. Susan alleges that her mother, Patricia, shot her father one evening and that she was forced to shoot Patricia after her mother provoked her and tried to turn the gun on her. Susan also specifies that Christopher was in London that weekend and could not have been involved in any way.
Christopher is interviewed by two different officers and foregoes any legal support. According to him, he remained in Dagenham and traveled up to meet Susan a week later, where she finally revealed that she had been keeping the bodies wrapped in duvets under the bed.
The officers working the case do not believe their stories. In a bid to tackle the case a different way, DC Emma Lancing asks if she and her partner, DC Paul Wilkie can take over both interviews. They're granted permission, and begin playing Susan and Christopher's stories off one another to pick holes in their testimony; Susan becomes distressed when she learns that Christopher hasn't got a lawyer with him.
Financial forensics officer Sandra Winters finds a crucial piece of evidence; Susan had opened a joint account in her and her mother's name the Tuesday morning after she had been shot and then withdrew almost half the total funds in cash. Emma uses this to push the couple and asks if they conspired to murder Susan's parents just to get money.
Susan does not fare as well as Christopher does under the increased pressure from Emma and Paul. She starts ignoring her solicitor's advice and sharing more info about the case. Susan goes over the night of the murder, but also slips up and reveals that Christopher helped her bury the bodies in the garden.
Throughout the episode, we also see flashbacks of a younger Christopher and Susan on a date, the first time she spent the night at his house, and Susan trying to keep Christopher away from her family life.
What happened in episode three?
The police interviews continue as the officers do not believe their stories about what happened that night. They push Christopher to elaborate on his description of Susan as "fragile", as well as the fact that they owned a lot of classic movie memorabilia which the couple grossly overvalued despite the debts they were in.
Christopher alleges that the Wycherley's were never nice to Susan, and recounts how they forced her to hand over the share she had to her parents' home, an encounter which we then see play out in a flashback.
Emma and Paul also press Christopher about his decision to let Susan travel up to visit her parents by herself if he knew they were abusive towards her. He still maintains he stayed in London the night of the murders.
Paul presents Christopher with a series of wedding photos; William Wycherley isn't in any of them, which Christopher says is due to him not approving of the couple. They also question him about his mother and brother who had passed away; Tabitha had told police earlier that their deaths had weighed heavily on Christopher. Susan only managed to bring him around by pretending to be French actor Gerard Depardieu and forging letters from him for Christopher.
Under continued questioning, Christophereventually tells Emma and Paul Susan couldn't have shot her parents because she's terrified of guns; it's at this point he reveals he used to own guns and was a member of a gun club.
Susan is briefly brought back in for questioning, but Emma promptly leads her through a fourth-wall-breaking recreation of how the police believe the couple carried out the murders together.
Susan breaks down and tries to tell them the gun was her father's, not Christopher's, but the interview is stopped. The department celebrates solving the double murder case.
What happened in episode four?
Episode four sees Susan's love of Westerns colliding with reality. Their trial proceeds in black and white, but we also see her and Christopher star in a western film which serves as a metaphor for how the actual murder of Patricia and William Wycherley is believed to have played out, and how Nottinghamshire police finally closed in on the couple in their investigation
In their trial, their story is slowly picked apart; the bullet wounds on the two bodies indicate the Wycherley's would have been killed by someone familiar with a revolver, and Christopher admits that he used to own a revolver that would have taken the same rounds as those used to kill them. He insists he surrendered his weapons and his firearms certificate in 1995, though.
As cowboy Susan and Christopher make a final stand against the Nottinghamshire officers in the fantasy, the case against the couple continues to pile up. The jury is particularly shocked to witness Christopher demonstrating a practiced shooting stance in the courtroom.
Susan is asked what she did with the gun, and the casings which she has consistently said were found at the scene. In a damning move, it is revealed that a weapon of this type does not discharge casings, seemingly proving she had made up the fact she fired the gun at her mother. A lawyer also brings up the fact the photos and memories (which we had seen the couple burn outside their residence in France) as evidence of Susan getting rid of any trace of her parents.
After Susan breaks down on the stand, we cut to Douglas and her chatting outside of court. She admits she wrote the letters from Gerard Depardieu to Christopher. In turn, Douglas says he tried his best to help her and says he will carry the experience of this case with him.
The couple receives their sentence. Later, Susan gets a letter in her cell from Christopher where he says how much he loves her, before the two ride off into the sunset together on horseback in another Hollywood fantasy.
Get the What to Watch Newsletter
The latest updates, reviews and unmissable series to watch and more!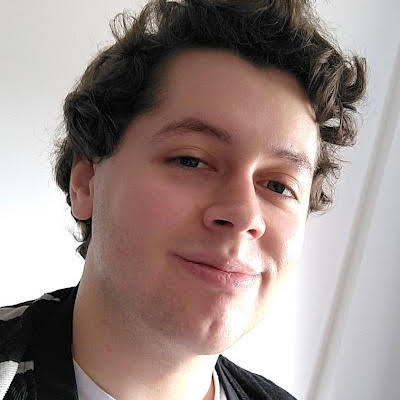 Staff Writer at WhatToWatch.com
Martin is a Staff Writer with WhatToWatch.com, where he produces a variety of articles focused on the latest and greatest films and TV shows.
Some of his favorite shows are What We Do In The Shadows, Bridgerton, Gangs of London, The Witcher, Doctor Who, and Ghosts. When he's not watching TV or at the movies, Martin's probably still in front of a screen playing the latest video games, reading, or watching the NFL.