Malory Towers season 2 — release date, cast, plot, trailer, and everything we know
Malory Towers, based on the classic Enid Blyton books, will return for a second series on CBBC.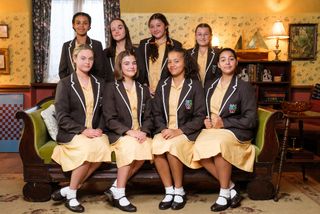 (Image credit: BBC/King Bert Productions and WildBrain/Darren Goldstein)
Malory Towers is heading back to CBBC for a second season, and we'll continue to follow Darrell Rivers and her chums as they share friendship and high jinks in their traditional 1940s British boarding school. As well as a second season, there'll also be a third further down the line with the broadcaster confirming there'll be 26 new episodes of the popular series.
The series is based on the six legendary novels by Enid Blyton (opens in new tab), which follows the adventures of 12-year-old Darrell Rivers, set in post-World War II Britain as she attends the all-girls' boarding school Malory Towers.
Season 2 will see "Darrell (Ella Bright) and her pals return to the Cornish boarding school for another helping of midnight feasts, lacrosse games and friendly larks."
Amy Buscombe, Commissioning Editor, BBC Children's said: "Malory Towers has been a huge hit with our audience, bringing fun and adventure to our screens at a time our young audience needed it most. We can't wait for viewers to see what Darrell and the Malory girls get up to next!"
Here's everything we know about Malory Towers season 2 so far...
'Malory Towers' season 2 release date
Malory Towers season 2 will air daily Monday to Thursday from Monday Jan. 10 at 6pm on CBBC, with a double bill finale on Thursday Jan. 27. All episodes are also available to stream now on BBC iPlayer (opens in new tab).
It will join a whole host of other family programming recently announced such as new Oliver Twist spin-off Dodger which stars Christopher Eccleston and follows the infamous pickpocket, The Artful Dodger, and Fagin's gang.
What is the plot of 'Malory Towers' Season 2?
BBC has revealed that: "In this second series, Darrell and the gang return for their second form, and adventure, fun and boarding school antics are back in full swing, with new friendships and rivalries."
From Darrell finding herself caught between fun-loving Alicia (Zoey Siewert) and the more hesitant Sally (Sienna Arif-Knights), to Gwen (Danya Griver) discovering new ways to manipulate the girls in the dorm, there's bound to be an abundance of chaos at Malory Towers!
But as Jean (Beth Bradfield) helps new girl Ellen Wilson (Carys John) settle into the boarding school life, and amongst all the other excitement occurring- the girls are brought together by some shocking news.
The first season explored themes such as shifting cliques, bullying, crushes, peer pressure, and self-doubt as they came to terms with the realities of life in a boarding school.
In the last episode of Season one, Darrell was forced to defend herself to the rest of her form after being accused of cruelly smashing Mary-Lou's precious pen. So it's likely the second season will pick up where we left off!
Who stars in 'Malory Towers' season 2?
Ella Bright returns as lead character Darrell Rivers, as well as her pal Sally (Sienna Arif-Knights) and her rival Gwen (Danya Griver), along with other members of the cast.
New girl Ellen Wilson, played by Carys John will be joining the cast as she attends Malory Towers on a scholarship.
Adult members of the cast returning for season 2 are Imali Perera as Miss Potts, the house mistress, Genevieve Beaudet as French teacher Mam'zelle Rougier, and Ashley McGuire as the no-nonsense Matron.
Another addition to the ensemble is Jason Callender who arrives as Mr. Parker, the stern new second form teacher. Series 2 also welcomes new sixth former, Georgina Thomas (Edie Whitehead) and her father, wealthy businessman Francis Thomas (Dominic Coleman), who develops a keen interest in the boarding school.
Is there a trailer?
A new trailer has been released for Malory Towers series 2, where we see the girls get up to their usual mischief and pranks, especially when it comes to new teacher Mr. Parker. But they soon uncover a huge secret that sends shockwaves throughout the boarding school.
Get the latest updates, reviews and unmissable series to watch and more!
Thank you for signing up to Whattowatch. You will receive a verification email shortly.
There was a problem. Please refresh the page and try again.