'Modern Love' Season 2: release date, cast, interview, plot, trailer, and all you need to know
Modern Love Season 2 will see a whole new set of guest stars for the Amazon Prime anthology.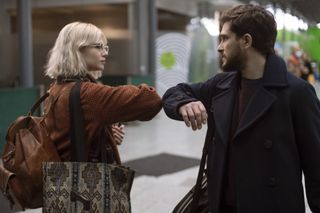 (Image credit: Amazon Prime)
Modern Love Season 2 is set to hit our screens soon and a raft of top-notch guest stars, including Kit Harrington, Sophie Okonedo, Anna Paquin and Tobias Menzies, are set to star.
Inspired by the famous New York Times column of the same name, the first season of Amazon's romantic comedy anthology show explored "love in its multitude of forms – including sexual, romantic, familial, platonic, and self-love".
Anne Hathaway and Dev Patel led a star-studded line-up in 2019's first series and viewers will be looking forward to more tales of love and loss this time out. Here's everything we know so far about Modern Love Season 2...
Modern Love Season 2 release date
Modern Love Season 2 premieres on Amazon Prime Video on Friday 13 August 2021. There are eight 30 minute episodes, which will all be released on the same day as a box set.
"We're so excited to bring a second season of this series to life, and give an opportunity to really shine a light on what matters most," showrunner John Carney said in a statement. "With so much uncertainty in our current world, these stories bring truth and love to people everywhere, and I'm so appreciative to be a part of making that happen."
Is there a Modern Love Season 2 trailer?
Yes there is! Watch the official Modern Love Season 2 trailer below, with Kit Harington taking a train ride to New York, an awkward meeting between two characters called Katie and Alexa, and Tobias Menzies saying "I've just spent the night with the woman of my dreams!". Lucky old Tobias!
Modern Love Season 2 cast
Game of Thrones star Kit Harrington, Lucy Boynton (Sing Street, Bohemian Rhapsody), The Crown actor Tobias Menzies, Tom Burke (Strike, The Musketeers), Sophie Okonedo (Hotel Rwanda) Anna Paquin (True Blood) and Minnie Driver (Speechless) all have main roles in Modern Love Season 2.
Other cast members include Zoe Chao, Maria Dizzia, Grace Edwards, Kathryn Gallagher, Garrett Hedlund, Telci Huynh, and Nikki M. James, Aparna Nancherla, Larry Owens, Zane Pais, Isaac Powell, Ben Rappaport, Milan Ray, Jack Reynor, Miranda Richardson, Marquis Rodriguez, James Scully, Zuzanna Szadkowski, Lulu Wilson, Don Wycherley, Dominique Fishback, Gbenga Akinnagbe, Susan Blackwell and Jeena Yi.
Modern Love Season 2: What are the stories?
The series is made up of stand-alone stories we know we won't be revisiting any tales from the first series. Season 1 of Modern Love was set in New York, yet the second could well be taking us to other locations with series' writer, director, and executive producer John Carney suggesting different cities and countries could be featured.
"Being given a green light to proceed with Modern Love is a great opportunity for us to continue to tell stories of love while opening up the series into new cities and worlds. The possibilities are truly endless," he said.
"Subsequent seasons can really branch out and dig deep into what it means to love in this complicated world. It's incredible news for everyone involved in the series, and we are dizzy with possibilities moving forward."
Filming took place in Albany, Troy, Schenectady, New York City, and Dublin, Ireland over the last year. Amazon Prime Video have revealed short descriptions of the eight new episodes...
On a Serpentine Road, With the Top Down
A woman's only remaining connection to her late husband is her vintage car but now, 30-years later, she's confronted with the difficult choice of selling it – and saying goodbye to her old love forever. Starring Minnie Driver and Tom Burke.
The Night Girl Finds a Day Boy
A woman with delayed sleep phase syndrome meets the love of her life. The catch is: he's awake while the sun is shining and she is not. Zoë Chao and Gbenga Akinnagbe star.
Strangers On A Train
Two strangers meet on a train from Galway to Dublin in March 2020 and decide to go old school: no numbers exchanged, only a promise that they will meet up on the train two weeks later. And then a worldwide pandemic shuts down all of Ireland. Lucy Boynton and Kit Harington star.
A Life Plan for Two, Followed by One
The new girl in school falls in love with her best friend and is convinced that they're meant for each other... even though she can't seem to ever get out of the 'friend zone.' Dominique Fishback and Isaac Powell star.
Am I …? Maybe this Quiz Will Tell Me
A middle-school girl questions her sexuality when she finds herself having feelings for another girl. She turns to social media quizzes for answers. Grace Edwards and Lulu Wilson star.
In the Waiting Room of Estranged Spouses
After a chance meeting in a therapist's office, a former marine and a housewife develop an unlikely connection when they discover their respective spouses are having an affair with each other. Anna Paquin and Garrett Hedlund star.
How Do You Remember Me?
For two young men, running into each other reminds them of their first and only date together. But do they remember that night the same way? Marquis Rodriguez & Zane Pais star.
Second Embrace, With Hearts and Eyes Open
Two parents, after being divorced for several years, begin a casual fling and reignite their old flame, only for one of them to receive a life-changing medical diagnosis. Sophie Okonedo & Tobias Menzies star.
Sophie Okonedo on 'Second Embrace, With Hearts and Eyes Open'
What can you tell us about Liz and Ivan?
"The love they have really changes throughout their time together, as when they first met, got married and had kids, they were both quite different people and wanted different things. When they were younger he was more chaotic and she was someone that wanted things ordered in a much more structured way. But when they get back together I think they've both changed their expectations a bit and are looking for something different. Later on in life you have different requirements, because you've lived a bit."
Liz and Ivan's rekindled relationship is dealt a blow when she's diagnosed with breast cancer, how was it filming the scene when she breaks that news to him?
"It was so hard because it's all going so well and then it's suddenly like - CLANG! We had some big conversations about it, but we didn't really rehearse it and John Carney was so trusting with his direction, so there was a lot on the page that we left out. There were some bits of it that were a little bit improvised, but we cut a lot of the dialogue and just let them both absorb what the diagnosis meant for them."
It's a very moving scene, but there's still a moment of comedy tucked away in there. How important is it to find light within the darkness like that?
"Keiran Carney - who is John's brother - is such a great writer and he finds the humour in everything, but I often find that the weirdest things happen in these sombre moments. I always say "if you put that in a film, no one would believe it!" Even though there's some heavy stuff in there, there's a lightness and a buoyancy to the story and definitely a few laughs along the way, which is great. That's the thing about these two characters, they really have a laugh together."
What was it like working with Tobias Menzies?
"I'm a big fan of his. I didn't know him beforehand, but thought we could be a good pairing and we got on really well. We had to isolate in the same hotel before we started filming in Dublin, so we actually got to work on the script together and discuss these character's past, so by the time we came to shoot the first day we were ready to go, which was really helpful."
Did you watch the first series of Modern Love?
"I still haven't! My mum loved it and was very excited about me being in the second series. I tend not to watch something that's established if I'm joining it, because I don't want to see the way they do it. But I love the format and that so much happens in this really tight piece of drama. It's very distilled and there's no excess. I like things where you think the story can change quite quickly and it's a real acting challenge from scene to scene."
You've been nominated for an Emmy Award in the Outstanding Guest Actress in a Drama Series category for your role in US series Ratched, that must have been a special moment?
"Oh my goodness, I was very pleased about that. Everyone always says "Oh I was really surprised," but because it was filmed a really long time ago and with COVID and everything that's happened since, I'd kind of sort of forgotten about it a bit. You think shows that are on now will get nominated and you don't really think about something that happened quite a while back, but to get the nomination was definitely a champagne moment!"
Feature writer for TV Times, What's On TV, TV & Satellite Week and whattowatch.com
Sean has been writing about all things telly for over 10 years and in that time he's been lucky enough to interview stars like Ian McKellen, Tom Hardy and Kate Winslet. His favourite shows are The Great British Bake-Off, People Just Do Nothing and Succession and in his spare time he enjoys drinking tea, doing crosswords and watching football.
Thank you for signing up to Whattowatch. You will receive a verification email shortly.
There was a problem. Please refresh the page and try again.