Sweet Tooth season 2: release date, cast, teaser, and everything we know about the Netflix series
The adventure continues for the family-oriented fantasy series.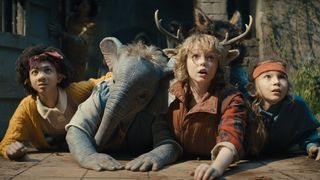 (Image credit: Netflix)
The Netflix family-friendly fantasy series Sweet Tooth is back for a second season. Based on Jeff Lemire's DC Comics series from 2009, the story follows a young boy trying to find his way through the Great Crumble, a chaotic period of time after 98% of the world's population was killed off by a virus. One side effect of the virus is that children started to be born with half-human, half-animal features.
For Gus (Christian Convery), life as a half-human hybrid has never been easy. Now, he and his friends must rally their strength to figure out what caused the Great Crumble in the first place and fight back against those who would oppress them.
The series comes from executive producers Robert Downey Jr., Susan Downey, Amanda Burrell and Linda Moran. Tudum (opens in new tab) shared some exciting details about the show's second season and there's a lot to look forward to as Gus' story continues.
Here's what we know about Sweet Tooth season 2.
Sweet Tooth season 2 release date
Sweet Tooth season 2 arrives on Netflix on April 27.
Sweet Tooth season 2 cast
Most of the season 1 cast returns for Sweet Tooth season 2. Here's a list of cast members set to appear:
Christian Convery (Cocaine Bear) as Gus
Nonso Anozie (Cinderella) as Jepperd
Dania Ramirez (X-Men: The Last Stand) as Aimee Eden
Amy Seimetz (Upstream Color) as Birdie
Adeel Akhtar (Four Lions) as Dr. Singh
Stefania LaVie Owen (Krampus) as Bear
Aliza Vellani as Rani Singh
Neil Sandilands (The Flash) as General Abbot
Naledi Murray as Wendy
Marlon Williams (A Star is Born) as Johnny Abbot
Christopher Sean Cooper as Teddy Turtle
Yonas Kibreab (Obi Wan-Kenobi) as Finn Fox
James Brolin (Avengers: Endgame) as the narrator
Sweet Tooth season 2 plot
Here's a description of Sweet Tooth season 2 from Netflix:
"In Sweet Tooth Season 2, a deadly new wave of the Sick is bearing down on humanity. Gus and a band of other child hybrids are held prisoner by the villainous General Abbot (Neil Sandilands) and the Last Men, a violent group of mercenaries who hunt hybrids. Abbot uses the children as fodder for the experiments of captive Dr. Aditya Singh (Adeel Akhtar); Abbot wants to find a cure and amass power, Dr. Singh simply wants to save his infected wife, Rani (Aliza Vellani).
"Gus, always a hero, agrees to help Dr. Singh, thus beginning a dark journey into discovering his own origins. He may also learn more about his mother, Birdie's (Amy Seimetz) role in the events leading up to the Great Crumble. Elsewhere, Jepperd (Nonso Anozie) and Aimee Eden (Dania Ramirez ) team up to free the hybrids, creating a partnership that will be tested as Jepperd's secrets come to light."
Sweet Tooth season 2 trailer
There's no trailer for Sweet Tooth season 2 just yet, but we do have the first teaser from Netflix below:
How to watch Sweet Tooth season 2
Sweet Tooth is a Netflix original series which means you'll need a subscription to the streaming service in order to watch. Thankfully there are a number of subscription options to choose from and you can see some of them below:
Get the What to Watch Newsletter
The latest updates, reviews and unmissable series to watch and more!
Editorial Content Producer
Sarabeth joined the Watch to Watch team in May 2022. An avid TV and movie fan, her perennial favorites are The Walking Dead, American Horror Story, true crime documentaries on Netflix and anything from Passionflix. You've Got Mail, Ocean's Eleven and Signs are movies that she can watch all day long.
When she's not working, Sarabeth hosts the My Nights Are Booked Podcast (opens in new tab) and blog (opens in new tab) dedicated to books and interviews with authors and actors. She also published her first novel, Once Upon an Interview (opens in new tab), in 2022.