The Responder — US release date confirmed, plot, cast, trailer and everything we know
Martin Freeman leads the cast of The Responder, which has been written by an ex police officer.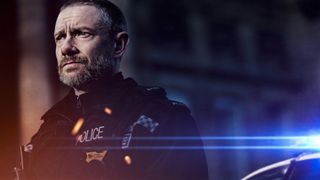 (Image credit: BBC)
The Responder is ex-police officer Tony Schumacher's first original story for television and is drawn from Tony's real-life experiences as an urgent response officer.
The series closely examines the emotional, often heartbreaking extremes of modern-day policing told from the perspective of someone who's seen it all firsthand.
The series focuses on both victims and perpetrators. And it's as much about life on the streets of Liverpool as it is about the police.
Martin Freeman leads the cast of The Responder. He stars as Chris Carson, a police officer who is trying to save his marriage and keep his head above water. Talking about his role, Freeman said: "The reason I wanted to play Chris is that he is a great mixture of vulnerability and strength. I think there is something about a man of few words that is attractive. There's a reason why people like characters that don't have to over-explain themselves and I think Chris is one of them.
"He's very intelligent, he's emotionally smart, but he's a copper. He finds it hard to be open at home and with his counselor and in his job it's probably wise not to be open so he picks his moments when he can let off steam and talk to people. But those are few and far between and the number of plates he is spinning is frightening. So much so that if he drops even one of those plates he could wind up dead," he added.
Here's everything you need to know about The Responder...
The Responder release date
The Responder will be released in the US on Tuesday, May 24 on BritBox.
The series has already been shown on BBC1 in the UK. But the whole series is still available to watch on BBC iPlayer.
Meanwhile, there's also a further series on the way! However, it's not known yet when The Responder season 2 will land.
What is The Responder about?
The Responder follows Chris, a crisis-stricken, morally compromised, and unconventional urgent response officer who is tackling a series of night shifts in Liverpool.
While juggling his own complicated life, Chris takes on a new rookie partner named Rachel (Adelayo Adedayo) which adds a new layer of stress to his routine. They soon discover that their survival depends on them either helping or destroying each other through the week.
Mona Qureshi, Executive Producer for the BBC, says: "The Responder is a unique take on modern policing, and Tony Schumacher gives us in Chris a heartbreakingly honest portrait of a man coming undone by the pressures around him. We're so excited to see Martin Freeman in this extraordinary role and for Tim Mielants to bring the night streets of Liverpool to vivid life."
Cast
The Responder sees some great names joining Martin Freeman.
Tony Schumacher says: "I'm so incredibly fortunate to be writing for a cast as amazing as the one we've assembled for The Responder. From legends at the top of their game, to young talents who are legends in waiting, it's a writer's dream come true."
Here's the main cast:
Martin Freeman (Sherlock)
Adelayo Adedayo (Unsaid Stories)
Ian Hart (The Last Kingdom)
MyAnna Buring (Ripper Street)
Kerrie Hayes (The English Game)
Warren Brown (Luther)
David Bradley (Broadchurch)
Rita Tushingham (In The Flesh)
Martin Freeman says: "Tony Schumacher's script for The Responder resonated with me immediately. It felt like nothing that I'd read or seen.
"Great to work with Laurence and Chris at Dancing Ledge again and finding a home at the BBC has been a wonderful start to the journey."
What happened in episode 1?
The Responder episode 1 opens with police officer Chris (Martin Freeman) as he struggles to open up to his counselor about what's really going on. On top of this, he's trying to save his marriage to Kate (MyAnna Buring) and be a good dad while supporting his mum who lives in a care home, which puts additional pressure on him before he even goes out to work.
Throughout the course of the episode we can see he's really struggling, becoming exasperated with members of the community he has to deal with while he's on shift. His wife also begins to ask for more therapy sessions and if she can attend too, but it's met with resistance.
The first episode sees Chris dealing with a domestic argument, a known drug dealer, and checking on the sudden death of an old woman, as well as being harrassed by Carl (Ian Hart) who keeps calling him demanding to know where drug dealer Casey is.
We're also introduced to Chris' new rookie partner Rachel (Adelayo Adedayo) who threatens to cause complications for the already stressed police officer, and immediately takes a dislike to Chris. She's set to have a bigger role in the second episode, but will they be able to properly work together?
What happened in episode 2?
During episode 2, Chris is faced with another difficult night shift and spends most of his time driving around asking people if they've seen Casey. While on shift he helps a homeless man named Davey, whose bed had been set fire to by some youths leaving him very distressed.
He eventually manages to find the missing cocaine in the hideout where Casey was sleeping, but ends up torn between doing the right thing and taking to the station, or turning a blind eye to keep himself and Casey safe. But at this point we're not sure what he's decided to do with the drugs.
Meanwhile, Chris opens up in therapy, beginning to speak about his abusive father and he continues to clash with rookie partner Rachel. Rachel's approach to policing is by the book and couldn't be more different from how Chris gets things done, which causes plenty of conflict between the two. It's even more complicated when Chris is trying to navigate his working relationship with Carl, who we met in the first episode.
Is there a trailer?
Yes! the official trailer shows us the kind of volatile environment that Chris will be heading into, as well as teasing some of the personal issues that are hanging over him throughout his time in Liverpool. It looks like his night shifts will be keeping him busy as there's definitely some action woven in the trailer, too!
Get the What to Watch Newsletter
The latest updates, reviews and unmissable series to watch and more!