'The Syndicate' Season 4 — everything you need to know
The Syndicate Season 4 is here after a six year wait.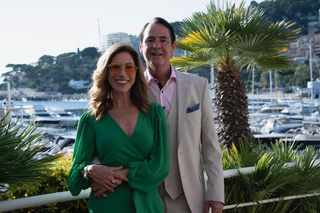 (Image credit: BBC)
The Syndicate Season 4 has been a long wait for fans as the previous season aired in 2015.
In an interview, creator Kay Mellor revealed how the pandemic had effected filming and further delayed the new stand alone season (but at least it's finally here!).
She said: "Lockdown has been a roller-coaster of emotions for all of us. I was devastated not to be able to begin shooting the new Syndicate. All the scripts were written and we were four days away from principal photography but now we're ready for the stage and I couldn't be more excited.
"We've got a loyal, star-studded cast and a talented crew, who have waited patiently in the wings. The BBC Piers Wenger and Gaynor Holmes especially — have been utterly brilliant, supporting us all the way."
Here's everything we know about the series...
The Syndicate Season 4 release date
The Syndicate Season 4 started on Tuesday 30th March. The six-part series has then been airing on Tuesday evenings on BBC1.
You can catch up on missed episodes on BBC iPlayer after they have aired.
The season is on BritBox in the US and Canada. Here is now you can watch The Syndicate online anywhere in the world.
Check out options below for how to watch previous series of The Syndicate.
What's the plot of The Syndicate Season 4?
Each season of The Syndicate follows a new story, and so far we've seen characters based in a Leeds supermarket, a public hospital in Bradford, and even a crumbly stately home near Scarborough. But this time, we'll be following kennel workers whose jobs are at risk.
According to the BBC, the synopsis for season 4 is as follows: "When the owners of Woodvale Kennels announce they are selling the business to a large corporate chain, the staff are devastated to realise they may well be out of a job. This is disastrous news for Keeley (Katherine Rose Morley), Jake (Kieran Urquhart), Roxy (Taj Atwal), Gemma (Liberty Hobbs) and Colette (Emily Head) who all depend on their pay to get them from one month to the next.
"As the staff's future is thrown into question the weekly lottery looks like the only lifeline to gambling addict Keeley. So when she checks the ticket with local newsagent Frank (Neil Morrissey) and the machine goes off she is ecstatic! But is everything as it seems and will our syndicate get what's rightfully theirs? Set between Yorkshire and Monaco, we see our kennel workers spend every last penny they own to see justice done."
What happens in episode one of The Syndicate season 4?
The first episode of The Syndicate Season 4 introduces us to the staff of Woodvale Kennels: Keeley, a compulsive gambler, Roxy, who has recently discovered she's pregnant, Jake, who's found himself in a custody battle, Colette, a dog groomer, and Gemma who has a special work schedule in order to care for her ageing grandmother.
The team are excited to learn they might've won the lottery, but discover that the £27m jackpot has been claimed already, meaning their winning ticket has been stolen from them. After realising that the local shopkeeper Frank has stolen the ticket, and run off to Monte Carlo with the winnings, the group plan to follow him there and confront him, teaming up with his disgruntled fiancee Cheryl along the way.
What happens in episode two?
In episode two, the team manage to scrape together the money needed to jet off to Monaco, where they hope to track down Frank and finally confront him about their stolen lottery ticket. They discover Frank's now living in a Monaco casino, and it's not an easy task trying to prove that the lottery ticket belongs to the staff at Woodvale Kennels.
The police don't believe them and the lottery company are no help either, but Keeley is still determined that she and the rest of the syndicate keep on fighting. Meanwhile, Frank's gambling addiction is drawing attention to himself, and a customer asks a reluctant Colette out for a drink, who is worried they might learn the truth about her past.
What happens in episode three?
Despite their further plans to confront Frank in episode two being thwarted, episode three sees the syndicate devising a cunning plan involving his beloved pet dog Duke, which they hope will convince the devious shopkeeper to finally admit his wrongdoings. They've been thrown out of the hotel, but that won't stop them from taking Frank down. Meanwhile, back in Yorkshire, the kennels are struggling and understaffed as many of its workers are off trying to take back their winnings. In addition to this, Colette is dealing with her own personal problems as she's forced to relive painful memories from her past.
What happens in episode four?
Episode 4 of The Syndicate sees the group getting into even more trouble, as they try to rush Roxy to hospital before she loses her unborn baby. But the emergency medical treatment is very expensive, and Roxy won't be allowed to leave unless they can find the cash to pay for it. In the midst of all the drama, their plans to kidnap Frank's dog also backfired.
There's equal problems for Frank too as he finds himself confronted by Mr Shriver, the head of Mercury Millions' fraud team, who has questions about his lottery ticket. Frank does his best to lie his way out of it, but the amount of people who have their suspicions about him are only growing in number.
What happens in episode five?
Episode 5 sees the Syndicate finally kidnapping Frank's dog to blackmail him, but they are presented with further stresses as they realise sneaking a massive Irish Wolfhound into their hotel room is easier said than done!
As expected Frank is distraught about his missing dog, giving Keeley the opportunity to demand their money back. Their return flight is rapidly approaching, and the group are determined to get Frank to finally give in but it's not that easy. Frank and Cheryl confront the group, attempting to barter for Duke in return for £1m.
But the group demand their £27m back from Frank, who continues to deny he even stole the ticket. They end up empty handed once again, with the episode ending as Frank is brought in for further questioning by a private detective.
Who stars in The Syndicate Season 4?
There's a great cast for season 4 of The Syndicate, led by Men Behaving Badly star Neil Morrissey. This is also YouTube star Joe Sugg's first television role, following his appearance in the 2018 Strictly Come Dancing competition.
Here's the full list of actors appearing in the new season...
Neil Morrissey
Joe Sugg
Kym Marsh
Liberty Hobbs
Emily Head
Kieran Urquhart
Taj Atwal
Katherine Rose Morley
Is there a trailer for The Syndicate Season 4?
Yes! Here it is...
Get the What to Watch Newsletter
The latest updates, reviews and unmissable series to watch and more!