'Tom Clancy's Without Remorse': Amazon Prime release date, plot, trailer and everything you need to know
By Sean Marland published
"Tom Clancy's Without Remorse" is the origin story of action hero John Clark.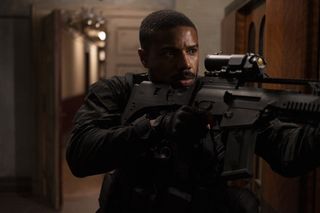 (Image credit: Amazon Studios)
Tom Clancy's Without Remorse will introduce one of the author's most famous characters, action hero John Clark, in a movie based on the world of CIA agent Jack Ryan.
The film, which stars Michael B. Jordan, originally was intended for a full cinema release. But after being delayed due to the global pandemic, Amazon Prime swooped in to buy the rights.
We've already got our full Without Remorse review published and ready for you to read.
Here's everything else you need to know about Tom Clancy's Without Remorse:
'Tom Clancy's Without Remorse' release date
Tom Clancy's Without Remorse will be released worldwide on Amazon Prime Video on April 30, 2021.
The list of countries in which you can expect to see the film includes the Untied States, Australia, Brazil, Canada, Germany, Egypt, Spain, France, the United Kingdom, Ireland, India, Italy, Japan, Mexico, the Netherlands, Sweden, Argentina, and Russia.
What is 'Tom Clancy's Without Remorse' based on?
The film is based on Tom Clancy's 1993 novel Without Remorse. It was the sixth book in the Jack Ryan universe, though it doesn't actually feature Jack Ryan. (In a bit of serendipity, though, we're introduced to Ryan's father, Emmett.)
The book differs a bit from the film. The story finds former Navy SEAL Master Chief John Kelly out of the Vietnam War and enjoying life on the Virginia Tidewater when he gets pulled back in to help rescue some POWs.
Separately, Kelly ends up helping a prostitute, hooked on drugs and obviously abused. He falls in love her, only to be attacked by the gang that's using the women and plying them with drugs. She's killed. He survives, but just barely.
Kelly then goes after the gang one by one. The police — led by Jack Ryan's father — start to close in on the mysterious killer who's taking out bad guys. Meanwhile, he and the nurse who cared for him get close.
But when you do a little side work for the CIA, they don't mind returning the favor. So Kelly, having done what they needed him to do, fakes his death and emerges at the end as John Clark, and remains in the CIA's employ for years.
'Tom Clancy's Without Remorse' plot
The film has had a more modern update. It begins with Navy SEAL John Kelly (who later becomes John Clark) carrying out a special mission to rescue a CIA operative who's been taken hostage by ex-Russian military forces.
Months later, his pregnant wife is killed by four Russian assassins who attack Kelly's home. He manages to kill three, but one escapes alive.
After discovering the name of the killer who got away from a corrupt Russian diplomat, Kelly sets off on a mission to get revenge with fellow SEAL Lt. Commander Karen Greer and shady CIA agent Robert Ritter.
Yet when he uncovers a dark conspiracy plotting to create a state of all-out war between Moscow and Washington, he's forced to choose between personal honor and duty to his country.
'Tom Clancy's Without Remorse' cast
Michael B. Jordan (The Wire and Creed) plays John Kelly, while British stars Jodie Smith-Turner (Nightflyers) and Jamie Bell (Billy Elliot) play Karen Greer and Robert Ritter.
Australian actor Guy Pearce (Mare of Easttown) plays Senator Clay and Brett Gelman (Stranger Things and Fleabag) plays Russian assassin, Victor Rykov.
Luke Mitchell (Marvel's Agents of S.H.I.E.L.D), Jack Kesy (Deadpool 2) and Colman Jason Domingo (Fear the Walking Dead) also star.
Will there be a sequel to 'Without Remorse'?
Michael B. Jordan will be reprising the role of John Clark in a sequel , Rainbow Six, which is expected to come to the streaming platform next year. (That story involves the creation of a multinational anti-terrorism unit, led by Clark.)
"I'm so excited about Without Remorse," he says. "This was an opportunity to dive into John Kelly/John Clarke character and give him a fresh start. Growing this thing out into a franchise is something we look forward to and we felt Without Remorse is a perfect vehicle to do that as the first big splash I will make over at Amazon."
Sean has been writing about all things telly for over 10 years and in that time he's been lucky enough to interview stars like Ian McKellen, Tom Hardy and Kate Winslet. His favourite shows are The Great British Bake-Off, People Just Do Nothing and Succession and in his spare time he enjoys drinking tea, doing crosswords and watching football.
Get the latest updates, reviews and unmissable series to watch and more!
Thank you for signing up to Whattowatch. You will receive a verification email shortly.
There was a problem. Please refresh the page and try again.