Craig: "Big brother is harder than prison!"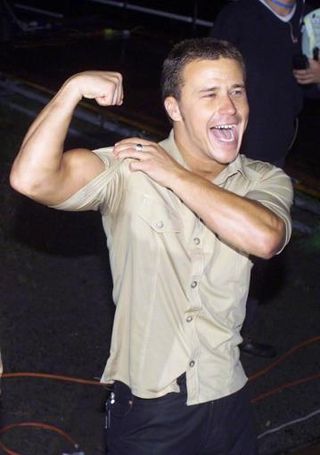 (Image credit: PA Archive/PA Photos)
He was the first winner of Big Brother in 2000, famed for taking on house cheat Nick Bateman. Now Craig Phillip's agreed to be our Big Brother insider, each week telling us what's REALLY going on inside the house... Have you always watched Big Brother?
"I've tried to, yeah. Sometimes work commitments mean I miss one or two shows, but generally I try to watch them. I'm away filming four days a week on four different locations [on ITV1's 60 Minute Makeover], so I generally end up phoning the manager of my hotel and ask him to record them. I don't like to miss it...You do get hooked, don't you?" The interview continues below...
I'd have thought after being in there, the last thing you'd want to do is tune in and watch it...
"Yes and no. I personally enjoy it a little bit later on in the series when it narrows down. When there's 12 or 16 in there it's so busy that it's hard to get to know a character because they're cutting to different people, so about halfway through is when I really get into it." How has Big Brother changed since the first series?
"It's certainly gone off in different directions from when I was in there. Even just the basics of the layout and design of the house - when I went in there it was so basic, bland. I've watched over the years and they've put more and more money into the house and designed it different ways to create different atmospheres." What's your take on the new house?
"It looks very luxurious. They'll get spoilt a bit, but they've also got more and more harsh on the contestants. They're gonna come up with all sorts of scenarios to make make them fall out." Is Big Brother running out of steam?
"There is still definitely life in it. The viewing figures have taken a turn for the worse; when we were on it we got 10.5 million watching it. When it goes down to five million that's poor for BB, but it still beats most of what's on TV today. While the media might say it's declining, when you're still attracting that many viewers they're gonna carry on producing it, they're still making money from it. It will reach 10 years for sure, but I don't know what direction it will go off on after that." It's a bigger cast and longer this year - that's quite a brave, isn't it?
"There must be some method in their madness." Who's been your favourite characters?
"Ohh, that's difficult one, I've never been asked that before. I meet so many of them, but they all kind of merge into one... I know the one that annoyed me the most. I have to say Jade Goody. I know the public have had mixed feelings about her, they've gone up and down dramatically. But I had the unfortunate experience of living with her for three weeks in a show called Back to Reality. She was painfully annoying in that, she aggravated everyone in the house on that." So you wouldn't have liked the experience of living with her for three months then?
"No chance. There have been rumours going around about putting all 10 winners in the house after the 10-year period... though she didn't win, did she? It's a final blow-out for Big Brother. I probably would do that. A lot of the public ask me if I would do [Big Brother] again. My answer is no to that. I won the first one and I've had a good career since that; I don't feel I have anything to prove. But if it was all winners I'd feel a responsibility to be a part of it." You guys did set the standard on the first series, didn't you?
"Well, people do say that - the first one was the best and they've never managed to recapture the innocence of us all going into the house for the first time. Having said that, I've never actually watched it. I've watched all the others. [BB producers] Endemol apparently have 80-90 hours of footage, but I didn't go home for 97 days after Big Brother. I was whisked around here, there and everywhere by security. I had a new life. And to actually sit down down and watch it would have been impossible. And I was so glad to get out of the house and I was reminded of it morning, noon and night... I didn't feel like I needed to watch it. "The only interesting thing is I'm hoping to do a biography next year, after 10 years, and at that point I might sit down and watch the footage because I'll be hiding away for months while we're trying to put together the biography." How do you look back on Big Brother 1?
"We all went in to win, that was the reason we all went in there. ['Nasty'] Nick went about it a different way, a cowardly way really, but through Endemol's editing he paid for it you know from death threats. He had to have security for a lot longer than me!" So you feel sympathy for Nick?
"Yes, absolutely. I was the one who confronted him, and we argued it out. People ask me what happened after the show [between us], but I've been round to Nick's place a lot, I've stayed there a lot, we've become good friends afterwards." Really?
Yeah, I speak more to Nick than any of them. Every few months we'll have a chat and if we're in the same area we'll try to meet up and have a bite to eat. For the first couple of years we were often going to balls and things like that together." Big Brother obviously changed your life dramatically. Apart from your home makeover show, what else do you do?
"I'm a Lord Mayor's ambassador in Liverpool so I do a lot of charity work. I get 3-4 calls a week for charity work, so I try to dedicate about 50 days a year for different charities, anything from wing-walking to abseiling and skydiving, sometimes even going in jail... I got locked up for a week in jail and people had to call up to donate money to get me out. That was for the NSPCC, that one. "It was Fazackerley prison here in Liverpool. They put me in a secure unit, it was quite exciting. People keep asking - all the time I spent in Big Brother it must have been like being in prison? Actually, when you're locked away in prison you get phone calls, you get TV, you get radio, newspapers, magazines, so I think being in Big Brother is harder than prison!" CLICK here for Craig Phillips' official website.
Get the What to Watch Newsletter
The latest updates, reviews and unmissable series to watch and more!
The What's on TV team brings you everything you need to know about the world of TV. We have all the information on what is happening in the soaps, what you can't afford to miss on television and which new shows and series are launching. Our handy guides, to all the latest TV shows, bring you everything you need to know about new launches, returning series and must-see events so that you don't miss a thing..