Britain's Got Talent: Alesha Dixon's golden girl busted for smuggling drugs to jailed gangster boyfriend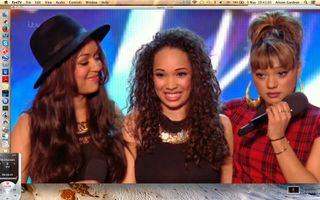 Britain's Got Talent (opens in new tab)'s Alexis Economou, is begging the public not to end her bid for stardom as she admits smuggling cannabis in her bra to her jailbird boyfriend.
Alexis, 21, the oldest member of REAformed, revealed her shame at being busted with cannabis in the Mirror newspaper.
Her story will shock the millions who watched her get through to the live semi-finals singing Kiki Dee's I Got The Music In Me, alongside bandmates Ebony Cantwell, 15, and Renetta Eagle, 18.
The tearful wannabe said: "What I did was a really, really stupid thing. What happened to me was something I did when I was in a rubbish place, but I'm not that person I was back then."
Last night she and her friends were put through by judge Alesha Dixon (opens in new tab), who used the golden buzzer and compared them to her former band Mis-Teeq.
Alexis, from Pimlico, South London, fell for Kayode Oshin, 21, in the summer of 2012 after being introduced by pals. He seemed to be the perfect gent, showering her with gifts and meals out.
But unknown to her he was caught up in a violent gangland drugs war that had even seen him spray rivals with a Mac-10 machine gun.
Her world came crashing down a year later when he was jailed for three-and-a-half years for drugs offences.
But lovestruck Alexis vowed to stand by him, paying him regular visits behind bars. And when he begged her to sneak in some cannabis she foolishly agreed.
"I know it sounds bad but being arrested for drugs isn't that unusual where I'm from. I had no idea about other things he'd done. I was in love and I just wanted to help him," she said.
"On my sixth visit I brought drugs with me to prison. I knew it was wrong. As I walked up to the prison, my heart was racing, I had a million different things going through my head.
"From the moment I woke up that morning, it was like everything was in slow motion. I was in a bubble.
"I'd got the cannabis from someone in the street. It's not hard in the area I grew up.
"I was absolutely terrified when I walked into the prison.
"They did a body search but I'd hidden it in my bra so they didn't find it," she recalled. The drugs had a street value of around £10. "I handed it over to him when I thought nobody was looking and I couldn't wait to get out of there. I was just relieved it wasn't on my person any more."
But guards had noticed and stopped Alexis as she tried to leave.
They searched Oshin and found the drugs. She immediately confessed to what she had done. "A guard came over to me and asked me to wait in a small room. And I immediately knew... I was crying my heart out."
Alexis was taken to a nearby police station and formally charged.
"I was only interviewed for about 15 minutes because I had admitted everything straight away," she said. "After that my mum picked me up and took me home and I just cried for hours."
Distraught at letting her family down and terrified at the prospect of ending up behind bars, she promptly called Oshin and dumped him.
Alexis said: "I felt disappointed in myself and scared of going to prison. I spent the next few months constantly stressed and not eating."
She was later given a three-and-a-half-month suspended sentence and ordered to do 150 hours' community service working in an Oxfam shop.
Alexis says the incident turned her life around as she realised how close she had come to ruining everything.
When she met Oshin she was skipping college to avoid bullies who were making her life hell. "I was in a really bad place at the time and I wasn't being myself," she said. "I even had a police officer to escort me home and keep me safe, it was that bad. Eventually, I just stopped going.
"When I met Kayode, I thought he was a genuine guy. He was a good-looking, charming guy who told me he was studying business at college. He'd pick me up and take me to dinner, he treated me well. I made a mistake because I wanted to please him."
She added: "If anybody out there is thinking of doing the same thing, just don't. It's not worth it. It can affect your career, your whole life."
Alexis only found out that Oshin had been found guilty of attempted murder when she read it in the newspapers.
His Old Bailey trial heard he shot his victim in the neck with a Mac-10 in Hounslow, west London, in 2011. He had fired at a group of men, but the gun jammed, forcing him to flee. He was jailed for 22 years for attempted murder, possession of a firearm with intent to endanger life and GBH with intent.
Emotional Alexis said: "I don't want people to judge me for what he's done. I just want to take this experience and turn it into a positive."
Click here (opens in new tab) for more on girl group REAformed.
Get the latest updates, reviews and unmissable series to watch and more!
Thank you for signing up to Whattowatch. You will receive a verification email shortly.
There was a problem. Please refresh the page and try again.