TV Times tribute : Sister Evangelina's Top 12 Call The Midwife Quotes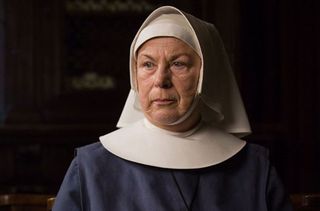 Like millions of other fans, TV Times is reeling from the sad departure of Call The Midwife's Sister Evangelina. Here, in tribute, are 12 of her finest lines. The last one, in particular, sums up everything we love about Sister Evangelina and Call The Midwife….
1
"Is that the fastest you can move or is there a switch for emergency mode?"
2
[On Sister Monica Joan] "She may be my sister in Christ but I swear, she would drive a Methodist to drink!"
3
[Writing in her notebook] "'Patient demonstrated strong right hook'. Right, you awkward old biddy. See what you make of this..." [Passes wind loudly]
4
"It's a baby, not a lubricated penguin, they don't come sliding out to order"
5
Sister Evangelina: And are all your dresses pink?
Chummy: I do have another, in eau de nil.
Sister Evangelina: I bet you look a picture in that too.
6
"If you were to go any slower you'd grow moss."
7
"I'll tell you what the problem is. You young girls do too much book-learning. You sit for months in classrooms, filling your heads with loads of codswallop, when simple practical tasks are beyond you! [Knocks over ink pot] Now look what you've made me do!"
8
Trixie: I've never been on an ocean-going vessel in my life
Sister Evangelina: Just shake your golden curls and pretend it's The Good Ship Lollipop
9
"If you're suggesting that a few deep breaths and not thinking about what's for dinner is all there is to labour, you're leading your patients up the fairy way"
10
"My Sisters and I will not want to come in here ever again and find the seat of a certain item standing upright"
11
"We don't need an extra pair of hands, we need an octopus"
12
"If there's one thing the religious life has taught me, it's that it's impossible to love too much. What's needed is taken up, and what's not needed hangs around somewhere, looking for a home"
Thank you for signing up to Whattowatch. You will receive a verification email shortly.
There was a problem. Please refresh the page and try again.