Casualty's Charles Venn: We wanted to make it so steamy couples would want an early night! (VIDEO)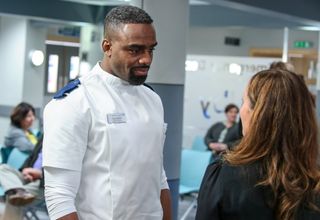 (Image credit: BBC PICTURES)
Casualty star Charles Venn reveals he and co-star Amanda Mealing had a strategy to make Jacob and Connie's relationship realistic for viewers…
Knowing the union of these two strong characters may split Casualty fans, Charles, who plays staff nurse Jacob Masters, revealed to What's on TV he and Amanda Mealing, who plays Connie Beauchamp, had a plan from the beginning: "The one thing we always said was 'we're going make sure this relationship is as steamy as possible. When we kiss, we want it to be a case of being so passionate… that couples, literally, would be sitting in a room and say 'OK darling, I think it's time for an early night!'"
After an uncertain start Casualty fans have now taken Jacob and Connie - known as #Jonnie on Twitter – into their hearts as a couple, and are willing them to get back together soon.
Yet former EastEnders and Footballers' Wives star Charles admitted, he was initially worried the Casualty fan base would reject Connie and Jacob as a couple: "I always knew it was on tenterhooks. Amanda felt more confident about it than myself."
And while some of us may feel a tad uncomfortable at having to kiss a co-worker, for Charles it's all in a day's work!
He laughed: "Its just part of the job. I've been doing this now for nearly 18 years, professionally. Prior to this Footballers' Wives had to be one of the steamiest scenes I had with my co-actress Phina Oruche and, once again, we made it very clear we wanted it to be as visceral and realistic as possible...
"So for me, in many ways, it's about getting the job done right. Me, personally, I can't stand watching a sloppy screen kiss – it kills the moment and takes me out of the suspension of disbelief, so I didn't want to be a victim of that."
For the full interview with Casualty's Charles Venn, watch the video above
"]
Get the latest updates, reviews and unmissable series to watch and more!
Thank you for signing up to Whattowatch. You will receive a verification email shortly.
There was a problem. Please refresh the page and try again.