Casualty's Chloe Howman: 'Rita's storyline is dark, interesting stuff!'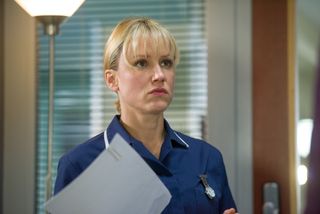 (Image credit: BBC)
If you've seen the Casualty summer trailer you already know things are about to get dark for nurse manager Rita Freeman...
Actress Chloe Howman talked to What's on TV about Rita's descent into increasingly disturbing behaviour in order to keep her failing relationship with paramedic Iain alive and kicking.
"It is fair to say that there's always more going on with Rita!" she said. "The thing with Iain is he's the first person she's fallen for since that horrific situation with her ex-husband Mark. If you think about how her husband lied to her about something so massive and betrayed her so deeply, falling for Iain is huge for her. The way Rita reacts to this is going to be massive and she's finding the whole situation really hard..."
As if having a lying, paedophile ex-husband isn't damaging enough, this Saturday Iain's going to blow hot and cold on the mixed-up medic, with devastating long-term consequences. In Saturday's episode viewers will see Iain give Rita the keys to his flat – and then promptly saunter off with another woman at the end of his shift! Rita's jaw hits the floor. Yet she's not ready to walk away from her man just yet.
Hinting at how far Rita's about to go to keep her man, Chloe, who plays her, said: "I can't tell you too much about the storyline I'm doing at the moment but, bless her, it is quite dark. It's really interesting stuff.
"It's the psychology of people, and that's what I'm interested in - why do people do the things they do? It's also an opportunity to play things that I would never do! What Rita's going to do… it's not something I'd do, but it's really interesting to play it from her perspective."
Chloe revealed that Rita's past with her paedophile husband provides the backdrop for the nurse's more desperate behaviour in coming months: "Because of this awful situation with her ex-husband Mark, hopefully you will completely understand why Rita's being the way she is.
"And hopefully, as an actress I have redeemed her, because I believe she's completely redeemable. She's just human. And we all struggle, don't we?"
But while on-screen Rita and Iain are about to hit turbulent waters, off-screen Chloe sang the praises of her co-worker Michael Stevenson, who plays Iain: "He's lovely. What's not to love about Michael Stevenson? Going into work with a little James Dean lookalike – no acting was required!"
More Casualty news and videos available here
Get the latest updates, reviews and unmissable series to watch and more!
Thank you for signing up to Whattowatch. You will receive a verification email shortly.
There was a problem. Please refresh the page and try again.