Cathy Shipton talks Casualty's ambitious one-take episode: 'There are ways around fluffed lines!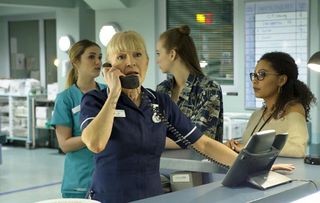 (Image credit: BBC/Adrian Heap)
Cathy Shipton, who plays nurse Duffy, reveals filming an entire episode of Casualty in one single shot wasn't without its headaches...
It's back to basics in Casualty's ambitious special episode titled 'One'. Even if you've not watched Casualty in years, and know nothing about the 30th anniversary helicopter crash, Duffy and Charlie's wedding, or the murder of Doctor Cal Knight, this special episode promises to be mesmerising.
Filmed in one continuous take, One follows an ensemble of Casualty characters as they deal with a typical day in the ED. It's Casualty co-creator Paul Unwin's homage to the NHS and the long-running medical drama…
Paul Unwin has put Nurse Duffy at the heart of Casualty's one-shot special, marking the end of BBC1's year-long 30th anniversary celebrations. What has it meant to you? "Paul has written One so that Duffy is taking us around the ED. It's a lovely echo back to the show's origins. After the paramedics, the nurses are the ones who soak everything up in emergencies, from pastoral care to diagnosis. It's phenomenal that Paul Unwin, who helped set Casualty up 30 years ago, has written this!"
Can you explain more about what happens during One? "It's a bit like Casualty bumped into Mike Leigh bumped into a living art installation! It's a brilliant hour-long fly-on-the-wall episode, set in real time. Two young work experience girls, Chloe (Hollyoaks' Cassius Nelson) and Diamond (newcomer Georgia Sandle) come into the ED to do an hour's observation. During that hour they want to find out if they'll become a medic or a nurse, or anything to do with hospitals.
"Muggins here is assigned to show them around but soon the day takes over! We'll see everything, from Charlie (Derek Thompson) taking incoming patients to a patient making wisecracks because he doesn't know he's in a really bad state."
Do Chloe and Diamond get into mischief? "There are times Duffy has to park them in certain places and, because they're kids, they just wander off. They go to places they shouldn't and hear things they shouldn't hear. Then they use that information either naively or in a meddling way!"
Was it chaotic to film an entire episode in one take? "We used the entire set like a stage. Batons were continually being handed over. We even had a cameraman flying on a harness when Duffy takes the girls upstairs to the pharmacy and they want a selfie for their coursework! That was pretty hairy for the cameraman."
Were you worried about messing up your lines? "There's been pressure doing this, but it's been shared. There's all sorts of ways around fluffed lines. I have to do a scene where Duffy receives some awful news and physically reacts to it. Everyone realises something's not quite right on the other end of the phone. Someone laughed during rehearsals, but you don't take it personally! All the cast knew there'd be some improvising – acting is reacting. There was an element of sink or swim!"
What was your reaction when you were first told about One? "When it was mooted about six months ago we all just laughed! Paul kept saying he was keen on the oner and I kept thinking it was an April fool's joke come early. Then I found out I was doing quite a lot in it! The minute I saw a red fronted script, which is only for the head of departments, I snuck it away and had a read of my contraband!"
You've worked on Casualty since it started in 1986. What does the show mean to you personally? "It's wonderful that Casualty educates, illuminates and entertains. I've had people tell me they're a doctor, a nurse, or a paramedic because of Casualty. That's the beating heart of the show. It's employed hundred of people, both Derek and I met our partners through the show and now we've got children and families from it."
Tell us something we may not already know about Casualty? "Originally it's working titles were Front Line or War Zone, because it's about the nurses, but they were a little bit too aggressive! The series was axed after two series. We got a letter saying there wasn't enough material, thank you for your contribution and good luck for the future! I never imagined 30 years after Casualty started we'd be doing something as ambitious as this."
Casualty One screens on BBC1 at 9pm this Saturday, and marks the end of the current series.
Get the latest updates, reviews and unmissable series to watch and more!
Thank you for signing up to Whattowatch. You will receive a verification email shortly.
There was a problem. Please refresh the page and try again.