George Rainsford: 'Alicia could ruin Ethan's life - and she'd be in her right to do so!'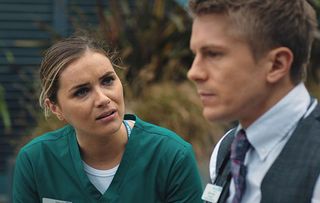 (Image credit: BBC)
Casualty star George Rainsford reveals Ethan's confession about killing Scott has a terrible effect on Alicia, who's suffering her own secret torment
Secrets and revelations abound this week as a guilt-ridden doctor Ethan Hardy (played by George Rainsford) confesses to co-worker and ex-lover doctor Alicia Munroe that he allowed his brother's murderer, Scott Ellisson, die in the ED, when he could have done more to save him!
Ethan's big confession about Cal's killer happens as a direct result of Alicia discovering that Ethan has been in a secret relationship with Leigh-Anne Carr, the mother of Scott Ellisson's newborn baby! These revelations are the last thing vulnerable Alicia needs, as she is secretly trying to cope with a terrifying rape ordeal involving co-worker Eddie McAllister.
Here Casualty star George Rainsford tells What's On TV why Ethan's revelation is misjudged and how he hopes his character can be there for Alicia in the future…
Why did Ethan secretly date Scott Ellisson's grieving girlfriend Leigh-Anne Carr and then suddenly break up with her?
"Leigh-Anne and Ethan forged this very inappropriate, unhealthy relationship because there was chemistry there but also there was an understanding about grief and loss. They found each other but then Ethan realised the error of his ways and that it could end his career. Ethan then did this slightly naff break-up with Leigh-Anne recently but it was genuinely upsetting for him. It's awful, really. Ethan's sad but had to try and nip it in the bud."
This week we see Leigh-Anne (Cassie Bradley) desperate to talk to Ethan. Will there be serious repercussions when she turns up at the ED?
"She's a woman scorned! And Ethan's definitely worried. He tries to play it cool but once Alicia finds out who Leigh-Anne is [Scott's former girlfriend] and what happened [between Leigh-Anne and Ethan] it quickly snowballs!"
Is Ethan worried about Alicia (Chelsea Halfpenny) officially reporting him for dating a patient?
"At the moment Alicia and Ethan are in this slightly funny place – as usual! They've missed an opportunity to declare their feelings for each other and now Alicia's reeling from an awful experience, while Ethan thinks she's slept with Eddie McAllister. They're not really friends so actually she could easily go and talk to Mrs Beauchamp about Leigh-Anne and ruin Ethan's life - and she'd be in her right to do so!"
Ethan has no idea what Alicia's going through at the moment. But even so, why does he decide to confess his darkest secrets to her?
"I think it's because Alicia's the closest person to him and, despite all the problems they've had, he still feels that. Over the last year Ethan's taken on a lot of awful things and tried to solve them on his own – whether it be the guilt from this incident with Scott or becoming clinical lead. He's pushed away all the people who are close to him and tried to solve everything alone without seeking help. I think Ethan's got to the point of where he realises that's not helping at all or making his life any easier, so he decides to off-load to Alicia. But all that does is put pressure on the person who loves him by asking Alicia to carry an awful secret for him. Meanwhile Alicia's going through her own ordeal and it's another thing on her plate, which is a struggle to handle…"
After Ethan's confession Alicia walks off in revulsion. How does Ethan perceive her reaction?
"I think he was hoping she'd console him. In a way he doesn't know what's happened because he wasn't expecting it. He tries to process why Alicia has walked away but doesn't know it's because of what's going on with her. He misunderstands her reaction."
There's been an obvious change in Alicia recently. Why hasn't Ethan been more persistent in finding out what's wrong?
"Ethan has become almost so self-absorbed that he isn't able to see what's in front of him. In the past year he's taken on so much by himself and made bad decisions at every turn. I'm sure lots of people have lost sympathy for him. At this point the person who loves him the most and known him the best is in torment and is trying to tell him this awful thing, and he can't see what she's trying to say. He makes it about himself in a weird way. It's a tough situation and a powerful story– Chelsea is playing it so brilliantly."
How would you like him to react?
"I hope we see Ethan realise eventually how he's behaved and how he's missed opportunities, and then start to turn things around by making things positive and healing for Alicia, helping her work through what's happened. Properly caring, the way the old Ethan was. But her reaction makes him paranoid she'll tell somebody. They're going to be walking on eggshells with each other for a bit longer…"
Would you eventually like to see Alicia and Ethan get together, or is a happy ending the kiss of death to the drama of the show?
"They've earned getting together; at some stage I do want them to have a happy ending, and I don't think the drama would end there. Ethan's got another secret – he's got Huntington's, and I'm sure there are many more stories we could find."
Interview with George Rainsford by Rebecca Fletcher
Get the What to Watch Newsletter
The latest updates, reviews and unmissable series to watch and more!
Writer for TV Times, What's On TV, TV & Satellite Week and What To Watch
With twenty years of experience as an entertainment journalist, Elaine writes for What's on TV, TV Times, TV & Satellite Week and www.whattowatch.com covering a variety of programs from gardening and wildlife to documentaries and drama.
As well as active involvement in the WTW family's social media accounts, she has been known to get chatty on the red carpet and wander into the odd podcast.
After a day of previewing TV, writing about TV and interviewing TV stars, Elaine likes nothing than to relax… by watching TV.