TV TIMES EXCLUSIVE: 7 Awesome Moments Coming Up in Casualty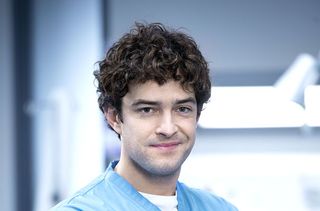 (Image credit: BBC/Warren Orchard)
Casualty is 30 this year and, in an exclusive interview, Executive Producer Oliver Kent tells TV Times he'll be celebrating with bromance, a 'very openly bisexual' paramedic, an enormous stunt and so much more.… Further details below…


1  Lofty in the lurch…
It seems that Lofty's new promotion is only going to bring him problems.
'Lofty is going to struggle, partly because he wants to please Dylan, who pushes him a bit further out of his comfort zone than he should go. The results are pretty disastrous for Lofty, but his completely fabulous bromance with Dylan is ongoing.'
2 Return of the Zax?
Oliver's decision to break up Zoe and Max didn't go down too well with fans. 
'I got some small-scale trolling over that! But Zoe will never let herself be happy and Max is quite slow to forgive, so it was the truthful thing to do. They are still crazily in love, but both are so self-destructive, it will take them a while to work out what is actually best. The course of true love was never going to run smooth for those two.'
3 An enormous stunt
'There's going to be an enormous stunt in August,' Oliver tells us. 'We'll bring in some Holby characters, plus some faces from the past and something major will happen to one of our lead characters that will take them a very long time to recover from – the ramifications will be felt in the ED for some time.'
4 Duffy to come home?
After a brief return to the ED last year, could Casualty legend Cathy Shipton make a proper comeback?
'Watch this space,' teases Oliver. 'She was a huge hit when she came back last year, she received a massively warm response and we love her. Plus it's about time Charlie had some happiness…'
5 A 'very openly bisexual' paramedic
Dixie is about to wave farewell to the ambulance station, but Oliver promises we'll be happy with Casualty's new paramedic, Jez, played by Emmerdale's Lloyd Everitt.
'He's young, ludicrously handsome and very openly bisexual. The dynamic between him and Ian is really fun and it's unlike anything we've seen before. Plus we'll establish a big friendship between Jez and Max.'
6 Ethan not Cal
Festering secrets always spell trouble, and the future looks tense for Cal and Ethan.
'Once Cal eventually tells his brother about their mum, and all the genies are out of the bottle, the ramifications on Ethan are fairly major. The focus has been on Cal for quite some time and now Ethan is going to take centre stage.'
7 Connie and Jacob – and  Sam…
Connie's old flame Sam Strachan (played by Tom Chambers) is back, with their daughter, Grace.
'Connie and Sam have years of history and chemistry, so his return will throw a spanner in the works for her new relationship with Jacob,' teases Oliver. 'It kicks off a new chapter for Connie, and with Grace back she realises there's a dilemma about love versus motherhood that she hadn't previously considered.'
What do you think? Let us know below in the comments section – there's official TV Times mugs for the three posts we like best. Good luck!  




Get the latest updates, reviews and unmissable series to watch and more!
Thank you for signing up to Whattowatch. You will receive a verification email shortly.
There was a problem. Please refresh the page and try again.