Chris Gascoyne: 'Peter's return is the start of a catastrophic time for the Barlows!'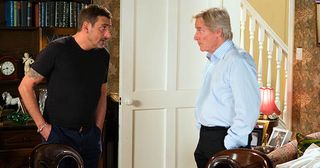 The prodigal Barlow boy brings trouble, as always, when he returns to Weatherfield, comeback Corrie star Chris Gascoyne tells Soaplife…
Apart from a flying visit for stepmother Deirdre's funeral, Peter Barlow hasn't been seen in Coronation Street for almost two years, but now he's back.
Soaplife talked to Chris about returning to the Street and what he's been doing for the past two years.
Peter's been living in Portsmouth… why has he left? "He tells everybody he's been sacked from crewing the ships because he's had a fall out with someone - that's possibly true, but it's not the real reason he's returned."
On a scale of 1 to 10, how much drama is Peter going to bring to the cobbles this time? "Ten! It all kicks off very quickly and it looks like Peter is hiding a few secrets. He may be older and he's sober, but he's still very troubled."
How does his return go down with the rest of the Barlows, Simon and Leanne? "Not very well. Although Peter hasn't been totally absent from Simon's life – he's Skyped and stuff – he didn't turn up for Simon's football presentation. So Simon and Leanne are upset with him, so is Ken, and Tracy's not happy either because he's asking for money straight away."
How does Peter deal with this? "Peter wants to put things right and he's really trying, he knows that he's going to walk back into this minefield and he's taking it all on the chin. He knows he's messed up, but he wants a chance to come back and be accepted again."
Yet it's not long before he's rowing with his dad! "Peter stays out till the early hours and Ken is convinced he's been drinking. They start arguing with Ken having a go at Peter about abandoning Simon. Peter admits he hasn't been a good dad, but that he wants to try and make up for it. Ken keeps pushing and pushing Peter until he just loses it. This is the start of a catastrophic time for the Barlows."
What does Peter think about ex wife Leanne now being with his nemesis, Nick Tilsley? "Peter just wants Leanne to be happy and he's pleased she is, but he wishes she wasn't with Nick."
Does he still have feelings for Leanne? "He'll always love her, but he's not in love with her. He can't resist flirting with her, though."
Get the latest updates, reviews and unmissable series to watch and more!
Thank you for signing up to Whattowatch. You will receive a verification email shortly.
There was a problem. Please refresh the page and try again.