10 Years Ago in the Soaps including Emmerdale: Week Beginning December 15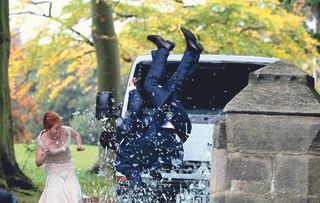 10 Years Ago in the Soaps - Remind yourself of all the soap drama in Emmerdale, EastEnders, Coronation Street and Hollyoaks 10 years ago this week!
Matthew King died on his wedding day in Emmerdale, Janine Butcher was exposed as a fraud on her big day in EastEnders, Maria Connor was on to killer Tony Gordon in Coronation Street and Sarah Barnes was confused in Hollyoaks - 10 years ago in the soaps!
Emmerdale - 10 Years Ago in the Soaps
This should have been the happiest day of Matthew King's life - the day Matthew (Matt Healy) was due to tie the knot with his true love Anna De Souza (Emma Davies). Instead it ended in tragedy after a massive row with his brother Carl over business and their dad Tom King's death. Determined to finish things once and for all, Matthew drove a van straight for Carl, only to realise if he hit Carl he would hit Anna too. He swerved at the last minute, crashed into a wall and was catapulted through the windscreen. He died in Anna's arms…
Lee Naylor (Lewis Linford) was more than happy to help Jo Sugden out at the farm and when he got drenched fixing an old drain pipe, Jo was more than happy when he stripped off his t-shirt to dry it! Lee's grandad Mick (Tony Haygarth) warned him to cover up quick, though, before Jo's abusive husband Andy caught him showing off his muscles... very sensibly!
EastEnders - 10 Years Ago in the Soaps
Janine Butcher (Charlie Brooks) looks like she's seen a ghost - but it's just her stepmum Pat Evans who's caught her eye, turned up to stop her Jewish wedding to an extremely old bridegroom, David. Janine, who was posing as a Jewish orphan, tried denying she'd ever laid eyes on this woman as Pat accused her of only marrying the elderly gentleman for money. As the row escalated, David suffered a heart attack and collapsed. He never recovered and homeless Janine was forced to return to Walford…
It was a big day for Roxy Slater (Rita Simons), the day she could finally take baby Amy home from hospital. Her husband Sean wasn't answering his mobile - it turned out he was hoovering her car and didn't hear it - so it was her manipulative dad Archie Mitchell (Larry Lamb) who took Roxy to hospital to pick up Amy. Sean was upset and angry he'd missed out on such an important moment while Archie just grinned, with more than a hint of satisfaction…
Coronation Street - 10 Years Ago in the Soaps
Maria Connor (Samia Longchambon) might have been a bit ditsy but she wasn't daft and when she found out her late husband Liam had been sleeping with Tony Gordon's wife Carla she put two and two together and accused Tony (Gray O'Brien) of having Liam killed. Tony was stunned but cracked under pressure and offered Maria £1million in return for her silence. When that failed he plotted to murder her but missed his moment and Maria went to the police. Could he convince them that he was innocent?
Peter Barlow (Chris Gascoyne) had knocked back a bit too much of the Christmas spirit while he and Leanne Battersby (Jane Danson) were decorating the flat for his son Simon. And with Simon tucked up in bed, Peter made a drunken pass at Leanne, intimating he'd like her tucked up in bed too! Disgusted, Leanne pushed him off and he staggered into the Christmas tree, sending it crashing to the floor. Simon wasn't happy!
Hollyoaks - 10 Years Ago in the Soaps
Sarah Barnes (Loui Batley) was feeling confused after her one-night stand with Zoe Carpenter so dolled herself up and headed for the SU Bar looking for some action to prove she wasn't gay. She was in luck when Archie Carpenter (Stephen Beard) turned up and instantly charmed her and they were soon all over each other. Elliot Bevan (Garnon Davies) as mortified as was Zoe (Zoe Lister) when she came in looking for Sarah and realised the person Sarah was snogging was her brother! She warned Sarah off him, but was Sarah listening?
Schizophrenic Newt Newton (Nico Mirallegro) was desperate to make his relationship with Lauren Valentine (Dominique Jackson) work and decided giving up his medication was the only way to do it. Newt couldn't find the words to tell Lauren he cared for her so he kissed her. But just as they started to get passionate his alter ego Eli (Marc Silcock) returned to haunt him and warned him against Lauren. But Lauren wasn't giving up…
Get the What to Watch Newsletter
The latest updates, reviews and unmissable series to watch and more!