10 Years Ago in the Soaps including EastEnders - Week Beginning August 18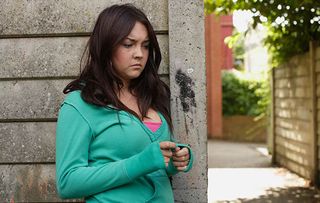 (Image credit: BBC)
10 Years Ago in the Soaps - Remind yourself of all the soap drama happening in EastEnders, Coronation Street, Emmerdale and Hollyoaks 10 years ago this week!
Stacey had news for Bradley in EastEnders, Tony Gordon played dirty in Coronation Street, Donna Windsor-Dingle chased a conman in Emmerdale and Jacqui McQueen suffered heartbreak in Hollyoaks - 10 Years Ago in the Soaps…
10 Years Ago in the Soaps - EastEnders
Stacey Branning (Lacey Turner) was acting strangely around Bradley (Charlie Clements) and he was worried he'd upset her. Then she dropped her bombshell - she thought she might be pregnant. The test proved negative and they were both disappointed. But it was a turning point for the couple and Stacey told Bradley "I want to be with you, Bradley. I want to be your wife." And they sealed it with a kiss.
Lucy Beale (Melissa Suffield) made good use of her Uncle Christian's flat, inviting over her boyfriend Olly Greenwood (Bart Edwards) as soon as his back was turned. Her dad Ian wasn't impressed with Olly, until he found out he came from a wealthy family. But Olly's posh mum reckoned Lucy was way beneath her son and when she told Ian that, he stuck up for Lucy, which stunned her into silence!
10 Years Ago in the Soaps - Coronation Street
Tony Gordon (Gray O'Brien) was hellbent on becoming the Mr Big of Weatherfield. He'd bought up a street of derelict houses to develop and was trying to make the one elderly sitting tenant leave. But when he went round to visit the stubborn tenant, Mr Evans (Kenneth Cope), the old man got stressed and collapsed. Tony did the decent thing and called an ambulance, but once Mr Evans was safely in hospital, Tony wrote him out a cheque and he knew he was beaten…
Chesney Battersby-Brown (Sam Aston) and Kayleigh Morton (Jessica Barden) were hanging out together when Kenzie Judd (Jack Cooper) arrived with his mate, intent on causing trouble. Kenzie started laying into Chesney as Kayleigh tried to pull him off. But it was John Stape who eventually broke up the fight, not that Ches was grateful to his sister Fiz's one-time cheating boyfriend.
10 Years Ago in the Soaps - Emmerdale
Policewoman Donna Windsor-Dingle (Verity Rushworth) was desperate to help mum Viv clear her name of fraud and was stunned to spot someone looking suspiciously like Freddie – the real crook – while viewing some CCTV footage at work. She followed up the lead and tracked Freddie down to his house with the help of colleague Ross Kirk. Could she stop Freddie escaping?
Jo Sugden (Roxanne Pallett) had more than enough on her plate coping with abusive husband Andy (Kelvin Fletcher) and step-daughter Sarah. So she was less than keen when Andy said Sarah had been hinting about wanting a little sister. When Jo admitted she didn't think a baby was a good idea as she still didn't trust him, Andy lost his temper – again – and said if she didn't want a family with him they may as well split up…
10 Years Ago in the Soaps - Hollyoaks
Jacqui McQueen (Claire Cooper) was revelling in her role as mum to baby Max but those days were numbered. When Max's birth mum Tina Reilly agreed to babysit, she struggled to cope when Max began to cry – and ended up breastfeeding him. Jacqui was horrified when she got home and saw them, but Tina dropped the bombshell that she wanted to keep her baby and Jacqui's partner Tony Hutchinson backed her up.
Steph Cunningham (Carley Stenson) jumped at the chance to be the weather reporter on the student TV channel though her technique raised a few eyebrows. Despite her bosses doubts, she gave the performance of her life but her fame was short-lived. As thunder clapped above her and lightning flashed, Steph had en epileptic fit and collapsed on the ground. Poor Steph.
Get the latest updates, reviews and unmissable series to watch and more!
Thank you for signing up to Whattowatch. You will receive a verification email shortly.
There was a problem. Please refresh the page and try again.