10 Years Ago This Week in the Soaps: July 15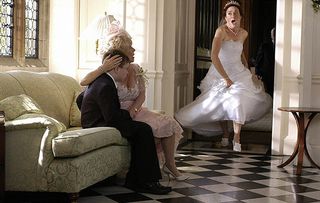 (Image credit: BBC ONE)
Remind yourself of all the soap drama that was happening in Corrie, Emmerdale, EastEnders and Hollyoaks 10 years ago this week!
EastEnders
This was the week when Stella Crawford (Sophie Thompson) planned to make Phil Mitchell (Steve McFadden) her husband – which meant poor little Ben Mitchell (Charlie Jones), the boy she had been abusing for months, would become her stepson. Instead, on her wedding day, Stella's twisted torment of Ben was finally exposed and she did a runner. Peggy Mitchell told son Phil to go after Stella and make her pay. He wants to kill her and she does end up dead, after jumping from the roof of an abandoned factory, where Phil had her cornered.
Awwwww, this is Jay Brown (Jamie Borthwick) 10 years ago… And he was full of mischief back then, too. Jay had kidnapped Wellard from road-sweeper Gus Smith, who had taken on the dog after its owner Robbie Jackson went travelling. Jay was hiding Wellard in a shed on the allotments, but was caught by his dad, Jase, and forced to return the dog to a relieved Gus.
Postman Jamie Hope (Alex Carter) was Louise Appleton's secret toyboy and delivered lots of fun, but by this time 10 years ago he was sick of being her secret and demanded that they make their relationship public. Instead, Louise (Emily Symons) dumped him. But their secret came out and Louise acknowledged Jamie as her boyfriend in a very public display of affection!
Carrie Nicholls (Linda Lusardi) had got her feet firmly under the table at King and Sons, thanks to her daughter Scarlett being the surprise daughter of the late Tom King. There was another surprise 10 years ago this week when Lexi Nicholls (Sally Oliver) climbed through the kitchen window at Home Farm, ripping off her dress in the process.
When she was found in her underwear, she claimed to be related to the Kings. And Carrie told the family Lexi was her younger sister, but it was later revealed that Lexi was her daughter.
Corrie
Vernon Tomlin (Ian Reddington) had no idea that Liz McDonald (Beverley Callard) had been cheating on him with Derek, the Rovers' deliveryman. He found out this week 10 years ago, though… Derek's wife had thrown him out because of the affair and Derek promised Liz he would tell Vernon everything if she didn't carry on their affair.
Furious, Liz refused and Derek kept his word. Vernon was devastated, not least because he had just sold his precious northern soul record collection to pay for tickets to Paris as a surprise for Liz.
Crazy Casey Carswell (Zoe Henry) reappeared on the Street and convinced Claire (Julia Haworth) and Ashley Peacock (Steven Arnold) she really wasn't a bad person, even though she had disappeared with their son Freddie for a while a few months earlier. She discovers Claire and Ashley's marriage is on the rocks and while Claire is staying with her mother, Casey offers Ashley support – and he takes it!
Nancy Hayton (as she was 10 years ago) got close to Jake Dean, husband of her sister, Becca, who had died in February – and on Becca's birthday, too! While they were celebrating Becca's memory, Nancy (Jessica Fox) and Jake (Kevin Sacre) had a near-kiss (very near as our picture shows) but were interrupted by a knock on the door.
Hannah Ashworth (Emma Rigby) was still hiding her anorexia and bulimia from everyone, but was nearly caught when her cousin Fletch burst into her room uninvited, just as she was bingeing on cream biscuits.
Instead of making Hannah think twice about what she was doing, though, the teenager got worse, making friends with anorexic model Melissa Hurst.
Get the latest updates, reviews and unmissable series to watch and more!
Thank you for signing up to Whattowatch. You will receive a verification email shortly.
There was a problem. Please refresh the page and try again.