10 Years Ago This Week in the Soaps: May 13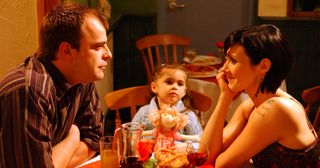 Remind yourself of all the soap drama that was happening in Corrie, Emmerdale, EastEnders and Hollyoaks 10 years ago this week. So much has changed yet so much is the same!
The course of true love never did run smooth for Steve McDonald (Simon Gregson) and Michelle Connor (Kym Marsh), but back in the early days that was because someone kept coming between them. And that someone was Amy, Steve's daughter with Tracy Barlow. After a year of near misses, Steve was desperate to arrange a proper date with Michelle, but with no babysitter for Amy it wasn't happening. Frustrating or what?!
If Steve had problems, they were nothing to the blow about to befall desperately unlucky-in-love Kirk Sutherland (Andy Whyment). While he was happily planning a happy-ever-after future with feisty Fiz Brown (Jennie McAlpine), she was fast falling for the not-so-obvious charms of a certain schoolteacher called John Stape.
Kirk thought he was onto a winner when he produced a ring and asked Fiz to marry him. As she burst into tears, he took her answer for yes. But once she composed herself, it was a resounding 'no' - and the poor fellow was dumped!
Affairs of the heart were thrown into perspective at the end of the week when fire raged through the home of Claire and Ashley Peacock (Julia Haworth and Steven Arnold) putting Claire and baby Freddie's lives in danger. Ashley and son Joshua were away for the weekend so Claire and Freddie were alone in the house when Claire was woken by the smoke alarm blaring out. She rushed to Freddie's room and opened the door to be confronted by the terrifying sight of fire raging through the room. The force of the heat sent her flying down the stairs where she lay motionless. Did she and Freddie survive?
This was a big week in the village as Emmerdale celebrated its 500th episode. It included the reveal of who killed Tom King, Louise Appleton's life left hanging in the balance after her car was run off the road, the death of favourite character Len Reynolds, and a surprise appearance by operatic superstar Katherine Jenkins. This last was a coup for Alan Turner (Richard Thorp), who arranged for Katherine to open the eventful village pageant.
The cops were sure that one of the King brothers was their dad's killer, but couldn't work out which one… so all three of the men ended up in court on trial for murder. Matthew King (Matt Healy), Carl King (Tom Lister) and Jimmy King (Nick Miles) all pleaded not guilty and the case fell apart. But back home the brothers fought amongst themselves until eventually Carl confessed that he killed Tom in a fit of rage when Tom bad-mouthed Carl's beloved ex-girlfriend, Chas Dingle, and admitted he had paid Chas to leave him. Carl whacked Tom over the head with a statuette then sent him crashing through a window to his death…
Vet Hari Prasad (John Nayagam) was being paid by Rosemary King to give evidence against the King brothers and fiancée Louise Appleton (Emily Symons) was backing him up. But when she discovered holes in Hari's story she said she was going to the police to change her statement. Hari viciously attacked her, then, when she got away, chased her in her car until she crashed off the road. Scarlett Nicholls (Kelsey-Beth Crossley), who was in the car with Hari, was horrified when they found her unconscious… Had Hari finally silenced Louise?
EastEnders
It was meant to be a fun, bridge-building, camping trip for the Beales and Mitchell families… but with Ian Beale (Adam Woodyatt) and Phil Mitchell (Steve McFadden) in charge there was fat chance of it going well. In fact it went nearly tragically wrong when the pair were bickering and lost control of the car on the edge of a river. Phil got out to find reception on his phone just before the car slid into the river with Ian, Ben (Charlie Jones) and Peter (Thomas Law) screaming for help.
Phil turned into the hero of the hour, rescuing Ben from the torrent and giving mouth-to-mouth resuscitation to save Peter's life after he got stuck in the car, his foot trapped by the seatbelt. As we know, they all survived to tell the sorry tale…
Elsewhere, Doctor May Wright (Amanda Drew) was determined not to let husband Rob Minter (Stuart Laing) get away with leaving her for Dawn Swann (Kara Tointon) without a fight, getting him arrested for assaulting her. Rob told the police that May must have given herself the black eye she was sporting, but the cops clearly didn't believe him. May could be very convincing!
Before he went off to be a Hollywood star, Ricky Whittle was one of Hollyoaks' hunkiest hunks, playing Calvin Valentine, pictured here proposing to Louise Summers (Roxanne McKee). Louise said 'yes' but there was no happy ending to that particular love story.
John Paul McQueen (James Sutton) was having vivid dreams about Craig Dean (Guy Burnet), but he was knocked for six when Craig paid him a visit, threw him down on the bed, and his favourite dream came true! Craig, though, was still confused about his sexuality and went back to his girlfriend Sarah Barnes (Loui Batley). It didn't last…
Get the latest updates, reviews and unmissable series to watch and more!
Thank you for signing up to Whattowatch. You will receive a verification email shortly.
There was a problem. Please refresh the page and try again.