14 Unforgettable Soap Proposals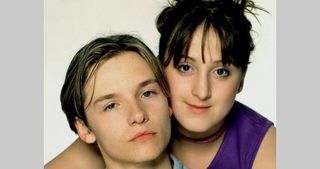 We all know the path of love doesn't always run smoothly in soapland, but we are all suckers for a bit of romance aren't we? This week over in Coronation Street, Kirk has the bright idea of proposing to his beloved Beth by hiding the engagement ring in… a kebab!
Here we've compiled a list of some of the best (and most ridiculous) soap proposals ever. Enjoy – oh and do let us know if we've missed any of your favourites out!
1. Billy to Little Mo with Alphabet Spaghetti – EastEnders
http://youtube.com/v/_zjVGSVTkuM
Ah Billy Mitchell, what a charmer, using Alphabet spaghetti to propose to Little Mo after they had enjoyed a sumptuous beige meal together on the sofa. The problem we have with this, quite simply, is that we always eat everything on our plates… In fact maybe it's time we went on a diet.
2. Tony proposes to Maria by Liam Connor's graveside - Coronation Street
http://youtube.com/v/KggiP0Zn77U
Who can forget this chilling scene from 2009? On the first anniversary of heart-throb Liam Connor's death, Maria poured her heart out to terrifying Tony Gordon at Liam's graveside, unaware that Tony had actually put him there. Tony took advantage, yet again, popping the question in the graveyard. So romantic!
3. Christian and Syed first gay proposal - EastEnders
http://youtube.com/v/ELxEpwnzgZs
It was EastEnders' first gay marriage, and Syed's second (although the first was to a woman, Amira). After having an argument about how committed Syed was to their relationship, Christian got down on one knee in 2011. Gosh, he had a tough old time of it, did Syed: going bankrupt, nearly dying in a fire, tormented by his sexuality, abandoned by his family, trying to overdose AND forced to marry in the Argy Bargy!
4 Jamie to Sonia in front of the whole Square - EastEnders
Jamie was unashamedly our teenage crush. He had curtains like Leo DiCaprio and a body like…well OK, it was the hair. Girls across England cried into their Furbies when Jamie proposed to Sonya in front of (cringe!) the entire market. But the path was rocky for this pair when Jamie died in Sonya's arms on Christmas Day, 2002, after being hit by Martin Fowler's car. Sonya then started going out with Martin, which we think was slightly inappropriate.


5. Tyrone proposes to Maria in Blackpool – Coronation Street
http://youtube.com/v/CzoblDsfW98
Some of Coronation Street's most memorable moments have occurred in glorious Blackpool - from Alan Bradley's demise under a tram to Roy and Hayley's poignant ballroom dance. But it was in 2000 that Tyrone took Maria up the Tower, and with the sound of seagulls squawking, proposed to her with matching rings. "I thought you were skint!" Maria shouted. Way to ruin the moment, love.
6. Carl wing-walks to propose to Chas - Emmerdale
http://youtube.com/v/qjGTFC2gPNk
When a videotaped marriage proposal doesn't cut it, what better way to propose to your girlfriend than by wing-walking over the Yorkshire Dales on a plane with love-heart smoke? This was Carl King's bright idea back in 2006 as a gobsmacked Chas looked on with Uncle Zak. It's hard to forget actor Tom Lister's terrified face has he wobbled on the wings - Chas finally said yes when he got down on one muddy knee. "Course I'll bloody marry ya," she said.
7 Fiz proposes to John Stape in prison - Coronation Street
We tried our best to find a more romantic soap proposal than Fiz scrawling 'marry me' onto a stained bed sheet and shouting it at John Stape in prison, but we couldn't find one - what is it with our Coronation Street lasses bending over backwards to marry serial killers? Stape knew he was on to a winner and quickly accepted, with the two getting hitched in prison with Chesney and Hayley as witnesses. Lovely.
8 Brennan proposes to Kate… and then she dies - Neighbours
Neighbour's heart-throb Brennan made a shock return to Erinsborough earlier this year, during a mysterious, random total eclipse. He always considered ex-girlfriend Kate the love of his life so he proposed to her on her birthday next to Lassiter's lake. For once everything seemed to be going swimmingly until a single gun shot rang out and Kate slumped in to Brennan's arms.
9 Jim proposes to Dot on the London Eye - EastEnders
http://youtube.com/v/zIQvaxNt6oU
How we love Dot… and we love Jim. We just love Dot and Jim. The elderly pair declared their love for each other up the London Eye and the usually steely Dot got all-emotional when Jim got down (slowly, mind) on one knee and asked her to marry him back in 2001. The pair tied the knot on Valentine's Day in a traditional church ceremony, with Dot wearing a very fetching hat. For once it was a soap wedding without any drama. Shocking!
10 Fred Elliot proposes to Maureen... and Penny... and Bev... and Orchid - Coronation Street
Boy, do we miss F-F-F-F-F-Fred Elliott. The hapless butcher, played by John Savident, gave us many 'romantic' storylines and proposals, almost rivaling Gail Platt for the amount of marriages he got through. It took Maureen Holdsworth a few times to cave in (we don't really blame her to be honest), then there was Penny, Bev and Thai bride Orchid. He was basically The Street's answer to Brad Pitt.
11 Jay proposes to Abi in the Garage - EastEnders
http://youtube.com/v/6_w2VzaU2v8
Abbie seems to be the only teenager on Albert square that ever does any schoolwork, but we assume that's because her dad doesn't work on the market so she isn't guaranteed a job when she's older. Tanya tried to get Abbie to go to Costa Rica to stop her getting too involved with Jay, but 15-year-old Abbie was determined to follow her dream… which was apparently accepting Jay's proposal when he got down on one knee in the Arches. How sweet.
12. Minty proposes while Hazel chokes on the ring - EastEnders
Why oh why do people think it's a good idea to put engagement rings in food and drink? Seriously, it never turns out well, and if it has for you, can you let us know? So, back in 2007, Minty decided to give Hazel her engagement ring, but it didn't go quite to plan when Roxy dropped the ring into Hazel's glass of Sangria and she choked on it. Admittedly we realise it wasn't really Minty's fault, but he really needs to be more careful when proposing in the future.
13. Jamie proposes to Louise - Emmerdale
http://youtube.com/v/1or1iJ8EZXU
Now here's a storyline for you! Louise from Emmerdale (Marilyn from Home and Away) was about to leave for Australia with Jonty (Joe Mangel from Neighbours) when love-sick Jamie (Lee Hunter from Hollyoaks) realises he can't let her go and jumps into his ice cream van to stop her. Louise accepted his proposal and the two of them headed down under in a horse and carriage (!) NB if we were going to Australia we would take a plane instead.
14. Ian proposes to Melanie/Laura/Mandy/Denise/... the whole Square? - EastEnders
How does the man do it? Admittedly he owns the chippy, the cafe AND the restaurant, but does the thought of constantly washing up really get these woman to fall head over heels? Well, the answer to that is no. Ian married Melanie (Tamzin Outhwaite) in 1999, but she left him during their wedding reception after discovering he was a liar. He married Laura, but she fell down the stairs and died in 2004. Jane got shot in the stomach by Ian's stepson Steven. Mandy left him, but then she never really liked him anyway. Now we just have to wait and see how long Denise lasts. With Patrick aware of Ian's secret we're not holding our breath…
What have we missed?
Get the What to Watch Newsletter
The latest updates, reviews and unmissable series to watch and more!