Alison King - 'Roy is the one person who knows the secret Carla is hiding'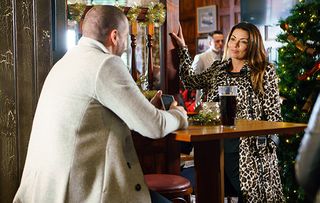 (Image credit: Mark Bruce)
Actress Alison King spills the beans on what brings her and Carla Connor back to Weatherfield… and reveals Carla is hiding a secret!
She was last seen fleeing to Devon but Carla Connor has clearly missed her native north as the girl is now back where she belongs – in Coronation Street! Actress Alison King reveals what prompted her return… and the fact she is hiding a secret which only Roy knows!
What's the story?
"Aidan has been in touch and she decides to meet up with him because she's on business nearby plus it's nearly Christmas – she doesn't feel too overwhelmed because it is only him but then he asks her to help him buy the factory," Alison King told Soaplife. Will Carla come to her half-brother's aid and how will the rest of the Connor clan, her friends and enemies react to her back in town?
What's happening in Coronation Street? See the latest soap storylines
Alison King reveals to Soaplife what makes Carla Connor decide to return to Weatherfield…
Soaplife: So does Carla come to Aidan's rescue?
Alison King: "'Absolutely not!' is her immediate reaction. But then she starts thinking about family. She realises she misses them and wants to be with them at Christmas. Now she's seen Aidan, she can't stop thinking about them."
SL: What happens when she turns up on Christmas Day?
AK: "Even Aidan's pleased to see her because she tells him she's changed her mind about the factory. She rallies round and is a nice person to be around. Carla is a hard shell with a soft centre - and her family and friends like Roy Cropper are more important to her than she lets on."
SL: Carla is back with a secret – what's happening in her life?
AK: "She's thinking about life and family - her secret is making her take stock. In the past two years, she has acquired a family she didn't know she had and she really cares about them. She wants to be at the heart of the family."
SL: Isn't it weird that her best mate Michelle is now with Robert Preston?
AK: "Carla can tell they really love each other, although she's still wary of Robert as he was partly responsible for her marriage to Nick Tilsley not working out. She hopes Robert is being open with Michelle but Carla discovers stuff that make her unsure."
SL: "How are things between her and Roy ?
AK: "Roy is always there for Carla, he is the one person who knows her secret."
SL: And what about Tracy Barlow?
AK: "Tracy makes a classic Tracy remark when she sees Carla, who comes back with a great one liner. But Carla has no desire to revisit that old rivalry."
SL: How does Carla's ex husband Peter Barlow react to seeing her back?
AK: "There will always be something between them and Carla will always love Peter. He knows her inside out and she lost his baby, remember? Toyah feels a bit insecure. Does she have cause? You'll have to wait and see but Carla is actually a woman's woman who does back up her friends."
SL: How do you feel about being back working on Coronation Street, Alison?
AK: "It's lovely to be with everyone again and I'm so glad I made the decision to return."
Get the What to Watch Newsletter
The latest updates, reviews and unmissable series to watch and more!