Corrie's Ben Price and Jack P Shepherd reveal the Platts' 'extreme' intervention (VIDEO)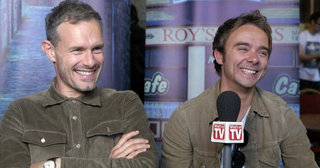 Corrie stars Jack P Shepherd and Ben Price have revealed the extreme technique that the Platts undertake to stop David from making the biggest mistake of his life
David Platt could be about to make the biggest mistake of his life. He's filled a car with petrol and is waiting to ram Clayton's prison van and hopefully take him out in a murder-suicide in Coronation Street.
But the Platts discover his plan and take extreme action to stop him, by imprisoning him in the bistro cellar, explain stars Ben Price and Jack P Shepherd.
Can they keep the desperate widower there?
Ben told What's on TV: "The thing about David is he's extreme so he will carry out whatever he's going to carry out, he'll carry out in an extreme way. So we have to do something extreme also to counteract that and Nick recognises that. So he has a basement... who knew? And him and his mum think, 'Let's lock him in'.
"Which, actually, even though it seems illogical is perfectly logical because David you can't reason with him. You're not going to stop him, he's lost his wife, stabbed in the middle of the street, he's lost everything. He's got these two children, so the only way is to talk him into believing that these children need him. That was all I was concentrating on as Nick... to make sure that David just kept that in his head and it might just stop him."
Jack (David) explained why David is so desperate to get to Clayton: "His plan is to kill Clayton because he feels as though the courts will let him down and he's not going to get sent down for murder. He thinks he'll go down for manslaughter and he'll be out in five years which is obviously not long enough, so David is hell-bent on killing Clayton and the only way he can kill Clayton is if he kills himself at the same time, and also it will release the pain and suffering he's going through."
Watch Ben and Jack talk about filming the captivity scene, working with rats and why cockroaches were just too expensive to be co-stars!
Get the latest updates, reviews and unmissable series to watch and more!
Thank you for signing up to Whattowatch. You will receive a verification email shortly.
There was a problem. Please refresh the page and try again.