'This is going to cause a few broken hearts,' says Corrie's Jane Danson on Leanne's baby bombshell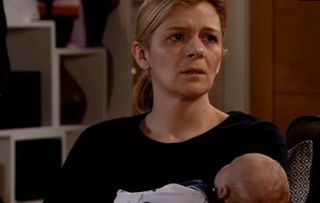 Now everyone knows that Steve McDonald is the father of Leanne's son, Oliver and things are going to get ugly. Jane Danson hints at the heartbreak to come…
We've seen and heard plenty about Michelle McDonald's reaction to finding out that husband Steve is the father of Leanne Battersby's baby. But what about Leanne? What's she going to do now? Corrie's Jane Danson has revealed some insights into the future of mother and baby…
"There's more to this whole story than 'Steve is the dad'," says Jane. "There are so many characters involved. It has so many repercussions for each and every one of them. It's really sad.
"And now everyone knows it's not just how Michelle [Kym Marsh] and Steve [Simon Gregson] deal with the news in their relationship… It's how Leanne and Steve, and Nick and Leanne and Michelle and Nick deal with this mess that's been left…
"Who is the dad now?' Who is going to play the dad in this little boy's life? Can they both be the dad?"
Nick clearly doesn't think so…
"If you think you're going play any part in my son's upbringing you're wrong," Nick told Steve on Friday night.
But Nick actor Ben Price is leaving Corrie, so it sounds like he's the one who loses…
"It's certainly going to cause a few broken hearts along the way," Jane adds. "The only person who really has got what they wanted is Leanne with her baby. But I wouldn't say she lives happily ever after.
"She is quite sanctimonious. She thinks she's always right. But most of the time she isn't. I should hate her! I think she always knew that one day this would all come out in the wash. This is going to have a huge impact on Steve's relationship with Michelle but also it will have a massive impact on his relationship with Leanne.
"I feel sorry for her but, equally, I feel sorry for Michelle," adds Jane.
And, after Friday night's violent reaction from Michelle, we think Leanne should learn how to duck!
Coronation Street, ITV
Get the latest updates, reviews and unmissable series to watch and more!
Thank you for signing up to Whattowatch. You will receive a verification email shortly.
There was a problem. Please refresh the page and try again.