Carla Connor's secret out in Coronation Street reveals Alison King!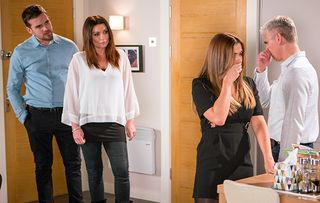 (Image credit: Andrew Boyce)
Carla Connor is in big trouble when Michelle Connor finds out about her fling with Michelle's son Ali Neeson, Alison King tells Soaplife!
Carla Connor (Alison King) has been hoping that her former sister-in-law Michelle Connor won't find out about her fling with Michelle's son Ali Neeson. But what chance of that in a place like Weatherfield?
What's the story?
Carla Connor and Ali Neeson have been enjoying a secret fling and Carla's mate Michelle - Ali's mum - is furious when she finds out. "All Carla can say is 'sorry,'" actress Alison King told Soaplife. But that isn't the only shock in store for Michelle…
What's happening in Coronation Street? See the latest soap storylines
Alison King's interview with Soaplife about Carla Connor's secret coming out…
Soaplife: Does Carla have feelings for Ali or is it just a bit of fun?
Alison King: "It was a surprise when he pounced on her but he's a very fit, grown man and she's a red-blooded girl so she took what was on offer! However, Ali is also good to talk to and you can see Carla does really like him."
S: But he's also her best friend's son!
AK: "She's obviously known Michelle would be very hurt if she found out. That's why she's been trying to keep it secret - not very successfully, though."
S: How does Carla feel when Michelle confronts her about what's going on?
AK: "She is really upset. Ali wants to take their relationship further but Michelle finding out makes Carla pull back. Her relationship with Michelle is more important to her."
S: Meanwhile Carla has discovered that Michelle's fiancé Robert has been taking steroids!
AK: "She's seen Robert buying them, seen bruises on Michelle's arms and noticed him acting aggressively. She's worried for Michelle and wants to tell her about the steroids. She's more bothered about Michelle than beating herself up over Ali."
S: And she does tell her…
AK: "Yes. At first, Michelle doesn't believe Carla, but then she asks her how long she's known and Carla just tells her the truth. Carla tells her to talk to Robert."
S: Can Carla and Michelle can get their friendship back on track?
AK: "Michelle tells Carla she's not coming to her wedding, that it's for true friends and close family only. But hopefully Carla will put out her bottom lip and say 'sorry' and 'I miss you' enough times for Michelle to forgive her."
Thank you for signing up to Whattowatch. You will receive a verification email shortly.
There was a problem. Please refresh the page and try again.