Coronation Street spoilers: Alya gets message from Aidan Connor from beyond the grave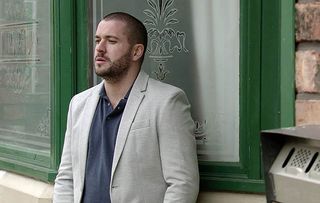 Aidan Connor surprise for Alya
Coronation Street has revealed that Alya is moved when she watches a DVD interview with Aidan Connor.
Aidan gave the interview to a student about his role as a kidney donor when he was in hospital in February.
Now - it's not yet been explained how - Alya gets the DVD in an upcoming episode of Corrie and this makes her have a serious think.
The new post on the official Coronation Street website reveals that when Alya starts watching the interview she suddenly realises how much Aidan's family meant to him.
Does this mean Alya will now give the factory back to Aidan's family?
Aidan Connor bequeathed the factory to Alya rather than leaving it to his family. The Connor women have been against her ever since.
And it might be argued that Alya may still decide even after watching Aidan's interview to keep the factory.
After all, Sair Khan, who plays Alya, previously told us Alya believes Aidan left her his share of the factory because they had a shared vision.
She told us: "Initially Alya's in a state of total disbelief and shock but when she thinks about it, it makes sense because Aidan and Alya had a shared vision and it's clear he wanted Alya to carry on his legacy."
Coronation Street continues on ITV.
Get the latest updates, reviews and unmissable series to watch and more!
Thank you for signing up to Whattowatch. You will receive a verification email shortly.
There was a problem. Please refresh the page and try again.