Ryan Clayton: 'It was always in my head that Josh had raped before'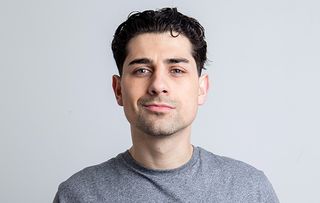 (Image credit: Mark Bruce)
Corrie's Shona will soon realise that David is not the mechanic's only victim
Is Josh Tucker's past about to catch up with him? When Shona finds out that David was raped by the mechanic, she goes on a mission next week to get justice for her boyfriend, and tracks down an old colleague of Josh's whom she quickly twigs has been through a similar ordeal.
Actor Ryan Clayton talks about Shona's mission, Josh Tucker's dark past, and why his soap alter-ego may not be destined for prison…
You said when Josh raped David, he didn't believing he was doing anything wrong. A few months down the line, does he now realise that he has committed a serious crime?
"I think he's still not dealing with that. Somewhere, deep down, he probably knows that what he's done isn't okay, but getting him to truly admit it is something you'll possibly never be able to get him to do. It's like liars. They lie so much that they convince themselves something is actually true."
How confident is Josh that David won't report the attack?
"He does feel that he can manipulate David very well and that he's got the power over him. He sees David as someone who is 'lesser' than him. Of course with the boxing, he's seen a side to David that suggests he isn't as weak as Josh initially thought, but that goes against David because it has got him into a lot of trouble. Josh can use that to say 'Well, he's not all there.'
How does Josh feel when he knows that David has told Shona about the attack?
"He's all front and will try to look as calm as he possibly can be, but I think there is a moment of panic. This hasn't happened to him before. There are many people that Josh needs to be wary of in his past, but this is the first time that he's been confronted by someone."
Does he feel threatened by Shona?
"I think he does. As the story unfolds, she isn't going to make life easy for him."
Have you thought much about Josh's life before he came to Weatherfield?
"I've come up with a few possible back stories, but whether they'll be written, I don't know. It's a tough one when you're in a soap like this, because the stories that might come out could be completely different to the one you had in your head, so it's difficult to have anything concrete. In terms of building the character, I spoke to Duncan Craig (CEO of Survivors Manchester), about what Josh does, and where those kind of characters come from. You don't want to just say he was abused, so he abuses – that's the case for a lot of people, but perhaps it may not be the case for Josh. We've heard him say he had a tough life growing up but did he? We don't know."
What is more of a threat for Josh at this point – David speaking out or his past being exposed?
"That's a tough question. I think when he realises Shona is doing a bit of digging, that is a worry. But it would be David speaking out, because once one person has spoken out, that would cause havoc for him in the future."
Shona meets one of Josh's former colleagues, and realises that he, too, is a victim of Josh's. Does it make sense to you that Josh has raped before?
"Oh yes, that was always in my head that he'd done it before, definitely."
Will Josh always think that he can evade justice for his crimes?
"He would always think he can get through it. He has complete belief in thinking 'Well these people haven't come forward before, so why are they going to come forward now?' He's manipulated people, and he's very clever about who he targets."
What reaction have you had from the public to this storyline?
"Most people can separate the truth from fiction. Being a big Manchester City fan and going in Mary D's (a pub near City's Etihad Stadium) is an interesting one! But everyone's fine, and I think people can separate it much more than they did 20 years plus ago, as the actors are easily accessible with social media. It's an incredible story, and it's incredible to see the impact it has had."
A lot of actors say you need to have empathy for a character in order to play them – so has it been difficult to get into Josh's head?
"You have to empathy for him. Hitler didn't believe he was bad, and believed he was doing the right thing, and that's where you have to come from playing those kind of people. It is sometimes difficult when you are doing something with high stakes and those manipulation tactics, but you have to throw yourself in there."
Do you want to see Josh behind bars?
"It's important that there is justice, but justice doesn't always have to be served behind bars. Something that Duncan talked about and which Kate (Oates, the Corrie producer) wants to focus on is reducing the behaviour of people who are likely to offend. A lot of people have different opinions about the justice system in this country, and some people think we should forget about people in prison. But with that approach, you're always likely to get another victim. So if you can alter someone, that's the justice. That doesn't mean me condoning what people do - and what Josh has done does warrant him being behind bars. But I personally believe in rehabilitation rather than complete punishment."
Coronation Street continues on ITV.
Alison Slade has over 20 years of experience as a TV journalist and has spent the vast majority of that time as Soap Editor of TV Times magazine.
She is passionate about the ability of soaps to change the world by presenting important, issue-based stories about real people in a relatable way.
There are few soap actors that she hasn't interviewed over the years, and her expertise in the genre means she has been called upon as a judge numerous times for The British Soap Awards and the BAFTA TV Awards.
When she is not writing about soaps, watching soaps, or interviewing people who are in soaps, she loves going to the theatre, taking a long walk or pottering about at home, obsessing over Farrow and Ball paint.
Get the latest updates, reviews and unmissable series to watch and more!
Thank you for signing up to Whattowatch. You will receive a verification email shortly.
There was a problem. Please refresh the page and try again.