Corrie's Connor McIntyre: 'Phelan's a psychopath. He's weaving a web to catch Jason'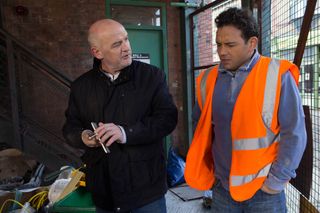 (Image credit: Joseph Scanlon)
Phelan helps Jason by hiding the weapon that killed Callum…but he has a sinister ulterior motive. Connor McIntyre (opens in new tab) reveals all to Soaplife...
So, what's Phelan playing at?
"He hides Tony's tool bag, which holds the weapon that killed Callum, under the floorboards at the Nazirs for himself, not Jason [Ryan Thomas (opens in new tab)]… It's a form of leverage for Phelan because it means Jason will be very grateful and therefore feel he owes him. Phelan likes Jason, but nothing is going to get in the way of him getting what he wants. Phelan's psychopathic in the strictest sense of the word – he's narcissistic with no compassion or sense of empathy."
And is Jason grateful?
"Yes, but then he would be. Phelan's weaving a web to catch Jason. He's really tricky."
Does Phelan believe that Tony killed Callum?
"It's irrelevant – he honestly doesn't care, but the situation has presented him with an opportunity. Once more into his lap has fallen a set of circumstances that will help him achieve what he wants to achieve. Happy days!"
Do you think Todd has the potential to bring Phelan down?
"I think there are a few people with the potential to bring Phelan down, including Todd [Bruno Langley (opens in new tab)]. There are other contenders, such as Norris [Malcolm Hebden (opens in new tab)] and Roy [David Neilsen (opens in new tab)]. Characters like Phelan come unstuck by overplaying their hand - or one of the threads unravels and the whole thing collapses around them. Ultimately Phelan will get his comeuppance."
Coronation Street (opens in new tab), ITV
Thank you for signing up to Whattowatch. You will receive a verification email shortly.
There was a problem. Please refresh the page and try again.