Corrie's Chris and Michelle: 'Tina feels completely out of control with Peter'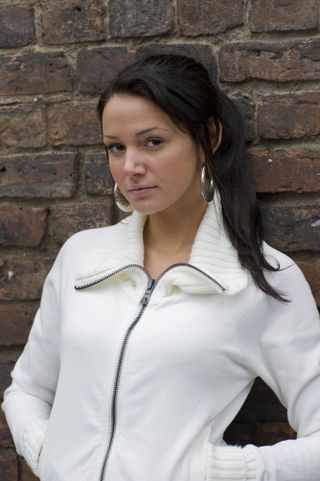 Coronation Street stars Michelle Keegan and Chris Gascoyne tell TV Times magazine (opens in new tab) about the growing attraction between Peter and Tina….
What are Peter and Tina's feelings for one another?
Michelle: "Peter had never come on to Tina's radar before, but suddenly, she feels completely out of control. She has never felt like this about anyone before. She didn't really have a passionate relationship with Tommy, but she can see herself having one with Peter."
Chris: "Peter is really lustful for Tina. I think he almost sees a younger Carla in her somewhere. He found it really exciting when she put up a fight against Tracy. He admired her spirit and started to see her in a different light."
Are they tempted to do something about their feelings?
Michelle: "Tina is troubled by her feelings because she really likes Carla and she's not the sort of girl to do that to another woman. It is hard because she finds herself weakening whenever Peter is around. It gets to a point where Tina tells Peter that it might be best if she stops looking after Simon because she feels so out of control around him."
Chris: "Peter adores Carla, but he feels a bit neglected. He even tells Tina that despite everything Carla has done for him, he's still not happy. Peter knows it's not a good idea to be around Tina, but he really doesn't want to stop seeing her."
Do they realise that they're playing with fire?
Michelle: "Of course Tina knows that it is completely wrong to fall for a man who is about to get married and who has so much baggage. She does try and make an effort to stay away."
Chris: "Peter does, but then he's a dab hand at this sort of thing. Whenever his life is sorted, he likes to do something to turn it upside down and ruin everything. It's in his DNA. He is telling himself that he lusts after Tina, but that it is Carla he loves."
Does anyone else notice their mutual attraction?
Michelle: "Liz is onto them both. She warns Tina to stay away from Peter. She knows it's a recipe for disaster and Tina knows she's right."
Chris: "Peter realises Liz is onto them, but he thinks they have a good cover for being around each other because of Tina's relationship with Simon. They are going to have to watch out for Liz though. She doesn't miss a trick."
So when will the passion be too much to resist…?
Michelle: "It is just a question of how long Tina can resist. She is desperate for Peter and can't help herself."
Chris: "Let's face it; Peter is hardly one to resist temptation is he? He is an addict."
Where is it going wrong with Carla?
Michelle: "I don't think it helps that Simon loves Tina and he doesn't have that same bond with Carla."
Chris: "Simon is bullied and Peter is really thankful that Tina is there. Carla finds it hard to relate to things like that, she is also busy planning the wedding and looking after the factory. Peter feels a bit emasculated as Carla is making all the decisions. Carla's wedding fuss is making him angry. I think it is a case of Tina turning Peter's head whilst Carla is consumed with the factory and the wedding plans."
Will Peter go through with his wedding to Carla?
Michelle: "If he does, I am not sure Tina will enjoy sticking around to watch their marriage unfold. The thought of being the other woman pains her."
Chris: "Put it this way, Peter Barlow and a wedding is bound to spell disaster. It certainly won't be dull. Whatever happens, it will be brilliant. Peter's had a good go at weddings – this will be his fifth. That tells you something!"
Michelle, congratulations in your engagement to Mark Wright – are you glad you're not marrying Peter Barlow?
Michelle: "Yes! I'm lucky to have Mark in my life as my partner and my best friend. He is a gentleman and so much fun to be around."
Chris: "I go home after a day at Corrie and I am always glad that I am not Peter. I couldn't bear all that drama."
Chris, are you worried you'll get lynched in the streets for cheating on Carla?
"The viewers are great. It is mostly good humoured, friendly banter. I've been called a tosser once in 10 years, so that's not bad. It's always nice to be recognised in any way."
We're really sad to hear you are leaving, Michelle...
"I'd been thinking of leaving on and off for a couple of years. I will miss Corrie, but after six years, it's the right thing to do. I don't want to look back in 10 years' time and think 'What if…?' They are leaving the door open for me which I am very grateful for."
Thank you for signing up to Whattowatch. You will receive a verification email shortly.
There was a problem. Please refresh the page and try again.