Corrie's Katie McGlynn: 'Sinead tries to kiss Aidan! She makes a complete fool out of herself'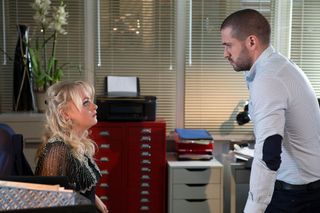 (Image credit: Joseph Scanlon)
Coronation Street's Katie McGlynn reveals to Soaplife how Sinead misbehaves when she feels abandoned by Chesney...
How upset is Sinead when she sees Chesney with Gemma?
"Sinead's already feeling insecure about Chesney having been in Portugal for so long – especially when his ex is a bonny girl like Katie – but she feels even worse when he cancels a day out with her and she then sees him with Gemma [Dolly-Rose Campbell]. She's really hurt and angry because she's been waiting for him to come back and then, as soon as he does, it seems he'd rather be with someone else."
Does she see Gemma as a threat?
"Not really. I think it's more the fact that her boyfriend doesn't want to spend time with her. It doesn't matter who he's with. She's worried that the relationship is in trouble because Chesney [Sam Aston] just doesn't seem interested."
Is that why Sinead turns up drunk at Underworld?
"She was asked to do some more modelling, but initially said no. Later, when she's upset and had too much to drink, she goes back to the factory, all dressed up as if she's going to model, but it's too late and…"
Yes?
"She makes a pass at Aidan [Shayne Ward]! She tries to kiss him and makes a complete fool of herself. She's mortified afterwards! And upset."
Does she fancy Aidan?
"I don't think so. I think it's just because he's the boss and he's always given Sinead attention because of the modelling. He's the first person she can think of. She thinks her relationship's in trouble and is crying out for some attention."
Is she planning to tell Chesney what happened?
"No, she wants to keep it under wraps because she doesn't see the point in hurting him when she doesn't have to."
But he does find out…
"And he's really hurt and angry, as you'd expect. She'll be devastated if this is the end for them because she does love Chesney a lot."
Coronation Street, ITV
Get the latest updates, reviews and unmissable series to watch and more!
Thank you for signing up to Whattowatch. You will receive a verification email shortly.
There was a problem. Please refresh the page and try again.