The look that shows David has gone to his dark side. 'And there's a big stunt,' says Corrie boss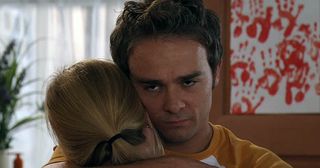 The look on David Platt's face shows that he will do anything to avenge Kylie's death – even kill
Did you see that look on David Platt's face in Corrie last night?
Anyone who knows David will know that it's the look he gets when he has gone to his dark side – the side of him that is murderous.
And Corrie boss Kate Oates has revealed that is exactly where he is going.
"A story I'm really excited about and something that will be playing really big in the autumn is David's story in the wake of Kylie's stabbing," Kate told us.
"We've seen David promise to avenge Kylie's death. However he's also promised Kylie that he'll protect the children and those two promises are in direct conflict with each other...
"Which one of those promises is going to win out? You can guess which way I'll be taking that one!"
Poor Sarah Platt (Tina O'Brien) can't, though.
In Friday night's emotional episode, we saw Sarah pleading with David (Jack P Shepherd) not to go looking for revenge.
We know the police already have Kylie's killer Clayton (Callum Harrison) in custody but what if – for some reason – they set him free?
Clayton is part of the gang that was led by Callum, Kylie's ex, who she kiled as he attacked Sarah.
Macca (Gareth Berliner) is another member and he's going to threaten Gemma, who has given a statement to the police about Kylie's death.
If Gemma retracts her statement, Clayton could be released.
And that, to us, sounds like a reason for David to go after Callum's whole crew.
"I'll have done the right thing when those murderers are six feet under," David tells Sarah.
"David, don't talk like that," Sarah said.
"Well, it's the truth," he replied. "And you know what? I'll laugh. As soon as they lower those coffins into the ground I'll be somewhere else and I'll be savouring every minute."
"Is that somewhere else going to be prison?" Sarah asked. "Are you still going to be laughing then? You promised Kylie that you would look after Max and Lily."
"Yeah. And I also promised her that I'd get revenge," David said.
"Those two things don't go together. Can you not see that?" Sarah asked, clearly getting very worried. You need forget about revenge."
"What if I can't?" David replied, his grief and pain written all over his face.
"What if I can't let them carry on with their lives? My wife's dead and Max and Lily haven't got a mother any more. I lie awake every night for hours… And after you finally do get some sleep you wake and, for those first few seconds, can't understand why you feel so sick in your stomach. Because for those few seconds you forget she's gone. She's gone forever. And it's all their fault. They have to pay, Sarah."
"Just look after Max and Lily, that's all you can do," Sarah sobbed.
"I know. Come here," David said, and gave his sister a hug.
But that look on his face… Sarah didn't see it and would have got no comfort from it if she had.
David is determined to avenge Kylie's death.
"I'm looking forward to seeing how that affects the Platt family, to Gail stepping up and being really strong," Kate added. "I'm looking forward to seeing that family doing all they can to close ranks.
"There's a nice big stunt coming up in the autumn and that will possibly be tied in with the Platt story, too," Kate added.
First, though, is Kylie's funeral next week. And our Corrie source tells us "some deeply guarded secrets are unearthed".
That's when Sarah will tell Todd (Bruno Langley) that Kylie killed Callum.
And that's when David will find he has another battle on his hands…
Coronation Street continues on ITV, Monday, August 1, 7.30pm
Get the What to Watch Newsletter
The latest updates, reviews and unmissable series to watch and more!