'Someone firebombs the Bistro!' reveals Coronation Street's Kym Marsh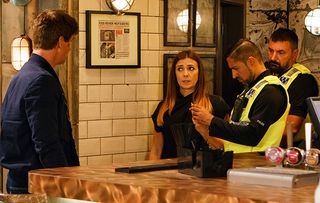 (Image credit: Mark Bruce)
The campaign of terror against Michelle Connor and Robert Preston is stepped up in Coronation Street, reveals star Kym Marsh
Michelle Connor thought Robert Preston was a safe, reliable and dependable guy in Coronation Street. How wrong was she?!
"Michelle has been totally taken by surprise since Robert's admission about his drugs past," Kym Marsh told Soaplife. "But because he did the right thing and told the police about Rich she has accepted that it is nothing to do with who he is now." But it seems it is…
Has Robert's confessions changed Michelle's feelings for him? "Initially she was furious that he had brought this trouble to their door, but she loves him and she is prepared to accept that he has a past. So does she. For her the fact that he told her is important after Steve lied to her."
Then someone paints 'RIP' on the wall of the Bistro… "And Michelle is terrified, Robert [Tristan Gemmill] has disappeared so she is left to try and clean it off herself. Robert returns having been mugged in town and then someone throws a firebomb at the Bistro. They both start to think that Rich is definitely behind all the problems they have been having. She knows that he is a very dangerous man who knows some very dangerous people so she is scared."
Can Robert cope? "Robert is really struggling with the fact that he has brought all of these problems to their door. He hates that his past has caught up with him and he can't cope with the fact that he has put Michelle at risk."
Is Michelle tempted to leave him? "No – she is determined they will deal with this together. The fact that her first true love, Will, has returned makes no difference to Michelle and she's happy for him when he starts dating Maria. She is over Steve, too. She loves Robert."
So Robert is the right man for Michelle? "Before we found out about his shady past I'd say yes, he is exactly what she needs, as he is dependable and wants to take care of her. But looking at it from the outside, I wonder: is he just going to cause her more heartache and grief?"
Will life be looking up for Michelle any time soon? "I think things are going to get a lot worse for Michelle. We've filmed some pretty dramatic stuff in the past few weeks so watch this space!"
Coronation Street, ITV
Get the latest updates, reviews and unmissable series to watch and more!
Thank you for signing up to Whattowatch. You will receive a verification email shortly.
There was a problem. Please refresh the page and try again.